But because of his great love for us, God, who is rich in mercy, made us alive with Christ even when we were dead in transgressions—it is by grace you have been saved. And God raised us up with Christ and seated us with him in the heavenly realms in Christ Jesus, in order that in the coming ages he might show the incomparable riches of his grace, expressed in his kindness to us in Christ Jesus.
In yesterday's devotion, we looked closely at Ephesians 2:6, which says that we have already been "raised up with Christ" and seated "with him in the heavenly realms." I began to consider how it makes sense to talk about our resurrection to Heaven in the past tense. I explained that I have found it helpful to understand Christian eschatology as a kind of telescope. When you look at a telescope, you see a long tube. When you look through a telescope, you see something far away as if it were close at hand. Similarly, some passages of Scripture view the end times and our resurrection as something in the future. Others passages, like Ephesians 2:6, see the end times, including our resurrection, as something present, something we have already experienced.
In yet another way, the image of a telescope can help us sort out some complications about Christian eschatology. Many telescopes are not one single tube, but rather one or more nesting tubes. You can push them together and get a fairly short tube. When you pull them apart, you get something much longer.
The end times are like one piece of a multi-piece telescope. That piece represents the future, when God will reign fully over all of creation, when Heaven will have come to earth. Another piece of the telescope represents the present, when God's sovereignty is sometimes harder to discern, when we experience suffering, injustice, and death.
Many Christians think of history only as a fully extended telescope, with the end times piece lying "out there," juxtaposed to but otherwise separate from the present piece. But many passages of Scripture, like Ephesians 2:6, view history as a collapsed telescope, with the future piece and the present piece overlapping. Thus, wherever we find ourselves on the present piece of the timeline, we are also somewhere on the future piece as well.
This collapsed-telescope theology is sometimes referred to as the "already and not yet" view of the end times. In some ways, we are already in the kingdom of God. Through the Spirit, the future is real to us now. Yet, at the same time, we still live in the present, with its pains, sins, and sorrows. We can see God at work today—the future invading the present—yet we also see evidence that the "ruler of the kingdom of the air" is still wreaking havoc in our world. So we live in the "already and not yet." We experience life as a collapsed telescope, with present and future overlapping. Thus, in a way, we have already been raised with Christ. And, in another way, we still yearn for the resurrection that is yet to come.
P.S. As you may know, on Fridays, I usually base the Life for Leaders devotion on one of the Psalms. Today, however, I wanted to conclude the conversation begun yesterday about the end times. We'll get back to the Psalms next week.
Something to Think About:
In what ways have you already experienced the kingdom of God?
In what ways is God's kingdom a not yet reality for you?
Something to Do:
See if you can think of other analogies, besides a telescope, that share in the "already and not yet" nature of the ends times. For example, a woman who is nine months pregnant is in one sense already a mother and not yet a mother from another perspective.
Prayer:
Gracious God, thy kingdom come. Thy will be done, on earth as it is in Heaven.
May your kingdom come in all of its fullness, Lord. And as we wait for this to happen, may your will be done on earth today, just as it is in Heaven. Amen.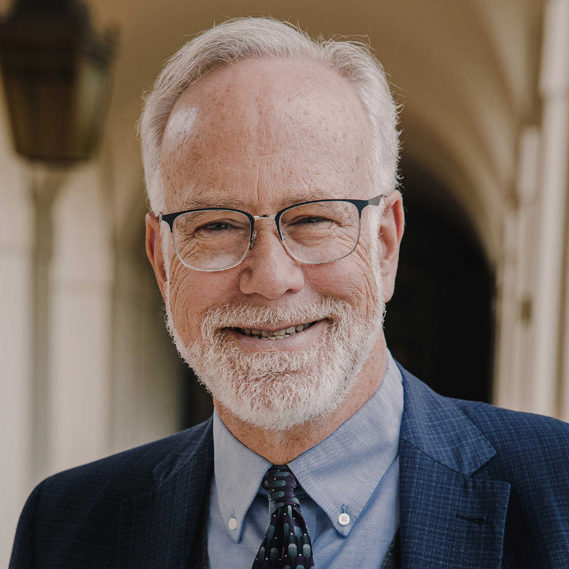 Dr. Mark D. Roberts is a Senior Strategist for Fuller's Max De Pree Center for Leadership, where he focuses on the spiritual development and thriving of leaders. He is the principal writer of the daily devotional, Life for Leaders, and the founder of the De Pree Center's Flourishing in the Third Third of Life Initiative. Previously, Mark was the Executive Director of the De Pree Center, the lead pastor of a church in Southern California, and the Senior Director of Laity Lodge in Texas. He has written eight books, dozens of articles, and over 2,500 devotions that help people discover the difference God makes in their daily life and leadership. With a Ph.D. in New Testament from Harvard, Mark teaches at Fuller Seminary, most recently in his D.Min. cohort on "Faith, Work, Economics, and Vocation." Mark is married to Linda, a marriage and family counselor, spiritual director, and executive coach. Their two grown children are educators on the high school and college level.