The "Making it Work" Podcast
Featuring Al Erisman
Hosted by Leah Archibald and Mark Roberts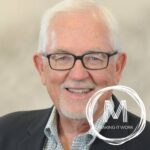 There's a tension in most workplaces today. On one hand, you wanna take care of the people working under you. On the other hand, you're responsible for your bottom line. And the better you take care of people, the more that costs. How can you navigate the tension between people and profit, and what does the Bible have to say about it?
Our guest today is the author of a new book on a group of managers who did just that. The book is called "The ServiceMaster Story: Navigating the Tension Between People and Profit." Al Erisman is a seasoned manager himself. He managed a team of 300 scientists at the Boeing Company, and he's here today to talk about how you can leverage your faith to make good decisions in your workplace.
Podcast Episode originally hosted HERE by the Theology of Work.
---
Subscribe to Our "Making It Work" Podcast
Apple Podcast | Spotify | Stitcher | RadioPublic | Google Music | RSS
---