The "Making it Work" Podcast
Featuring Caitie Butler
Hosted by Leah Archibald and Mark Roberts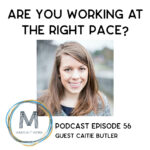 Do you feel overwhelmed, distracted or stressed at work? Do you feel yourself hurtling towards burnout? It might not be that your job is a bad fit for you. It could just be that you're working at the wrong pace. Our guest today argues that the leading cause of burnout is an institutional pace that doesn't match the natural pace of workers. Caitie Butler is the co-author of Work Reimagined: How the Power of Pace Can Help Your Organization Achieve a New Level of Focus, Engagement and Satisfaction. She is no stranger to the stress of a demanding work environment. Caitie started her career in politics where amazingly she bucked the trend to work longer and later for ever diminishing returns. Today, Caitie is the communications director for MatchPace, an organizational effectiveness company that helps people re-imagine their workday.
Podcast Episode originally hosted HERE by the Theology of Work.
---
Subscribe to Our "Making It Work" Podcast
Apple Podcast | Spotify | Stitcher | RadioPublic | Google Music | RSS
---
Banner image by Nubelson Fernandes on Unsplash.