The "Making it Work" Podcast
Featuring Loren Toussaint
Hosted by Leah Archibald and Mark Roberts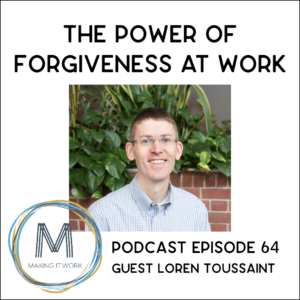 Workplace relationships can shape your job experience for the better or for the worse, when interpersonal hurts or offenses occur at work, they can negatively impact your job performance. On the other hand, research shows that forgiveness may positively impact your experience of the workplace and the people around you. Guest Dr. Loren Toussaint is a Professor of Psychology at Luther College in Decorah, Iowa. He directs the laboratory for the investigation of mind, body and spirit, that studies virtues, especially forgiveness and their relationship to health and well-being. He is the Chair of the Discover Forgiveness Advisory Council for the Templeton World Charity Foundation, President of The Forgiveness Foundation, Associate Director of the Sierra Leone Forgiveness Project, and a consultant to Mayo Clinic Cancer Treatment Centers of America and Boise State University. He encourages everyday forgiveness to build resilience and to minimize stress in families, schools, healthcare, workplaces and communities.
Podcast episode originally hosted HERE by the Theology of Work.
Banner image by Christina Morillo on Pexels.
---
Subscribe to Our "Making It Work" Podcast
Apple Podcast | Spotify | Stitcher | RadioPublic | Google Music | RSS
---