The "Making it Work" Podcast
Featuring Jesse Eubanks
Hosted by Leah Archibald and Mark Roberts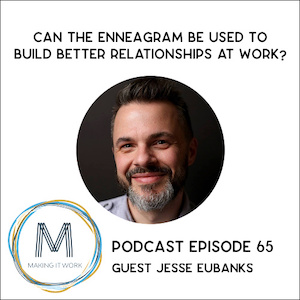 The Enneagram, a personality typing system, has exploded in popularity in recent years. Guest Jesse Eubanks shares about his experience using the Enneagram to build healthier relationships with God, himself, and others. Jesse is a certified Enneagram coach and host of The EnneaCast, a podcast exploring personality and relationships through the lens of the Enneagram. Jesse is also the founder and executive director of Love Thy Neighborhood, a nonprofit mobilizing people to follow Jesus and serve the poor in modern culture. Relevant named him one of the top 50 Christian artists and activists who are making an impact on culture in the United States.
Podcast episode originally hosted HERE by the Theology of Work.
Banner image by Belle Co on Pexels.
---
Subscribe to Our "Making It Work" Podcast
Apple Podcast | Spotify | Stitcher | RadioPublic | Google Music | RSS
---