The "Making it Work" Podcast
Featuring Barbara Villasenor
Hosted by Leah Archibald and Mark Roberts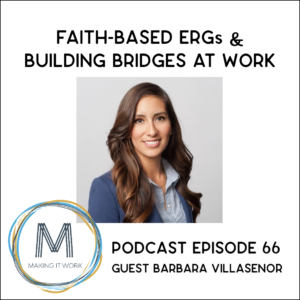 Faith-based employee resource groups can be a bridge to building relationships within your own faith and across different faiths at your company. These rich relationships can benefit both faith and work. One example of a successful faith-based ERG is Google's Inter Belief Network. Guest Barbara Villasenor is a founding member and global chair of Google's Inter Belief Network, co-lead of the Google Christian Fellowship chapter, an economics business partner to Google's chief economist. Barbara talks to us about ERGs, her own experience starting one, and how these groups can improve the experience of work.
Podcast episode originally hosted HERE by the Theology of Work.
Banner image by Fauxels on Pexels.
---
Subscribe to Our "Making It Work" Podcast
Apple Podcast | Spotify | Stitcher | RadioPublic | Google Music | RSS
---