The "Making it Work" Podcast
Featuring Barry Rowan
Hosted by Leah Archibald and Mark Roberts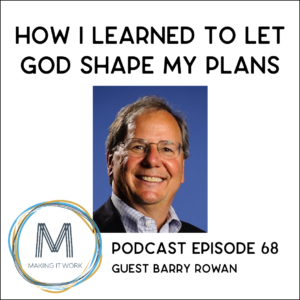 We all make plans for our work, whether that's a list of things to do today, or a ten year plan. We have hopes, dreams, and goals for the future. But what does it mean to let God shape your work plans? How do you know if you're submitting to God's plan, or simply trying to fit God into your plan? We talk with Barry Rowan, author of The Spiritual Art of Business: Connecting the Daily with the Divine. Barry has spent his career in a variety of C-suite roles and has been instrumental in building and transforming businesses. He is also deeply committed to contemplation and prayer, and he's here to tell us how the two mix together to let God shape our plans for work.
Podcast episode originally hosted HERE by the Theology of Work.
Banner image by Paul Van Cotthem on Unsplash.
---
Subscribe to Our "Making It Work" Podcast
Apple Podcast | Spotify | Stitcher | RadioPublic | Google Music | RSS
---