But Moses said to the LORD, "O my Lord, I have never been eloquent, neither in the past nor even now that you have spoken to your servant; but I am slow of speech and slow of tongue." Then the LORD said to him, "Who gives speech to mortals? Who makes them mute or deaf, seeing or blind? Is it not I, the LORD? Now go, and I will be with your mouth and teach you what you are to speak." But he said, "O my Lord, please send someone else." Then the anger of the LORD was kindled against Moses and he said, "What of your brother Aaron, the Levite? I know that he can speak fluently; even now he is coming out to meet you, and when he sees you his heart will be glad. You shall speak to him and put the words in his mouth; and I will be with your mouth and with his mouth, and will teach you what you shall do. He indeed shall speak for you to the people; he shall serve as a mouth for you, and you shall serve as God for him."
Focus
Though God's promise to be with us should be enough to give us the courage to do whatever God asks of us, sometimes we hesitate because we're aware of our own shortcomings. That's what Moses did when God called him at the burning bush. But God did not reject Moses. Rather, God graciously supplied a partner whose strengths made up for Moses's weaknesses. God often assures us that God is with us through the people in our lives.
Today's devotion is part of the Life for Leaders series: Can't Do It Alone.
Devotion
In yesterday's Life for Leaders devotion, we began to look at the life and leadership of Moses. We saw that God called him to a very particular and challenging work, namely, to set God's people free from Egypt. But God did not call Moses to do it alone. Rather, God promised to be with Moses. When it comes to "not doing it alone," the most important truth we can grasp is this: We don't have to do it alone because God is with us. God's presence and partnership make all the difference in the world.
In Exodus 4, a little later in the conversation between God and Moses at the burning bush, Moses expressed his hesitation to do what God had told him to do. The problem, from Moses's point of view, was that he was not an adept or experienced speaker. Thus, he said to the Lord, "O my Lord, I have never been eloquent, neither in the past nor even now that you have spoken to your servant; but I am slow of speech and slow of tongue" (4:10). Moses cannot image himself speaking confidently and persuasively so as to convince Pharoah to let the Israelites go from Egypt.
God's response to Moses is once again focused on God, not Moses. God says, "Who gives speech to mortals? Who makes them mute or deaf, seeing or blind? Is it not I, the LORD? Now go, and I will be with your mouth and teach you what you are to speak" (4:11). Earlier in their conversation, God promised to be with Moses (3:12). Now God promises to be with his mouth in order to teach him what he must say.
But Moses is still hesitant. Even the promise of God's presence and instruction doesn't motivate him to accept God's calling. So Moses says quite bluntly, "O my Lord, please send someone else" (4:13). Now, I can imagine some people being critical of Moses at this point. The promise of God's presence and help isn't enough for him!? He's not exactly a model of faithfulness in this moment. Honestly, though, I can relate to Moses quite easily. Though God has never spoken to me audibly or through a burning bush, there have been many times in my life when God has asked me to do something that felt very risky. My belief that God would be present with me no matter what wasn't quite enough to get me to say "Yes" to God. I needed more help, divine help. And so did Moses.
God's initial response to Moses's request, "please send someone else" is both sensible and unsettling. Exodus tells us that "the anger of the Lord was kindled against Moses" (4:14). But God did not rebuke Moses or reject him as God's chosen instrument to lead the Israelites into freedom. Rather, God offered very tangible human partnership: "What of your brother Aaron, the Levite? I know that he can speak fluently; even now he is coming out to meet you, and when he sees you his heart will be glad. You shall speak to him and put the words in his mouth; and I will be with your mouth and with his mouth, and will teach you what you shall do. He indeed shall speak for you to the people; he shall serve as a mouth for you, and you shall serve as God for him" (4:14-16). God gave Aaron as Moses's partner in the work. Moses would not have to do it alone because he would have his articulate brother with him in addition to and as evidence of God's own presence. Often, we sense God's invisible presence through the visible, tangible presence of people.
I am struck by many things in this surprising little story. I'd like to mention two things before I conclude this devotion. First, though Moses may not be a paradigm of faith for us in this passage, he does show himself to be someone with a realistic view of his own capabilities. Moses does not overestimate his persuasiveness as a speaker. Moses's self-awareness shows that he knows he can't do it alone. Moreover, it prepares him to receive with gladness the help of his brother Aaron. So, though we might wish Moses had been more trusting of God in the first place, his acknowledgment of his weakness prepares Moses to welcome the help he needs.
As one who sometimes tries to do it alone, the example of Moses is instructive and inspiring to me. The more I can perceive and admit my own limitations, the more I am ready to accept the support and collaboration of others. I experience this sort of thing regularly in my work with the De Pree Center. For example, though I am able to do a number of things relatively well, I am not nearly as operationally gifted or systems-aware as my colleague Paul, the De Pree Center's Director of Operations. Where I am weak, Paul is exceptionally strong, and this makes my work much more fruitful. To cite a specific case, I am writing this devotion. But by the time you read it, it will have gone through the editorial and technological system designed by Paul. In this system, every devotion will be edited and enhanced by Jennifer and made ready for online publication by Chelsea, who uses the technological system Paul designed to make sure you receive your devotion each morning. What you're reading right now reflects the strengths of Paul, Jennifer, and Chelsea as we work together. If I was doing this alone, you might still get a devotion each day, but it wouldn't be nearly as good and it wouldn't show up in your inbox nearly as consistently.
Because this "not doing it alone" devotion is getting a little long, I'll share the second thing I'd like to mention about this short account from Exodus 4 on Monday. For now, let me encourage you to consider the following questions.
Reflect
Can you think of a time in your life when you felt pretty sure God was calling you to something but you were hesitant? What happened? What held you back? What happened in the end?
Are you aware of your weaknesses and limitations? If so, what are they? How free do you feel to say, "Yep, I'm not very good at that"?
Are there people in your life (at work, at home, in the community, in your church) whose strengths make them good partners for you?
Act
If you have someone in your life who is your "Aaron," tell that person how much you appreciate his or her partnership. This might be a person from work, or someone in your family, church, or wherever.
Pray
Gracious God, thank you for creating us as people in relationship. Thank you for calling us to serve you alongside other people. Thank you that we don't have to do it alone.
Help me, Lord, to be aware of my weaknesses. Give me wisdom to know when I need to become stronger in these areas and when it's okay to admit that I'm just not so good at certain things. Help me to be perceptive and humble so that I might learn to rely on the strengths of others.
Thank you for the people you have brought into my life as partners. Specifically, I thank you for . . . . [Take time to mention specifically folks who are your "Aarons." Today, of course, I'm mentioning Paul, Jennifer, and Chelsea.]
O Lord, how good it is that I don't have to do my life, including my work, alone! Amen.
Banner image by Vardan Papikyan on Unsplash.
Find all Life for Leaders devotions here. Explore what the Bible has to say about work at the High Calling archive, hosted by the unique website of our partners, the Theology of Work Project. Reflection on today's Life for Leaders theme can be found here: The God Who Puts Up With Us.
---
Subscribe to Life for Leaders
Sign up to receive a Life for Leaders devotional each day in your inbox. It's free to subscribe and you can unsubscribe at any time.
---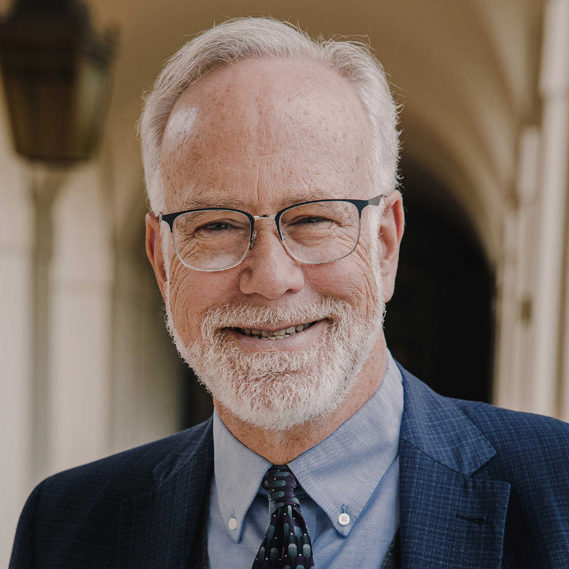 Dr. Mark D. Roberts is a Senior Strategist for Fuller's Max De Pree Center for Leadership, where he focuses on the spiritual development and thriving of leaders. He is the principal writer of the daily devotional, Life for Leaders, and the founder of the De Pree Center's Flourishing in the Third Third of Life Initiative. Previously, Mark was the Executive Director of the De Pree Center, the lead pastor of a church in Southern California, and the Senior Director of Laity Lodge in Texas. He has written eight books, dozens of articles, and over 2,500 devotions that help people discover the difference God makes in their daily life and leadership. With a Ph.D. in New Testament from Harvard, Mark teaches at Fuller Seminary, most recently in his D.Min. cohort on "Faith, Work, Economics, and Vocation." Mark is married to Linda, a marriage and family counselor, spiritual director, and executive coach. Their two grown children are educators on the high school and college level.