For you, brothers and sisters, became imitators of the churches of God in Christ Jesus that are in Judea, for you suffered the same things from your own compatriots as they did from the Jews, who killed both the Lord Jesus and the prophets, and drove us out; they displease God and oppose everyone by hindering us from speaking to the Gentiles so that they may be saved. Thus they have constantly been filling up the measure of their sins; but God's wrath has overtaken them at last.
Focus
Some of the earliest Christians experienced opposition from some of their Jewish compatriots. This historical fact in no way supports anti-Semitism among followers of Jesus. After all, Jesus called us to love all of our neighbors, and even our enemies.
Today's devotion is part of the series Encouragement from 1 Thessalonians.
Devotion
I would confess that it's tempting to skip over today's passage from 1 Thessalonians. I'm well aware that biblical passages like this one have, throughout the centuries, fueled Christian anti-Semitism. And, given the frightening rise of anti-Semitism in the United States and throughout the world, I wouldn't want to do anything to add fuel to this distressing fire. But today's passage from 1 Thessalonians gives us a chance to reject anti-Semitism and other forms of bias inconsistent with the call of Jesus.
In writing to the Thessalonian Christians, Paul and his colleagues said, "[You] became imitators of the churches of God in Christ Jesus that are in Judea, for you suffered the same things from your own compatriots as they did from the Jews" (1 Thessalonians 2:14). Those "same things" had to do with opposition to the gospel and the formation of the church. The Apostle Paul, of course, had once been a primary Jewish opponent of the church until his encounter with the risen Jesus on the road to Damascus. Jewish opposition to Christianity came from its rejection of the basic Christian message. The news that the crucified Jesus was in fact the Jewish Messiah and the Savior of the world didn't sit well with many Jews, who denied its truth and sensed a threat from this message to their way of life. Some Jews in Judea opposed the Christian mission, as did some Jewish people in Thessalonica, according to Acts 17. It's important to note, however, that other Jews in Thessalonica were persuaded by what they heard Paul and his colleagues preach (see Acts 17:1-4). Nevertheless, the Thessalonian Christians experienced opposition to their newfound faith in Christ.
Sometimes the opponents of the early Christians were Jewish. Sometimes they were Gentiles. Just before Paul and his fellow church planters came to Thessalonica, for example, they experienced persecution in Philippi. Their primary opponents in that city were Gentiles who had the Christian missionaries beaten and imprisoned (Acts 16:16-24). But for a variety of historical and psychological reasons, many Christians throughout the ages used the fact of Jewish opposition to the gospel as a rationale for hatred and persecution of Jews in particular. How sad and wrong for followers of Jesus to use what happened to him and his initial disciples as a reason to justify hate and mistreatment of any kind.
Anti-Semitism has no rightful place among followers of Jesus. Nor does any other kind of racial, ethnic, or religious hatred. After all, Jesus commanded us to love, not only our neighbors, but also our enemies. Even if we considered the Jewish people to be our enemies, which I do not, we are called by our Lord to love them, not hate or mistreat them.
Today, Christians continue to experience opposition, and in many countries throughout the world, outright persecution. Earlier this year, Christianity Today reported on the situation of believers in 50 countries "Where It's Hardest to Follow Jesus in 2022." The article found that 1 in 7 Christians today "live in nations with high levels of persecution or discrimination." Over 5,000 believers were martyred for their faith last year, while millions more experienced other kinds of repression and persecution. Those of us who live in countries where we are (mostly) free to express and live our faith should be aware of what's happening to our brothers and sisters throughout the world. We should uphold them in prayer and support the efforts of organizations that fight for religious freedom.
We should not be surprised when we experience opposition to our faith, even when it doesn't rise to the level of government-sponsored persecution. It's not uncommon these days for Christians to be mocked and scorned, especially in the world of social media. (I know this for a fact, given some of the comments my devotions receive on social media platforms.) When this happens to us, we must remember the call of Jesus to turn the other cheek and even to love our enemies. Moreover, as I suggested in yesterday's devotion, all of our words and actions should reflect the gospel of God's grace in Jesus Christ. Because of this gospel, we oppose all forms of hatred and bias. Our Lord calls us to love our neighbors and our enemies. That's a high calling, indeed. But it is our calling as followers of Jesus.
Reflect
Why do you think many Christians throughout the ages have had such animosity toward the Jewish people?
Are you tempted to despise any group of people? If so, what do you do with this temptation?
What will help us to reflect the gospel in our daily lives, even when we experience mistreatment or bias?
Act
Find time to read the Christianity Today article I mentioned in this devotion: "The 50 Countries Where It's Hardest to Follow Jesus in 2022."
Pray
Gracious God, thank you for being with us in all times, in good times and bad. Thank you for being present when we face opposition or even persecution.
Forgive us for the times we let our hearts be filled with hatred or bias. Deliver us from looking down on people because of their race, ethnicity, or religion. Teach us how to love all of our neighbors. And yes, Lord, teach us also how we might love our enemies.
Today I want to pray especially for my brothers and sisters in Christ who are facing extreme persecution. Protect them, Lord. Comfort them. Deliver them. Empower and guide those who are working to bring an end to persecution, of Christians and others. Amen.
Find all Life for Leaders devotions here. Explore what the Bible has to say about work at the unique website of our partners, the Theology of Work Project. Commentary on today's Life for Leaders theme can be found here: Engaging the Culture With Respect (Acts 17:16-34)

---
Subscribe to Life for Leaders
Sign up to receive a Life for Leaders devotional each day in your inbox. It's free to subscribe and you can unsubscribe at any time.
---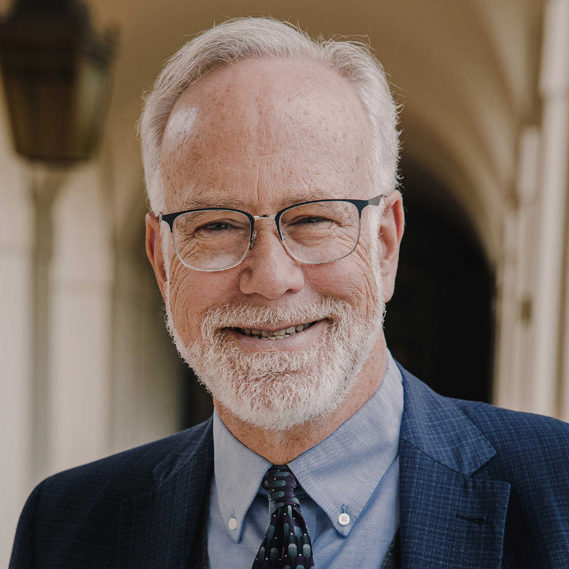 Dr. Mark D. Roberts is a Senior Strategist for Fuller's Max De Pree Center for Leadership, where he focuses on the spiritual development and thriving of leaders. He is the principal writer of the daily devotional, Life for Leaders, and the founder of the De Pree Center's Flourishing in the Third Third of Life Initiative. Previously, Mark was the Executive Director of the De Pree Center, the lead pastor of a church in Southern California, and the Senior Director of Laity Lodge in Texas. He has written eight books, dozens of articles, and over 2,500 devotions that help people discover the difference God makes in their daily life and leadership. With a Ph.D. in New Testament from Harvard, Mark teaches at Fuller Seminary, most recently in his D.Min. cohort on "Faith, Work, Economics, and Vocation." Mark is married to Linda, a marriage and family counselor, spiritual director, and executive coach. Their two grown children are educators on the high school and college level.