Be at peace among yourselves.
Focus
Scripture urges us to be at peace among ourselves. This means more than simply getting along. It's living in community such that each person is able to flourish. Moreover, through our shared life we help our neighbors to flourish as well.
This devotion is part of the series: Encouragement from 1 Thessalonians.
Devotion
"Be at peace among yourselves" is one of those portions of Scripture that is easily overlooked. Or we might regard this portion of 1 Thessalonians 5:13 as the sort of thing you'd find on a poster or in a greeting card. The thought is a good one as far as it goes, but it doesn't seem to deserve much attention.
Our tendency to minimize or miss the point of this imperative has to do, in part, with our tacit understanding of peace. We might understand "Be at peace among yourselves" as equivalent to "Hey folks! Just get along." Peace is mainly a matter of being nice and not stirring up trouble.
The biblical understanding of peace is far deeper and far wider than this. It surely includes the absence of conflict and suggests that people are getting along with each other. But, in Scripture, peace means so much more.
We need to keep in mind the nature of biblical peace—shalom in Old Testament Hebrew, eirene in New Testament Greek. In Scripture, peace is the absence of war or conflict. It's also the experience of inner calm. But those notions are just the beginning. Biblical shalom is a life being fully and rightly ordered according to God's master plan. As theologian Cornelius Plantinga observes, biblical peace is "the webbing together of God, humans, and all creation in justice, fulfillment, and delight." It is "a rich state of affairs in which natural needs are satisfied and natural gifts fruitfully employed." In a nutshell, according to Plantinga, peace is "the way things ought to be." So, biblical peace is about wholeness, flourishing, and the abundant life.
Thus, when Paul and his co-writers say, "Be at peace among yourselves," they are saying more than "Please get along." Rather, they are envisioning a quality of common life in which each person is able to flourish and in which the church flourishes together. When we experience biblical peace, not only are we living fruitfully, meaningfully, and purposefully, but also we are living harmoniously with our sisters and brothers in Christ.
In a time of history when the divisions among people are so stark and malicious, when people tend to seek their own good rather than the common good, wouldn't it be something if we Christians could be at peace among ourselves? What might it say to our neighbors if our engagement with our brothers and sisters in church helped us to flourish even as it also helped our neighbors to flourish? Even though there is so much strife in our world today, I believe that people are hungry for a taste of biblical peace. Our ability to be at peace among ourselves, in the fully biblical sense of that phrase, will speak a powerful world of witness to the world. It will serve as an invitation to people to come and experience the abundant life Jesus offers.
Reflect
Can you think of a time when you were part of a Christian community that was living in peace – biblical peace – together? What was that like? What enabled that to happen?
In what ways does your Christian community help you to flourish?
In what ways do you help others in your Christian community to flourish?
How does your church contribute to the common good of your city?
Act
Talk with a good friend or your small group about how you might help each other live in the fulness of biblical peace.
Prayer
Gracious God, thank you for the gift of peace through Christ. Thank you for the multiple dimensions of peace. Thank you for the peace that calms my heart when I'm stressed. Thank you for the peace that comes when people are getting along. Thank you for the peace that enables me to live fully and fruitfully. Thank you for the peace that we, as your people, can offer to our neighbors.
Help me, Lord, to contribute to the peace of my church. May I freely give of my time, talents, treasures, and love. Together, may we live in such a way that our neighbors are blessed. May our corporate life be a demonstration of the gospel. Amen.
Find all Life for Leaders devotions here. Explore what the Bible has to say about work at the High Calling archive, hosted by the unique website of our partners, the Theology of Work Project. Reflection on today's Life for Leaders theme can be found here: Seeking Peace in a Peace-Hating World.
---
Subscribe to Life for Leaders
Sign up to receive a Life for Leaders devotional each day in your inbox. It's free to subscribe and you can unsubscribe at any time.
---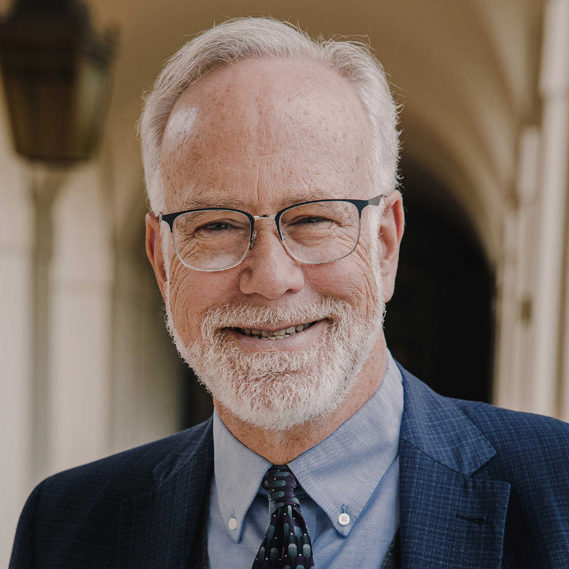 Dr. Mark D. Roberts is a Senior Strategist for Fuller's Max De Pree Center for Leadership, where he focuses on the spiritual development and thriving of leaders. He is the principal writer of the daily devotional, Life for Leaders, and the founder of the De Pree Center's Flourishing in the Third Third of Life Initiative. Previously, Mark was the Executive Director of the De Pree Center, the lead pastor of a church in Southern California, and the Senior Director of Laity Lodge in Texas. He has written eight books, dozens of articles, and over 2,500 devotions that help people discover the difference God makes in their daily life and leadership. With a Ph.D. in New Testament from Harvard, Mark teaches at Fuller Seminary, most recently in his D.Min. cohort on "Faith, Work, Economics, and Vocation." Mark is married to Linda, a marriage and family counselor, spiritual director, and executive coach. Their two grown children are educators on the high school and college level.