Special Episode: How to Work from Home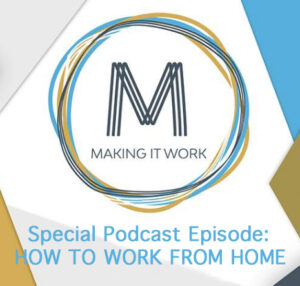 Are you working from home now, perhaps for the first time? Are you wondering how to be productive and healthy in this new working arrangement? Or, to be honest, are you trying to figure out how not to go crazy, or now not to make your housemates crazy?
Making It Work is pleased to offer this special podcast with Ian Jackson, an expert on work relationships, especially working from home situations.
About the Podcast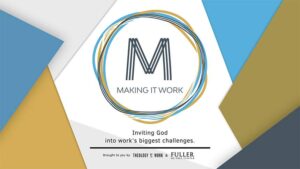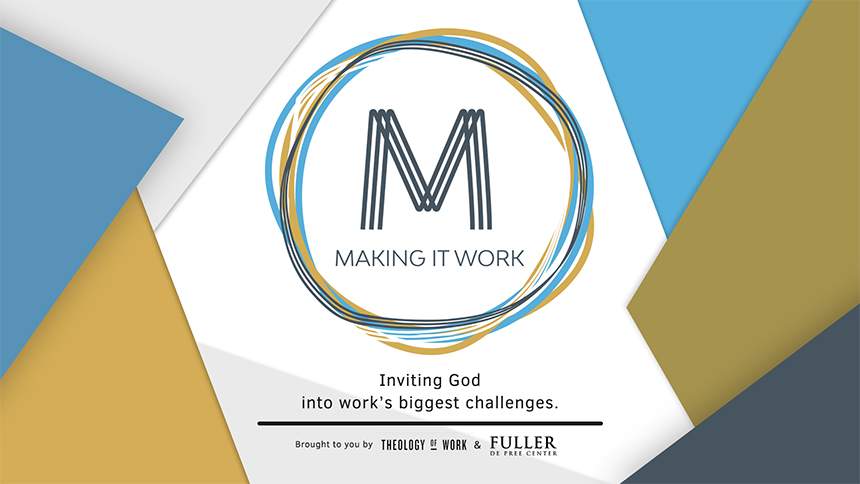 Through conversation, scripture and stories, we invite God into work's biggest challenges, so that you can live out your purpose in the workplace. The Making It Work podcast is brought to you in partnership by The Max De Pree Center for Leadership at Fuller Theological Seminary and the Theology of Work Project. Hosts: Leah Archibald, Mark Roberts.
Subscribe to Our "Making It Work" Podcast
Apple Podcast | Spotify | Stitcher | RadioPublic | Google Music | RSS
All Episodes
Episode 17: Is it Okay to Talk About Mental Health at Work?
"Making It Work" Podcast with Johnny Crowder
We have an honest conversation about what it's like to struggle with mental health at work.
Episode 16: Make Room for Your Whole Self
"Making It Work" Podcast with Clarissa Middleton
If you can't bear the thought of going to work one day longer, it may be time to re-examine the unique factors that make you you.
Episode 15: God in the ER During a Pandemic
"Making It Work" Podcast with Mike Sunu
Emergency room physician Mike Sunu shares how he has experienced God in the ER during COVID-19.
Episode 14: Bridging Political, Racial and Religious Differences Through Food
"Making It Work" Podcast with Adrian Miller
Soul food scholar Adrian Miller discusses bridging our political & racial differences through food.
Episode 13: Sharing Your Faith at Work Without Fear
"Making It Work" Podcast with Sue Warnke
How can you share your faith at work? Conversations about faith in the workplace can often feel like a minefield.
Episode 12: Navigating People vs. Profit
"Making It Work" Podcast with Al Erisman
How can you navigate the tension between people and profit, and what does the Bible have to say about it?
Episode 11: How to Work When You're Working From Home
"Making It Work" Podcast with Ian Jackson
With the advent of the COVID-19 worldwide pandemic, many workers find themselves suddenly working from home.
Episode 10: I've Got a Good Job, But I'm Unhappy
"Making It Work" Podcast with Paul Sohn
You've worked hard, you've landed the job that you thought you wanted but for whatever reason you're unhappy. How do you know what the right career is for you?
Episode 9: Overcoming Procrastination
"Making It Work" Podcast with Cate Nelson
You know that time is running out to do that thing you're supposed to do. But you just can't bring yourself to do it.
Episode 8: Looking for Work? Navigating Seasons of Transition with God
"Making It Work" Podcast with Vernée Wilkinson
Connecting with God can help you get the most out of life in the transition times, like when you lost your job.
Episode 7: Experiencing God's Presence at Work
"Making It Work" Podcast with Denise Daniels & Shannon Vandewarker
What if you could experience God's presence in the midst of your ordinary, everyday work?
Episode 6: Maintaining Integrity in a Culture of Self-Promotion
"Making It Work" Podcast with Monica Busch
A Christian at Facebook gives us a view from the front lines for how to maintain integrity in a culture of self-promotion.
Episode 5: Speaking Up When You're Not the Boss
"Making It Work" Podcast with Joi Freeman
Speaking up, especially when you're not in a position of authority, is not easy. So, how do you know when to speak up, and how can you do it effectively?
Episode 4: Creating Boundaries When You're Overworked
"Making It Work" Podcast with Sarah Magidoff
Have stress and exhaustion become your default state? Explore how to slow down and create boundaries.
Episode 3: Defining Success For a Purposeful Life
"Making It Work" Podcast with Nicholas Pearce
How you define success can guide how you live every day and the decisions you make. So how do you define success?
Episode 2: The Invisible Burden of Being a Black Woman in the Workplace
"Making It Work" Podcast with Austin Channing Brown
Guest Austin Channing Brown talks about faith, work and the invisible burden of being a black woman in the workplace.
Episode 1: Perfectionism and Imposter Syndrome
"Making It Work" Podcast with Erin Sloan
God leads us out of perfectionism and imposter syndrome, into freedom and unconditional love.
More About Theology of Work