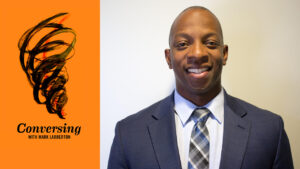 About the Resource
Title: Conversing with Mark Labberton
Author: Fuller Studio
Publication Date: 2020
Summary
In this episode, Cedric Williams (PhD '19), founder and CEO of Legacy Consulting & Research Group, talks about his layered experiences of the military, ministry, and psychology, and about his current work of walking alongside others in the process of meaning-making.
Why this Resource May Help You
Finding meaning alone can seem impossible. Listen to this conversation to learn from someone who knows how to be present with people on their journey.
View Resource