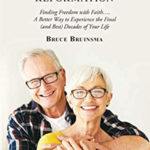 About the Resource
Title: The Retirement Reformation: Finding Freedom with Faith…. a Better Way to Experience the Final (And Best) Decades of Your Life
Author: Bruce Bruinsma
Publication Date: 2019
Summary
The Retirement Reformation will change the way we think about what our culture calls retirement. While acknowledging the reality of longevity, Bruce Bruinsma challenges both individuals and faith-based organizations to reexamine, reshape, reform, and revitalize the fastest-growing segment of our society. God has a unique call for each of our lives, and it does not stop at sixty-five or seventy.
Why this Resource May Help You
What do you think about retirement? Is it enough? Or do you want more?
View Resource
A Book by Bruce Bruinsma.