Therefore I tell you, whatever you ask for in prayer, believe that you have received it, and it will be yours.
When we come across a verse like Mark 11:24, we can easily miss the point. Some Christians, who don't pay attention to Jesus's hyperbolic teaching style or broader biblical teaching on God's nature, turn Mark 11:24 into a hard-and-fast rule for how to get what you want in prayer. The key, they say, is to have enough faith, which means convincing yourself that you already have what you seek from the Lord. If you can make yourself believe something, then God is obligated to do it. Prayer, in this sense, becomes a means by which we can exercise sovereignty over God by our ability to convince ourselves that something we want is true. It is no longer an occasion for putting ourselves and our needs into the hands of the King of kings and Lord of lords.
Not only does this view of prayer compromise the sovereignty of God, but it also stumbles over passages like Mark 9:14-27, where a man confesses his unbelief and nevertheless receives the miracle he had sought from Jesus. Of course there's also Jesus's prayer in the garden of Gethsemane, where he models submission to God's will in prayer and the surrender of his own wishes (Mark 14:32-42). Clearly Jesus didn't think of prayer as merely an occasion to get what he wanted by convincing himself that it was so.
Yet I have heard other Christians who are so uncomfortable with the misunderstanding of prayer I have just described that they neglect the main point of the verse. Jesus is, after all, encouraging his disciples to pray, and to do so with faith. Surely this verse urges us to trust God, and to do so more and more. It comes on the heels of Jesus's simple imperative in Mark 11:22 — "Have faith in God."
So, how can we pray with faith? How can we have confidence that God will give us what we ask in prayer? Such faith comes, not from forcing ourselves to believe something, but rather from laying ourselves and our needs before God. The faith that God will answer some specific prayer is itself a gift from God (1 Cor 12:9). It comes from God's Spirit as we draw near to God in prayer, bearing our souls, sharing our hopes, and even admitting our doubts (Mark 9:24). In fact, the very act of praying, even when you're not sure anyone is listening to you, is itself an act of believing. The more we draw near to God in prayer, coming just as we are, the more we will understand God's will and have confidence in our prayers, not because of our own efforts, but because of God's grace alive in us.
QUESTIONS TO CONSIDER:
What helps you to believe God when you're praying?
When you doubt, do you still pray? Why or why not?
How willing are you, when you pray, to receive God's guidance so that you might pray according to his will?
PRAYER:
Gracious God, even as I offer this prayer to you right now, I am praying in faith. After all, I can't see you or hear you with my physical senses. I don't know you're there in the way I know the tree outside my window is there. But I take you at your word, indeed, your Word. I believe that you hear my prayers. And so I pray.
Yet, Lord, you know how often I wrestle with doubt and uncertainty. I would like to have more faith, and more consistent faith. I would like to trust you more. And so I ask for this gift. Help me pray according to your will. Help me to pray with confidence that comes from your Spirit. But even when I am uncertain, may I still pray, having faith in you.
All praise be to you, gracious God, because you hear my prayers and strengthen my faith. Amen.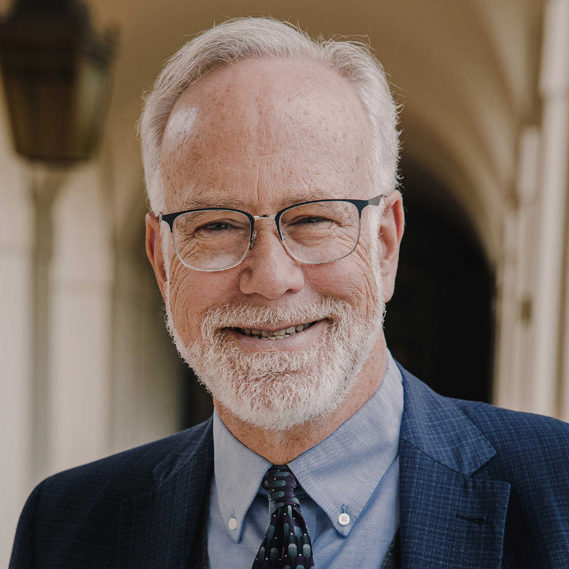 Dr. Mark D. Roberts is a Senior Strategist for Fuller's Max De Pree Center for Leadership, where he focuses on the spiritual development and thriving of leaders. He is the principal writer of the daily devotional, Life for Leaders, and the founder of the De Pree Center's Flourishing in the Third Third of Life Initiative. Previously, Mark was the Executive Director of the De Pree Center, the lead pastor of a church in Southern California, and the Senior Director of Laity Lodge in Texas. He has written eight books, dozens of articles, and over 2,500 devotions that help people discover the difference God makes in their daily life and leadership. With a Ph.D. in New Testament from Harvard, Mark teaches at Fuller Seminary, most recently in his D.Min. cohort on "Faith, Work, Economics, and Vocation." Mark is married to Linda, a marriage and family counselor, spiritual director, and executive coach. Their two grown children are educators on the high school and college level.