But the angel said to him, "Do not be afraid, Zechariah, for your prayer has been heard. Your wife Elizabeth will bear you a son, and you will name him John. You will have joy and gladness, and many will rejoice at his birth, for he will be great in the sight of the Lord. He must never drink wine or strong drink; even before his birth he will be filled with the Holy Spirit. He will turn many of the people of Israel to the Lord their God. With the spirit and power of Elijah he will go before him, to turn the hearts of parents to their children, and the disobedient to the wisdom of the righteous, to make ready a people prepared for the Lord."
Focus
Advent is a season in which we prepare for a rich, renewing celebration of Christmas. Part of our preparation involves repentance, turning away from our sin in order to seek the Lord and his ways. In Advent, we remember just how much we need salvation, which prepares us to welcome the Savior born in a manger.
Today's devotion is part of the series Following Jesus Today.
Devotion
Many Christians describe Advent as a season of preparation for Christmas. In Advent we prepare our hearts for a rich, renewing celebration of the birth of the Savior. We do this, in part, by getting in touch with ancient hopes for the coming of the Messiah, and, also, by attending to our own hopes for the coming of Christ, both in the future and in our own hearts today. Advent experiences of waiting, hoping, grieving, and at times, rejoicing, prepare us to meet the Lord anew at Christmas.
Preparation is also a major theme in Luke's telling of what happened in the months before Jesus was born. Consider, for example, what the angel said to Zechariah as he was in the temple: "Do not be afraid, Zechariah, for your prayer has been heard. Your wife Elizabeth will bear you a son, and you will name him John. You will have joy and gladness, and many will rejoice at his birth, for he will be great in the sight of the Lord. He must never drink wine or strong drink; even before his birth he will be filled with the Holy Spirit. He will turn many of the people of Israel to the Lord their God. With the spirit and power of Elijah he will go before him, to turn the hearts of parents to their children, and the disobedient to the wisdom of the righteous, to make ready a people prepared for the Lord" (Luke 1:13-17). John, whom we know as John the Baptist, would play a crucial role in God's plan of salvation. But John was not the Lord. Nor was he the Savior. He was not the star of the show, but rather a chief supporting actor. His main task was preparation. He would "make ready a people prepared for the Lord" (1:17).
John's role, therefore, is essentially "Adventish." He is all about preparation, about getting people ready for a transformational encounter with God. So, given how much John's ministry will focus on the Advent theme of preparation, we ought to pay close attention to what it is that John will do.
According to the angel, John will "turn many of the people of Israel to the Lord their God" (Luke 1:16). This is the language of repentance. Repentance, simply stated, happens when we are going in a wrong direction and then, realizing our error, make a U-turn to get onto the correct course. The angel's statement to Zechariah assumes that many of the Israelites had turned away from God and needed to be redirected. The angel mentioned two specific examples of repentance that John would facilitate. First, he would "turn the hearts of parents to their children" (1:17). This quotation from Malachi 4:5 envisions parents reclaiming their responsibility to help their children know and serve the Lord (for example, Deuteronomy 4:9; 6:2, 7). Second, according to the angel, John would turn the hearts of "the disobedient to the wisdom of the righteous" (1:17). Those who had gone their own way, disregarding the way of God, would change course, looking to those who were right with God for wise guidance about how to live.
These examples do not exhaust the work of John, of course. They represent two among many ways he would "turn many of the people of Israel to the Lord their God," and in this way "make ready a people prepared for the Lord" (Luke 1:16-17).
For Western Christians, repentance is a relatively minor theme of Advent. Not so for our Eastern Orthodox sisters and brothers, however. What they call the "Nativity Fast" is a 40-day period of fasting and penitence. During this time, the faithful give up rich foods (yes, in the weeks right before Christmas!). Some Orthodox believers even abstain from sexual intimacy during the entire period of the Nativity Fast. They fast so as to be spiritually prepared for a full, twelve-day celebration of Christmas (December 25 – January 5).
Though we may not join our Orthodox brothers and sisters in their Nativity Fast, we can let the angelic description of John's ministry guide us in Advent. We can ask the Lord to show us where we are going in the wrong direction in life. We can feel Spirit-inspired sorrow over our sin so that we might, by the Spirit's help, turn back to the Lord and walk in his ways.
We might, for example, consider our relationship with our families (not just parents with their children). Are we loving our family members with the love of Christ? Sometimes loving those who are closest to us is quite hard. Are we who are older making sure the younger members of our family are growing as disciples of Jesus? Are we who are younger spending time with our elders?
Similarly, even if we are not blatantly disobedient to the Lord, all of us turn away at times, choosing our own way rather than the way of God. Perhaps it's time for us to turn back to "the wisdom of the righteous," especially as found in Scripture.
The preparation of repentance isn't only a matter of turning away from sin, however, so that we might seek the Lord more faithfully. It is also involves recognizing just how much we need a Savior. We cannot save ourselves. We cannot live rightly without a Savior who frees us from sin and guides us in the way of God. This is exactly what we have – or Who we have – in Jesus. Thus, our penitence prepares our hearts to welcome Jesus, the one who saves us, teaches us, turns our hearts to what's right, and gives us abundant life.
Reflect
When you hear the words "repentance" and "penitence," what comes to mind? What thoughts? What feelings?
Do you think of Advent as a time for repentance? If so, why? If not, why not? (Note: Many Christians think of Lent this way, but not Advent.)
Do you relate to the kinds of repentance mentioned by the angel?
Are there things in your life – attitudes, behaviors, omissions – from which you need to turn?
Act
Ask the Lord if there is at least one way in which you can either: 1) love a member of your family in a new way, or 2) pay more attention to "the wisdom of the righteous," especially as found in Scripture.
Pray
Lord Jesus, in this season of Advent, we are preparing to welcome you into our lives at Christmas. As we prepare in a variety of ways, help us to repent as needed, turning away from sin and turning to God. Give us penitent hearts as well as lives devoted to seeking you and your righteousness. Help us to be ready for your coming! Amen.
P.S. from Mark
If you're like me, even now you're trying to figure out what you'll get your family and friends for Christmas. I have a suggestion for you. As you know, my De Pree Center colleague Michaela O'Donnell has recently published a wonderful new book, Make Work Matter: Your Guide to Meaningful Work in a Changing World. You'll remember Michaela from the moving set of devotions she wrote in November, based on the parable of the Good Samaritan. I found many things helpful in Michaela's book, like her ingenious way of talking about calling. Make Work Matter is relevant to all ages, even to third third folk like me. But this book would be especially beneficial to people in vocational transition. I'm thinking in particular of people aged 18 to 35. So, if you're trying to find the perfect Christmas present for someone in this age bracket, I highly recommend Make Work Matter. You can find out more and order it here.
Find all Life for Leaders devotions here. Explore what the Bible has to say about work at the unique website of our partners, the High Calling archive, hosted by the Theology of Work Project. Reflection on today's Life for Leaders theme can be found here: Advent Reflection: The Ministry of John the Baptist

---
Subscribe to Life for Leaders
Sign up to receive a Life for Leaders devotional each day in your inbox. It's free to subscribe and you can unsubscribe at any time.
---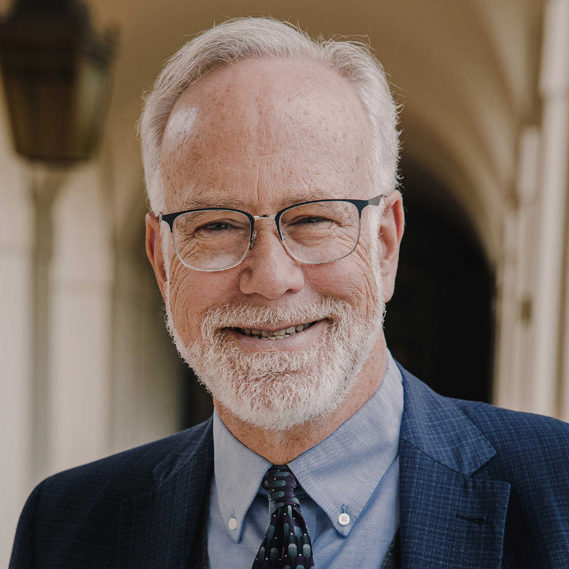 Dr. Mark D. Roberts is a Senior Strategist for Fuller's Max De Pree Center for Leadership, where he focuses on the spiritual development and thriving of leaders. He is the principal writer of the daily devotional, Life for Leaders, and the founder of the De Pree Center's Flourishing in the Third Third of Life Initiative. Previously, Mark was the Executive Director of the De Pree Center, the lead pastor of a church in Southern California, and the Senior Director of Laity Lodge in Texas. He has written eight books, dozens of articles, and over 2,500 devotions that help people discover the difference God makes in their daily life and leadership. With a Ph.D. in New Testament from Harvard, Mark teaches at Fuller Seminary, most recently in his D.Min. cohort on "Faith, Work, Economics, and Vocation." Mark is married to Linda, a marriage and family counselor, spiritual director, and executive coach. Their two grown children are educators on the high school and college level.