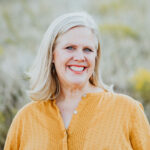 Erin M. Reynolds has her doctorate in communication from the University of Denver. She taught communication at Fuller Theological Seminary for more than 15 years, both on the Pasadena campus and in Colorado Springs. Outside academia, her career experience spans performing career development for Accenture, working with teams at Denver Water, teaching communication skills for success at Valor Christian High School, and conducting corporate consulting and training for a wide variety of clients. As a writer, she is published in a number of online and print periodicals and also writes copy for organizations wanting to expand their online presence.
In her coaching, Erin seeks to engage, equip and encourage clients to take steps forward. Having, herself, experienced trauma in a Christian organization, Erin knows how devastating it can be to get stuck in a chapter you did not write for yourself. Her focus is on helping clients to attune to their unique design. Erin is a creative, constructive thinker, who cares deeply about justice, unity, and growth. Her consulting business, The Next Chapter, helps clients move from being stuck in their current stories to using what they have learned from their past to write a new chapter and advance into a life-giving future.
The Road Ahead is a place to begin reclaiming your God-given design. Join Erin as she encourages you to pick up your pen again and begin writing your next chapter. You can do this and you will look back someday and see how far you have come.