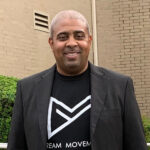 Jason Hall is a Maryland native who has resided in the Houston, Texas area for the last seven years. In 2015, he felt a calling from God to relocate from his hometown in Maryland to Katy, Texas to become and do all God desired to do through him and his family. Jason has five children and he and his wife, Jennifer, have been married for sixteen years.
Jason is a proud military veteran of the U.S. Air Force. After serving four years, Jason spent the next several years as a security professional with the U.S. Department of Energy, State Department, and White House. From 2017 – 2021, Jason had the opportunity to serve and lead as a Director with Attack Poverty, a global, Christian non-profit organization that serves locally by adopting pockets of poverty and launching what they call "Friends Communities."
He currently serves as the Lead Pastor of Dream Movement – a church plant and movement of believers committed to being the Church in the community, celebrating differences, serving with love, and walking alongside individuals to equip and empower them to become all they are called to be in Christ.
Jason has a passion for helping others unlock their full potential and discover their true purpose through leadership development and discipleship. In addition to pastoring, he is a Mental Performance & Dream Coach that helps people pursue and accomplish their God Dream.
Jason has a bachelor's degree in Business Management from the University of Phoenix. He loves to spend time with his family, including date nights with his wife and watching movies with his children.
Get to Know Jason as a Road Ahead Guide: