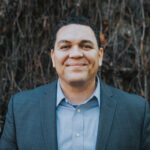 Dr. Peter Rios is the CEO and Co-Founder of Robust Innovative Organizational Solutions (RIOS); a consulting firm dedicated to strategic consulting and leadership coaching to businesses, academic institutions, and nonprofit organizations. RIOS focuses on strategic foresight, leadership development, organizational diversity and renewal. Rios' passion is to add value to people and see their organizations thrive.
His extensive experience and doctoral education in strategic leadership, has made him a sought out speaker, facilitator and coach. Rios has traveled to speak in China, Guatemala, Dominican Republic, Canada, and throughout the U.S. In the United States Marines Corps, he gained global leadership exposure in multicultural settings while serving in Okinawa Japan and South Korea.
Before launching RIOS, Peter was a pastor, and has been involved in itinerant ministry for over ten years. He has extensive experience training leaders in the for-profit and non-for-profit arenas, and helping their organizations flourish. Rios has served as a Program Director for the DeVoe School of Business, and currently is an adjunct professor at Indiana Wesleyan University, Wesley Seminary, DeVoe School of Business and Roberts Wesleyan College, teaching business, leadership and theology. Rios has over fifteen years of diverse leadership experience and has developed leaders globally. For more information please visit http://riosconsultants.com.