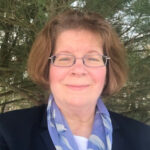 Dr. Ruth Bates-Hill
Senior Researcher
Faculty Specialist
Western Michigan University
Biography
Dr. Ruth Bates-Hill is a Senior Researcher at Max De Pree Center for Leadership at Fuller Seminary where she works on the Third Third Initiative. Ruth earned her Ph.D. at Western Michigan University in the School of Public Affairs and Administration where she conducted research in healthcare policy, specifically eldercare policy, an important topic given the rapid pace at which the global population is aging. She is currently also a faculty specialist at WMU and teaches epidemiology in the Masters of Public Administration, health care management program. She has previously taught courses in statistics and economics.
Ruth holds a B.S. degree in Zoology from Olivet Nazarene University, an M.S. in Microbiology/Immunology from the University of Illinois, an M.B.A. from the University of Colorado in Denver, a Masters Certificate in Project Management from George Washington University, and has completed post-graduate course work in epidemiology, biostatistics, and international clinical trials at the Johns Hopkins School of Public Health and Hygiene.
Ruth spent 30 years in the pharmaceutical/biotechnology industry working for such companies as Johnson & Johnson and Pfizer conducting and managing domestic and international drug and vaccine clinical trials.
Ruth, her husband, and son, (and two dogs, as well as assorted critters), live near Kalamazoo where they enjoy all fours seasons of beautiful Michigan. They are avid hikers, love to kayak and bicycle, and have a passion for snow skiing. They also love to travel as a family and have a goal to visit all 50 states and as many national parks as possible before their son graduates from high school.