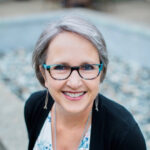 Susie Lipps (MAGL, Fuller Seminary) is a missionary kid from Honduras where she lived in a mud hut and went to boarding school; and later, from Guatemala, where she lived in an urban setting, climbed active volcanoes and survived a major earthquake. She met her husband at Arizona State and, shortly after getting married, they joined Wycliffe, serving in leadership positions for over 20 years while raising their family in exotic places like Papua New Guinea, Dallas and Orlando! When they moved to San Francisco, Susie continued as President of a small non-profit organization and board chair of Synergy Women's Network while getting her degree in leadership at Fuller. She spent time organizing board meetings all around the world while staying anchored to the City by serving as an elder in their church and hosting a community group every Tuesday in their home.
After God sent them to wine country, Susie created a wine-country retreat for leaders called Conversations in the Vineyard. She loves speaking on leadership principles from the vineyard, women in leadership, emerging leaders and telling stories of God's faithfulness. She is fluent in Spanish and loves coffee (or wine) accompanied by good conversations and yummy food.
Also check out the Conversations in the Vineyard blog.