As God's chosen ones, holy and beloved, clothe yourselves with compassion, kindness, humility, meekness, and patience. Bear with one another and, if anyone has a complaint against another, forgive each other; just as the Lord has forgiven you, so you also must forgive. Above all, clothe yourselves with love, which binds everything together in perfect harmony. And let the peace of Christ rule in your hearts, to which indeed you were called in the one body. And be thankful. Let the word of Christ dwell in you richly; teach and admonish one another in all wisdom; and with gratitude in your hearts sing psalms, hymns, and spiritual songs to God. And whatever you do, in word or deed, do everything in the name of the Lord Jesus, giving thanks to God the Father through him.
Focus
The Bible says we're to put up with each other. This doesn't mean we tolerate actual sin or true injustice. Rather, we're to put up with each other when it comes to things that bug us, to matters of taste or preference, to behaviors that aren't wrong, only bothersome. In a culture that prizes criticism and canceling, putting up with people will feel profoundly counter-cultural. But that's what it means to treat others with kindness and patience.
Today's devotion is part of the series Live Who You Are.
Devotion
According to the New Revised Standard Version, as God's special and beloved people we should "bear with one another" (Colossians 3:13). Now, I think we know basically what "bear with" means, but we don't talk like this very often in ordinary speech. In my part of the world we say "put up with" rather than "bear with." Just for fun, I checked Google's Ngram Viewer (which counts word frequencies). "Put up with" is about four times more common than "bear with," though "bear with" shows a slight recent uptick while "put up with" shows a slight decrease in usage. For even more fun, I checked the word "forbear," which appears in the King James Version of Colossians 3:13 ("forbearing one another"). Around 1800 it was way more common than either "bear with" or "put up with." But "forbear" has fallen steadily since then, and today is on the level with "bear with."
You may wonder if this study of word usage has a point, or if I'm just enjoying my peculiar fondness for words. In fact, I do have a point. It seems to me that "bear with" makes what's required of us seem rather archaic and unreal, perhaps even noble. Bearing with someone feels like the sort of thing they do on Downton Abbey. But putting up with? Now that's altogether different. Putting up with people isn't any fun at all. It can be unpleasant. It's hard work that we don't especially like to do.
Instead of "bear with," the New Living Translation has "make allowance for each other's faults." But this, I think, misses the point. Faults, especially moral ones, are things needing forgiveness. That comes next in our passage. But I don't believe Colossians 3:13 wants us to put up with people's faults so much as their preferences, their peculiarities, their oddness—their behavior that isn't wrong, but bothersome. If, for example, you're wearing a shirt that I find to be ugly, that's not really a fault on your part. It's a matter of opinion or taste. Perhaps you like your shirt. Someone wearing what I believe to be an ugly shirt is something I need to bear with or, more commonly, put up with.
We're not very good at this sort of thing, are we? Even if we appear to put up with things that others do that bug us, we tend to grumble about them to ourselves and gossip about them to others. Social media exacerbates the problem, encouraging us to criticize, condemn, or cancel anybody that we don't like.
I'm sad to say that church members are often pretty bad at putting up with things. If they don't like the style of music in worship, they'll let you know. A friend of mine who always dressed appropriately when leading worship consistently heard from members of her church that her clothing was someone deficient. It was the wrong color or style or, well, you name it.
I'll freely admit that putting up with folks is not my strong suit. I like what I like and dislike what I dislike. If you indulge in things I dislike, then I'm not naturally inclined to pretend it's okay. I may not say anything to you, but my blood pressure will rise and my intolerance will blossom.
Yet, the Bible says we're supposed to put up with each other. We're supposed to tolerate in others the things that irk us. If folks in my church like worship music that isn't my favorite, I need to find a way to be okay with that. And if some of my sisters and brothers have political opinions different from mine, that's another occasion for putting up. Putting up isn't only a matter of behavior, by the way. It's a matter of the heart. I need to be okay with those who think, feel, and act in ways I don't appreciate.
How in the world can this be possible? What will help me to put up with people? One answer comes from the verse in Colossians right before the command to "bear with" or "put up." You'll remember that verse 12 reads, "As God's chosen ones, holy and beloved, clothe yourselves with compassion, kindness, humility, meekness, and patience." This verse reminds me that the people I need to put up with are God's chosen ones, holy and beloved. Before I see the things about them that bug me, I need to see them as people special to the God who loves them as much as he loves me. That will get me moving in a "putting up with" direction.
Moreover, if people are perturbing me without sinning, then I have a perfect opportunity to clothe myself with compassion, kindness, humility, meekness, and patience. In fact, these qualities are exactly what is required if we're going to have to put up with people. In other words, putting up with is something that follows logically from the qualities mentioned in verse 12. This fact is somewhat obscured in the NRSV translation, which begins verse 13 with a new sentence: "and patience. Bear with one another . . . ." The Greek reads literally, "clothe yourselves with compassion, kindness, humility, meekness, and patience, putting up with one another and forgiving each other . . ." (Colossians 3:12-13).
I've admitted that I'm no fan of putting up with people. It takes hard spiritual and moral work for me to do this. But here's something I find quite wonderful about the command to put up. It's not just for me. It's also for you. It's for the people in my family, workplace, and church. Even as I'm supposed to put up with them, they're supposed to put up with me. And this, I suggest, can be quite pleasing. To know that you're loved and accepted in spite of the things about you that are odd or even unpleasant is very sweet, indeed.
So, if you weren't all that pleased with me for beginning this devotion with obscure facts about words, I get it. My love of language is unusual, perhaps even bothersome to some folks. But the good news for me is that you should put up with me. I promise, by the way, that I won't do this sort of thing every day. But I'm glad that you'll be working on putting up with me by God's grace. Thanks for this gift. And thanks be to God.
Reflect
Can you think of a time recently when you chose to put up with someone or something? What happened? What did you do?
What kinds of behaviors or preferences do you find particularly hard to put up with?
Have you ever experienced people putting up with your peculiarities? If so, what was that like for you?
Act
Be ready to put up with someone whose behavior isn't to your liking. See if you can do this with grace and kindness, rather than resentment.
Pray
Gracious God, you know that it's hard for me to put up with people, especially when it comes to things they do or think that really bothers me. So I take seriously the challenge found in the simple command, "bear with one another." Help me, Lord, to do this. May I put up with folks at work and at home, in my neighborhood and my church. Teach me to treat them with patience and kindness. Give me a generous and understanding heart, Lord. Amen.
Find all Life for Leaders devotions here. Explore what the Bible has to say about work at the unique website of our partners, the High Calling archive, hosted by the Theology of Work Project. Reflection on today's Life for Leaders theme can be found here: The God Who Puts Up With Us

---
Subscribe to Life for Leaders
Sign up to receive a Life for Leaders devotional each day in your inbox. It's free to subscribe and you can unsubscribe at any time.
---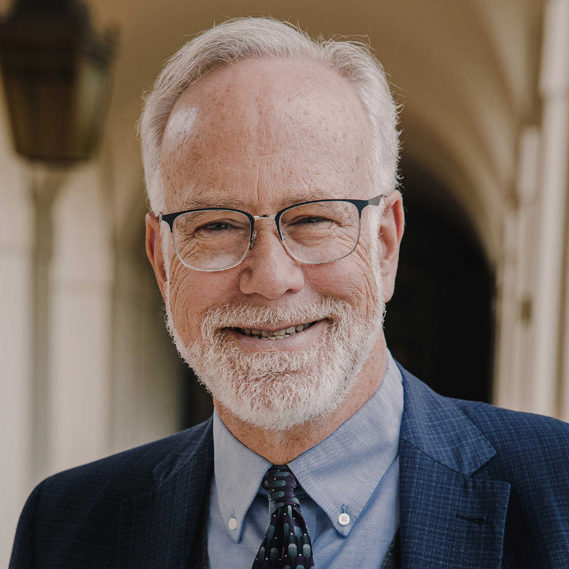 Dr. Mark D. Roberts is a Senior Strategist for Fuller's Max De Pree Center for Leadership, where he focuses on the spiritual development and thriving of leaders. He is the principal writer of the daily devotional, Life for Leaders, and the founder of the De Pree Center's Flourishing in the Third Third of Life Initiative. Previously, Mark was the Executive Director of the De Pree Center, the lead pastor of a church in Southern California, and the Senior Director of Laity Lodge in Texas. He has written eight books, dozens of articles, and over 2,500 devotions that help people discover the difference God makes in their daily life and leadership. With a Ph.D. in New Testament from Harvard, Mark teaches at Fuller Seminary, most recently in his D.Min. cohort on "Faith, Work, Economics, and Vocation." Mark is married to Linda, a marriage and family counselor, spiritual director, and executive coach. Their two grown children are educators on the high school and college level.