Rejoice with those who rejoice, weep with those who weep.
Focus
As we experience genuine community with our sisters and brothers in Christ, we'll share with them in the best times and the worst times. Thus it says in Romans, "Rejoice with those who rejoice, weep with those who weep." If we're going to rejoice with others, we need to focus on them, not ourselves. When we have walked with someone through hard times, the joy we feel when good things happen to them is even stronger.
Today's devotion is part of the Life for Leaders series: Can't Do It Alone.
Devotion
When it comes to actually "not doing it alone" with other Christians, the New Testament is full of wisdom on how best to live in community with others. One facet of that wisdom appears in Romans 12:15, "Rejoice with those who rejoice, weep with those who weep." I am convinced that this short verse speaks incisively and relevantly to us today. We need to pay attention to it. We need to do it.
The opening part of verse 15 tells us to rejoice with those who rejoice. At first glance, this seems both delightful and relatively easy to do. Often it is both of these things. Who doesn't like celebrating with others when they're celebrating?
But sometimes certain barriers keep us from rejoicing with those who rejoice. For example, suppose you are languishing in your job and wishing you could find another situation. When a Christian sister tells you she just got a great new job, you may have mixed feelings. You are happy for her but sad for yourself. Her opportunity reminds you of how unfulfilled you are in your job. In a situation like this, we need God's grace to help us put aside our own feelings for a while so that we might genuinely celebrate with another person.
Sometimes the barrier to rejoicing has been built by the person who is delighting in some piece of good news. For example, if something really good happens in my life, I might be inclined not to share it with others, especially if it reflects well on me. I don't want to boast or brag. So I might be inclined to keep my blessing to myself. By doing this, however, I prevent my brothers and sisters in Christ from doing what Romans 12:15 exhorts them to do. They can't rejoice with me if they don't know I'm rejoicing. So, when good things happen in my life, I need to risk sharing them with others.
My ability to rejoice with others is increased if they have shared part of their life journey with me. In particular, if I am aware of some of the pain in their life, rejoicing with them can be particularly sweet. I remember a man in my church in Irvine whom I'll call Jeff. He had been on the mission field with his wife and two children when his wife became gravely ill. Because their work required them to live far from decent medical care, Jeff's wife died. Shortly thereafter he took his two young children and returned to the United States to grieve and to get support for his family. Jeff began coming to my church shortly after his return to California.
I talked and prayed with Jeff many times in those difficult days. Understandably, his heart was broken. He felt abandoned by God. He was concerned for his children. He worried that joy would never return to his little family. In my times with Jeff, I experienced the second half of Romans 12:15, weeping with one who weeps.
That's not how Jeff's story ends, however. Two years later I stood with Jeff at the front of our church as I performed his wedding to a wonderful woman from our congregation. His children stood alongside them, beaming with happiness. I felt an abundance of joy, not only because Jeff was getting married, but also because I had walked with him on his road of suffering.
This story illustrates one example of rejoicing with those who rejoice. It also points to the importance of weeping with those who weep. The more we do this, the greater our rejoicing when good things happen in their lives. I will talk more about this in next Monday's Life for Leaders devotion. In the meanwhile, let me encourage you to reflect on the following questions.
Reflect
Has there been a time in the last few months when you rejoiced with someone who was rejoicing? If so, what happened? What was that experience like for you?
Has there been a recent time when you experienced the other side of this imperative, when someone rejoiced with you as you were rejoicing? If so, what was that experience like for you?
What helps you to rejoice with those who rejoice?
What might keep you from rejoicing with those who rejoice?
Act
If you know of someone who is rejoicing over some good thing in their lives, reach out to that person and share in their joy.
Pray
Gracious God, thank you for the reminder in Romans 12:15 to rejoice with those who rejoice. It's a wonderful thing when sisters and brothers in Christ celebrate together the blessing of one of their siblings. Thank you for the gift of shared joy.
I ask, Lord, that you would enable me to rejoice freely with others no matter what I'm going through myself. Give me a heart full of empathy and the ability to bracket my own feelings. May I focus on others and join in their celebration.
And if I'm reticent to share my blessings with others, help me to find the freedom so that I can do this. Give me wisdom about how to do it. Help me to share honestly in a way that allows others to rejoice with me.
O Lord, may my church be a community in which we truly rejoice with those who rejoice. Amen.
Banner image by Zachary Nelson on Unsplash.
Find all Life for Leaders devotions here. Explore what the Bible has to say about work at the unique website of our partners, the Theology of Work Project's online commentary. Reflection on today's Life for Leaders theme can be found here: Specific Behavioral Principles to Guide Moral Discernment (Romans 12:9–21).
---
Subscribe to Life for Leaders
Sign up to receive a Life for Leaders devotional each day in your inbox. It's free to subscribe and you can unsubscribe at any time.
---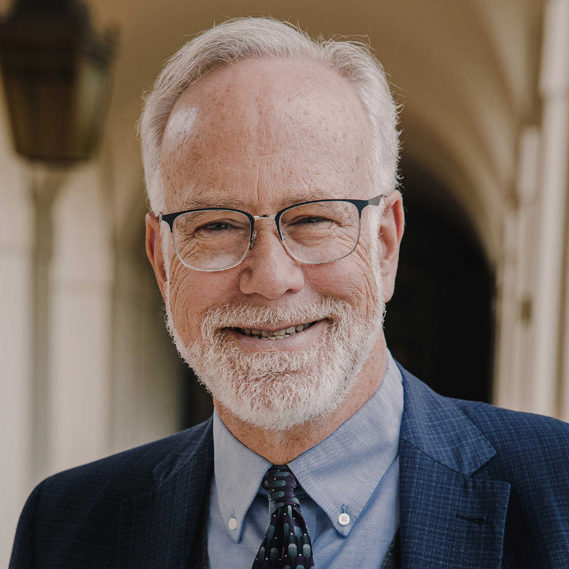 Dr. Mark D. Roberts is a Senior Strategist for Fuller's Max De Pree Center for Leadership, where he focuses on the spiritual development and thriving of leaders. He is the principal writer of the daily devotional, Life for Leaders, and the founder of the De Pree Center's Flourishing in the Third Third of Life Initiative. Previously, Mark was the Executive Director of the De Pree Center, the lead pastor of a church in Southern California, and the Senior Director of Laity Lodge in Texas. He has written eight books, dozens of articles, and over 2,500 devotions that help people discover the difference God makes in their daily life and leadership. With a Ph.D. in New Testament from Harvard, Mark teaches at Fuller Seminary, most recently in his D.Min. cohort on "Faith, Work, Economics, and Vocation." Mark is married to Linda, a marriage and family counselor, spiritual director, and executive coach. Their two grown children are educators on the high school and college level.