When [Jesus] came to Nazareth, where he had been brought up, he went to the synagogue on the sabbath day, as was his custom. He stood up to read, and the scroll of the prophet Isaiah was given to him. He unrolled the scroll and found the place where it was written: "The Spirit of the Lord is upon me, because he has anointed me to bring good news to the poor. He has sent me to proclaim release to the captives and recovery of sight to the blind, to let the oppressed go free, to proclaim the year of the Lord's favor."
And he rolled up the scroll, gave it back to the attendant, and sat down. The eyes of all in the synagogue were fixed on him. Then he began to say to them, "Today this scripture has been fulfilled in your hearing." All spoke well of him and were amazed at the gracious words that came from his mouth. They said, "Is not this Joseph's son?" He said to them, "Doubtless you will quote to me this proverb, 'Doctor, cure yourself!' And you will say, 'Do here also in your hometown the things that we have heard you did at Capernaum.'" And he said, "Truly I tell you, no prophet is accepted in the prophet's hometown. But the truth is, there were many widows in Israel in the time of Elijah, when the heaven was shut up three years and six months, and there was a severe famine over all the land; yet Elijah was sent to none of them except to a widow at Zarephath in Sidon. There were also many lepers in Israel in the time of the prophet Elisha, and none of them was cleansed except Naaman the Syrian."
Focus
In synagogue gatherings, Jesus engaged in conversations about significant things. His example shows us that meaningful conversations are essential to our experience of sabbath rest. Sometimes these will happen in the context of our church community. Often significant conversations will take place in other settings, especially as we share food together. No matter the way we do it, we need to include meaningful conversation in our regular times of rest.
Series: Unwrapping God's Gift of Rest
Devotion
Several years ago, I was preaching a sermon in a worship service when, to my surprise, someone in the congregation raised his hand as if in a classroom. I didn't know the hand-raiser and wasn't sure what he wanted. Of course, we Presbyterians don't ask questions during sermons, so I went on without responding to the man and his prominent hand. After a couple of minutes, however, as his hand remained in the air. I sensed that this was distracting to the congregation, so I figured I should see what the man wanted.
"Hello, there," I said. "I'm Pastor Mark. What's your name?"
"I'm Jeff," he responded.
"Jeff," I continued, "your hand is in the air. Do you have a question?"
"Yes," he answered.
"Well," I said, "we don't usually do Q&A during sermons here. We save that for after the service. But if you can be brief, I'd be glad to hear your question."
It turned out that Jeff wanted clarification concerning something I had said. So I explained my point more clearly and invited Jeff to speak with me after the service was over. Thus ended the conversation.
I'll admit I was a bit rattled by this experience because Presbyterian sermons aren't usually dialogical. If Jesus had been preaching that day, however, I don't think he would have been unsettled by what happened. In his day, synagogue services were often conversational. It was not unusual for members of a synagogue, especially its wiser folk, to speak with each other during times of scriptural reflection. We see this happening in Luke 4 as well as other gospel passages in which Jesus is speaking in a synagogue and that leads to conversation (for example, Luke 13:10-17).
Meaningful conversation on our day of rest can happen in a variety of ways. I don't expect that most churches will invite questions during the sermon, at least not through raising hands. While preaching at the evening service of Park Street Church in Boston, I was impressed by the fact that the congregation was invited to ask questions via text messaging, with the promise that I would respond to them after the benediction for anyone who wanted to stick around. In most churches, however, meaningful conversation happens not in corporate worship, but in small groups, adult classes, and other similar settings.
Significant sabbath conversation can happen, not just in official gatherings, but also during meals with family and friends. For example, when I was in graduate school, one of my colleagues invited me to his home for a Lord's Day meal. Michael and his wife, Ruth, set aside one day each week as a special day devoted to worship, rest, reflection, and genuine community. They would begin their day with corporate worship at their local church. Later they would host a variety of people for an evening meal. During this meal they asked those of us who had gathered several questions that drew us into deep conversation about matters of Christian faith and practice.
I discovered later that Michael and Ruth did this sort of thing intentionally every week as part of their Lord's Day observance. My experience at their home helped me realize how often my conversations over meals were not particularly meaningful, no matter the day of the week. It was easy for me to fill the air with small talk. That's not always wrong, of course. But I was impressed by the potential for meal-based conversations to go deeper than I had been accustomed.
A few years later I joined a Mennonite house church. We met for worship, including singing, prayer, and mutual instruction, at 3:00 on Sunday afternoons. Our biblical learning times were guided by someone in the church but were more conversational than typical Protestant sermons. When we concluded our worship time, we weren't finished. Rather, we'd head for the kitchen to collaborate on a simple, healthy, tasty meal. Then we'd eat together. Inevitably, our conversations would include significant topics, often related to what we had talked about during our worship times. Of course, we'd also tell stories and jokes, enjoying plenty of laughter. I wondered if all Mennonites were so interesting and delightful as well as such great cooks!
I've shared several examples of contexts for meaningful conversation because there isn't a one-size-fits-all way to do this. As I reflect on what I've written here, I'm encouraged to be more intentional about engaging in meaningful conversations during my times of weekly rest. These could happen in church settings, over shared meals, by phone, by Zoom, or you name it. I would encourage you to think about how you might engage in deeper conversations during your times of sabbath rest.
Reflect
Do you have meaningful conversations in your regular times of rest? If so, when do these happen? If not, why not?
As you consider different options for how you might have meaningful conversations in your sabbath times, what would you like to experiment with?
Act
In light of your answer to the previous question, do something in the next couple of weeks so that your regular rest may include an experience of meaningful conversation.
Pray
Lord Jesus, as we read the Gospels, we catch sight of some of what you did on the sabbath. Consistent with the practice of your community, sabbath offered an occasion for meaningful conversation. Some of us are already engaging in practices that foster such significant dialogue. Others of us need to learn how we might do this. No matter our situation, help us to set aside time each week for conversations that matter. May these help us to grow in our understanding and in the quality of our relationships. Amen.
Banner image by Beth MacDonald on Unsplash.
Find all Life for Leaders devotions here. Explore what the Bible has to say about work at the unique website of our partners, the Theology of Work Project's online commentary. Reflection on today's Life for Leaders theme can be found here: Sabbath and Work (Luke 6:1-11; 13:10-17).
---
Subscribe to Life for Leaders
Sign up to receive a Life for Leaders devotional each day in your inbox. It's free to subscribe and you can unsubscribe at any time.
---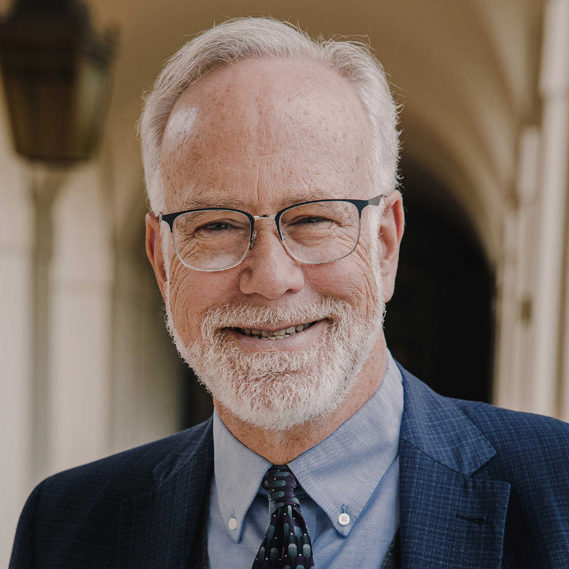 Dr. Mark D. Roberts is a Senior Strategist for Fuller's Max De Pree Center for Leadership, where he focuses on the spiritual development and thriving of leaders. He is the principal writer of the daily devotional, Life for Leaders, and the founder of the De Pree Center's Flourishing in the Third Third of Life Initiative. Previously, Mark was the Executive Director of the De Pree Center, the lead pastor of a church in Southern California, and the Senior Director of Laity Lodge in Texas. He has written eight books, dozens of articles, and over 2,500 devotions that help people discover the difference God makes in their daily life and leadership. With a Ph.D. in New Testament from Harvard, Mark teaches at Fuller Seminary, most recently in his D.Min. cohort on "Faith, Work, Economics, and Vocation." Mark is married to Linda, a marriage and family counselor, spiritual director, and executive coach. Their two grown children are educators on the high school and college level.