"Truly I tell you, people can be forgiven all their sins and every slander they utter, but whoever blasphemes against the Holy Spirit will never be forgiven; they are guilty of an eternal sin."
This passage from the Gospel of Mark has worried Christians for centuries. It speaks of a sin that will not be forgiven, often called the "unpardonable sin." As a pastor, I have counseled with people who feared that they had committed this sin and that God would never forgive them. Today I'll share with you what I have said to them.
Here is the good news writ large. If you will be open to God's work in your life, God will forgive.
Mark 3:28-29 comes in a passage that describes various criticisms of Jesus. His family, for example, thought he was out of his mind (3:21). The religious teachers from Jerusalem offered another explanation for Jesus' behavior: "He is possessed by Beelzebul! By the prince of demons he is driving out demons" (3:22).
Jesus countered this attack in two ways. First, he explained that it made no sense for him to be casting out demons with demonic power (3:23-27). This would be Satan attacking Satan. Logically, the power of Jesus must have been opposed to and greater than the power of Satan. Second, Jesus delivered the bad news, namely, that someone who "blasphemes against the Holy Spirit will never be forgiven" (3:29). Most narrowly, this referred to the accusations of the Jewish leaders, who attributed the work of God to Satan.
Blaspheming the Holy Spirit is not a matter of a mistaken comment here or there. Rather, it is persistent, intentional rejection of God's work and God's grace. It isn't just attributing the work of the Spirit to Satan, however. It is also choosing to resist that work in one's own life. To put it most bluntly, the unpardonable sin is rejecting the very grace that pardons. It is saying "No" to God's offer of forgiveness. If Christ offers forgiveness through his life, death, and resurrection, yet someone rejects this offer, then this rejection is the unpardonable sin.
In my experience, those who worry about the unpardonable sin are not anywhere close to committing it. If anything, what they lack is the ability to believe the good news of Mark 3:28, that "people can be forgiven all their sins and every slander they utter." Here is the good news writ large. If you will be open to God's work in your life, God will forgive. Remember the encouragement of 1 John 1:9: "If we confess our sins, he is faithful and just and will forgive us our sins and purify us from all unrighteousness." Did you catch that? From all unrighteousness.
QUESTIONS TO CONSIDER:
Have you ever wondered if God can forgive all of your sins?
Are you resisting the good news of God's forgiveness?
What reassures you that all of your sins are forgiven?
PRAYER:
Dear Lord, today I want to pray, first of all, for people who worry about the unpardonable sin. You know who they are, Lord. You know their inner turmoil and confusion. Please break through with your truth. Reassure them and comfort them. Let them know with confidence that, if they have turned to you through Christ, they are forgiven.
I want also to pray for those who are resisting the work of your Spirit today. Though they may not be attributing your actions to Satan, they are nevertheless saying "No" to your grace. Help them, dear Lord, to be open to you and the renewing work of your Spirit.
Finally, I want to thank you for the extraordinary gift of forgiveness. Thank you, Lord, for wiping my slate clean. Thank you for taking upon yourself my sin, giving me the gift of life in return. How good you are to me! Hallelujah! What a Savior! Amen.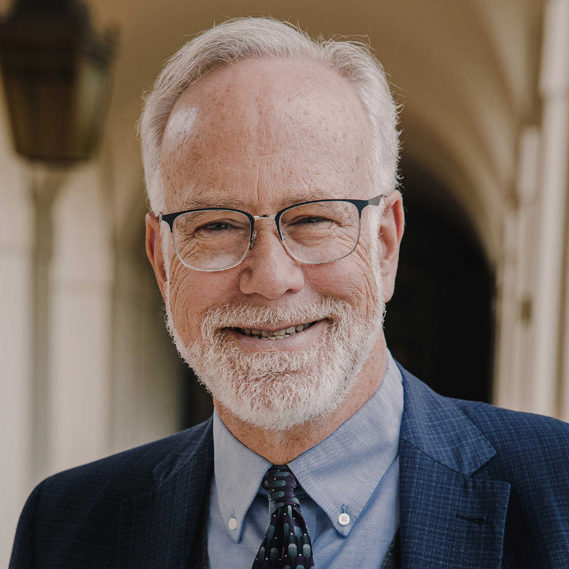 Dr. Mark D. Roberts is a Senior Strategist for Fuller's Max De Pree Center for Leadership, where he focuses on the spiritual development and thriving of leaders. He is the principal writer of the daily devotional, Life for Leaders, and the founder of the De Pree Center's Flourishing in the Third Third of Life Initiative. Previously, Mark was the Executive Director of the De Pree Center, the lead pastor of a church in Southern California, and the Senior Director of Laity Lodge in Texas. He has written eight books, dozens of articles, and over 2,500 devotions that help people discover the difference God makes in their daily life and leadership. With a Ph.D. in New Testament from Harvard, Mark teaches at Fuller Seminary, most recently in his D.Min. cohort on "Faith, Work, Economics, and Vocation." Mark is married to Linda, a marriage and family counselor, spiritual director, and executive coach. Their two grown children are educators on the high school and college level.