So we do not lose heart. Even though our outer nature is wasting away, our inner nature is being renewed day by day. For this slight momentary affliction is preparing us for an eternal weight of glory beyond all measure, because we look not at what can be seen but at what cannot be seen; for what can be seen is temporary, but what cannot be seen is eternal.
Focus
In 2 Corinthians Paul talks about seeing "what cannot be seen." He talks about "seeing," not with physical eyes, but with the mind, with what we would call the imagination. Today we begin a new Life for Leaders series called "Imagination: Redeemed and Redemptive." May God teach us to use all of our abilities – including our imaginations – for God's own kingdom purposes.
This devotion is part of the series, Imagination: Redeemed and Redemptive.
Devotion
Have you ever been surprised when something you've been thinking about is addressed in a strikingly clear way in Scripture? I'm not talking about times when you intentionally look for biblical wisdom on a certain topic. Rather, I'm referring to an occasion when you "just stumbled upon" a passage in the Bible that connected with your own thoughts in an unexpected way.
This happened to me a few weeks ago as two parts of my life converged. On a Monday in March, I was writing a Lenten devotion based on a phrase from 2 Corinthians 4:18, "because we look not at what can be seen but at what cannot be seen." I spent a good bit of time reflecting on what it means to see what cannot be seen. Then, the next day I was in the De Pree Center's weekly staff meeting. Over Zoom we talked about the theme upon which our team would focus in the season after Easter: Redemptive Imagination.
After the meeting I did some research on imagination. I discovered that Merriam-Webster defines "imagination" as "the act or power of forming a mental image of something not present to the senses or never before wholly perceived in reality." Wait just a minute! I thought to myself. That definition sounds curiously like what I had just been reading in 2 Corinthians. Paul talked about seeing what cannot be seen. How would he be able to do this other than by using his imagination? After all, he was "forming a mental image of something not present to the senses" as he looked "not at what can be seen but at what cannot be seen." How interesting!
I realize that the words like "imagination," "imagine," "imaginary," and the like can have a variety of meanings, some of which don't work when it comes to biblical truth. For example, Paul might agree that he saw the unseen future of God in his imagination. But he certainly wouldn't say that what he saw was imaginary, that is, something unreal or make-believe. For Paul, the unseen future was profoundly real, even though he could "see" it through exercising his faithful imagination since it wasn't yet physically present.
In Imagination Redeemed, Gene Edward Veith, Jr., and Matthew P. Ristuccia write, "Imagination is simply the power of the mind to form a mental image, that is, to think in pictures or other sensory representations." Their definition is similar to what we find in Merriam-Webster. Veith and Ristuccia go on to explain that the "imagination is at work when you use your memory" or "when you plan to do something in the future." Whenever you picture something in your mind that is not right in front of your eyes, that's your imagination at work. As Veith and Ristuccia observe, "We cannot help but use our imaginations. This is the way God made our minds to function."
The human mind can imagine things that are wonderfully true and glorious. It can also imagine things that are horribly false and hideous. The imagination has immense power both for good and for evil, just like all human capacities in our sin-warped world. Today, I'm beginning a devotional series that's meant to inspire your imagination for good, that is, for the good of God's kingdom and all that it entails. I'm calling this series, Imagination: Redeemed and Redemptive. I believe that if we are going to exercise our imaginations redemptively, then they will need to be redeemed. And when they are redeemed by God, our imaginations will have immense capacity to be redemptive for God's purposes. This means God can and will use your imagination for good that, indeed, you have not yet begun to imagine!
In tomorrow's Life for Leaders devotion, I'll say a bit more about the nature and power of imagination. For now, let me encourage you to reflect on your own experience. Think about how imagination functions in your life. Consider how you might offer your imagination to God and how God might use your imaginative potential for good at work or at home, in your church, or in your community.
Reflect
When you hear the word "imagination," what comes to mind? What do you think? What do you feel?
Can you remember a time in your life when you used your imagination in a way that helped others? If so, what happened?
When you hear the phrase "redemptive imagination," what does this suggest to you? Is this a familiar idea? Or a new one?
Act
Set aside a few minutes to exercise your imagination. Picture things from your past. Think about what is coming in the future. Ask the Lord to teach you how to use your imagination for good in the lives of those around you.
Pray
Gracious God, I am intrigued by Paul's statement that he looks, not at what can be seen, but at what cannot be seen. I wonder what Paul was thinking as he wrote this. It suggests to me that human beings have the capacity to see, not just with our eyes, but also with our minds, with our imaginations.
As we begin this devotional series on the imagination, teach us what is true about ourselves and how you have made us. Show us how sin can corrupt our imaginations and how you can redeem us. May we learn to use our imaginations for good, for the good of your kingdom. May our ability to imagine be used in your work of redeeming all things. Amen.
Banner image by Zuzanna Adamczyk on Unsplash.
Find all Life for Leaders devotions here. Explore what the Bible has to say about work at the unique website of our partners, the Theology of Work Project's online commentary. Reflection on today's Life for Leaders theme can be found here: Leading and Serving (2 Corinthians 4).
---
Subscribe to Life for Leaders
Sign up to receive a Life for Leaders devotional each day in your inbox. It's free to subscribe and you can unsubscribe at any time.
---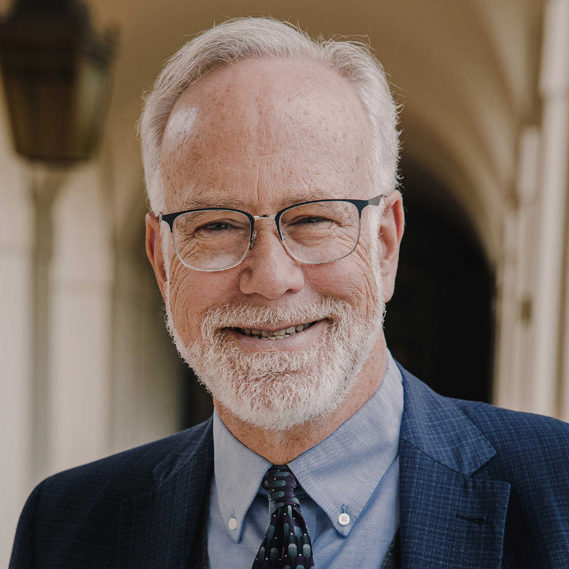 Dr. Mark D. Roberts is a Senior Strategist for Fuller's Max De Pree Center for Leadership, where he focuses on the spiritual development and thriving of leaders. He is the principal writer of the daily devotional, Life for Leaders, and the founder of the De Pree Center's Flourishing in the Third Third of Life Initiative. Previously, Mark was the Executive Director of the De Pree Center, the lead pastor of a church in Southern California, and the Senior Director of Laity Lodge in Texas. He has written eight books, dozens of articles, and over 2,500 devotions that help people discover the difference God makes in their daily life and leadership. With a Ph.D. in New Testament from Harvard, Mark teaches at Fuller Seminary, most recently in his D.Min. cohort on "Faith, Work, Economics, and Vocation." Mark is married to Linda, a marriage and family counselor, spiritual director, and executive coach. Their two grown children are educators on the high school and college level.