Zechariah said to the angel, "How will I know that this is so? For I am an old man, and my wife is getting on in years." The angel replied, "I am Gabriel. I stand in the presence of God, and I have been sent to speak to you and to bring you this good news. But now, because you did not believe my words, which will be fulfilled in their time, you will become mute, unable to speak, until the day these things occur."
Focus
Advent is a season for hoping, waiting, and silence. For Zechariah in the Gospel of Luke, silence was imposed by an angel. A kind of discipline? For sure. But also a gift, a gift that stimulates reflection and creation. In Advent, we put into practice what we read in Psalm 62:5, "For God alone my soul waits in silence, for my hope is from him."
Today's devotion is part of the series Following Jesus Today.
Devotion
In yesterday's Life for Leaders devotion, we listened in as an angel gave Zechariah so very good news. Even though he and his wife Elizabeth were far beyond childbearing age, they would soon give birth to a son. And not just any son, but one who would take on the crucial task of preparing people for the Lord and his coming. Such wonderful and amazing news!
But, in today's passage, we observe Zechariah's questioning response to the angel: "How will I know that this is so? For I am an old man, and my wife is getting on in years" (Luke 1:18). Now, if I had been in Zechariah's shoes, I probably would have said something quite similar to this. After all, I know that women who are well beyond childbearing age don't conceive and give birth. Like Zechariah, I'd want to have more information. Had the angel mistaken me for someone else? Did the angel somehow get the message confused? Before I would let myself feel the joy of the angel's good news, I'd want to be sure it was true.
The angel responded to Zechariah first by presenting his credentials (Luke 1:19). He was Gabriel, a leading angelic figure who is mentioned in the Old Testament (Daniel 8:16; 9:21). Perhaps more impressively, he stood in the very presence of God. Gabriel had intimate knowledge of God's will and was God's honored messenger. When an angel with this kind of authority tells you something, you had better believe it, even if it seems impossible.
Gabriel continued, "But now, because you did not believe my words, which will be fulfilled in their time, you will become mute, unable to speak, until the day these things occur" (Luke 1:20). There is certainly a sense in which the imposition of silence upon Zechariah is a kind of punishment. Because he doubted Gabriel's message, he would be forced to be quiet for nine months or so. But notice that neither Gabriel, nor the God he served, disciplined Zechariah by retracting the promise of a son. Yes, Zechariah wouldn't be able to speak for a season. But at the end of that time he would experience the joy of fatherhood. His decades-long prayer would be answered. In light of this reality, nine months of silence isn't too bad.
I do wonder, however, if the imposition of silence upon Zechariah is, in a way, also a gift from God. There are times when being silent is a good thing, especially for those of us who tend to fill the air with lots of words. I don't know for sure that this was true of Zechariah. But, given his quick, bold response to the angel, and given the angel's response, I have a hunch that Zechariah was just the sort of person for whom a season of silence would be enriching, character-building, perhaps even healing. Rather than yammering on and on for nine months, Zechariah would have time to reflect, to pray, to consider the immense responsibility he was about to accept.
I can't prove that God silenced Zechariah as a gift to him. But Luke gives us ample evidence for this, not only from today's passage, but especially from a passage later in the first chapter. Right after John was born, Zechariah's speech was restored. So what did he do? Luke reports, "Immediately his mouth was opened and his tongue freed, and he began to speak, praising God." Zechariah didn't bother with small talk. He didn't comment on how much John looked just like him. Rather, he focused on God and God's wonders. Then, having been filled with the Holy Spirit, he spoke the glorious words we know as the Benedictus (from the first word of the Latin version of Zechariah's song, benedictus, meaning "blessed").
Commentators sometimes wonder how Zechariah was able to utter spontaneously such a theologically profound and poetically beautiful litany of praise to God. But I don't wonder about this at all. For one thing, Zechariah was filled with the Spirit, who empowered him to speak prophetically. That would certainly explain the marvel of the Benedictus. But I would add that Zechariah also had nine months of silence to reflect upon what was happening in his life. Surely during this time he meditated upon the very truths that appear in his song. Who knows? Perhaps he even composed the Benedictus in anticipation of the time when his speech would be restored. When we're not able to speak, we have more time for reflection and creation.
Silence is often considered to be an essential practice of Advent. When we are quiet, we also have time for reflection and creation. We can get in touch with our longings for God in a way that won't happen when we're filling our world with sound, whether from our own mouths, from the mouths of others, or from the myriad of electronic devices that buzz away endlessly. One of the foundational Bible verses for Advent is Psalm 62:5, which reads, "For God alone my soul waits in silence, for my hope is from him." There you have it, in just one verse: waiting, hoping . . . and silence. This verse, along with the example of Zechariah, invites us to experience silence as part of our Advent practices.
Reflect
As you read today's passage from Luke, does it seem possible to you that Zechariah's silence is a gift as well as a punishment? If so, why? If not, why not?
Do you find it easy to be silent at times? Or are you inclined to fill your world with sound? If silence comes easily, why is this? If silence is hard for you, why?
Can you think of a time in your life when being silent helped you to hear from the Lord? What happened? What was this like for you?
Act
Try to set aside at least 30 minutes for silence sometime in the next week. (If you can be quiet for a longer period, great.) Ask the Lord to quiet you down and help you to wait on him. You may choose to reflect on Advent themes, such as waiting and hoping, but this isn't necessary. Being silent before God is the point. See what happens in your time of silence.
Pray
Let all mortal flesh keep silence,
and with fear and trembling stand.
Ponder nothing earthly minded,
for with blessing in his hand
Christ our God to earth descending
comes, our homage to demand.
Gracious God, help me to keep silence in this season of Advent so that I might hear your voice in a new way. Amen.
First verse of "Let All Mortal Flesh Keep Silence." From an ancient Greek text, paraphrased by Gerard Moultrie (1864). Public domain.
P.S. from Mark
If you're like me, even now you're trying to figure out what you'll get your family and friends for Christmas. I have a suggestion for you. As you know, my De Pree Center colleague Michaela O'Donnell has recently published a wonderful new book, Make Work Matter: Your Guide to Meaningful Work in a Changing World. You'll remember Michaela from the moving set of devotions she wrote in November, based on the parable of the Good Samaritan. I found many things helpful in Michaela's book, like her ingenious way of talking about calling. Make Work Matter is relevant to all ages, even to third third folk like me. But this book would be especially beneficial to people in vocational transition. I'm thinking in particular of people aged 18 to 35. So, if you're trying to find the perfect Christmas present for someone in this age bracket, I highly recommend Make Work Matter. You can find out more and order it here.
Find all Life for Leaders devotions here. Explore what the Bible has to say about work at the unique website of our partners, the High Calling archive, hosted by the Theology of Work Project. Reflection on today's Life for Leaders theme can be found here: Advent Reflection: Zechariah

---
Subscribe to Life for Leaders
Sign up to receive a Life for Leaders devotional each day in your inbox. It's free to subscribe and you can unsubscribe at any time.
---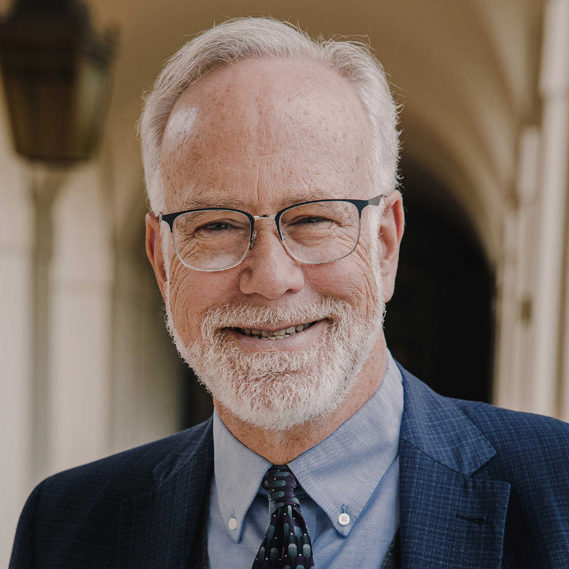 Dr. Mark D. Roberts is a Senior Strategist for Fuller's Max De Pree Center for Leadership, where he focuses on the spiritual development and thriving of leaders. He is the principal writer of the daily devotional, Life for Leaders, and the founder of the De Pree Center's Flourishing in the Third Third of Life Initiative. Previously, Mark was the Executive Director of the De Pree Center, the lead pastor of a church in Southern California, and the Senior Director of Laity Lodge in Texas. He has written eight books, dozens of articles, and over 2,500 devotions that help people discover the difference God makes in their daily life and leadership. With a Ph.D. in New Testament from Harvard, Mark teaches at Fuller Seminary, most recently in his D.Min. cohort on "Faith, Work, Economics, and Vocation." Mark is married to Linda, a marriage and family counselor, spiritual director, and executive coach. Their two grown children are educators on the high school and college level.