Then Jesus went with them to a place called Gethsemane; and he said to his disciples, "Sit here while I go over there and pray." He took with him Peter and the two sons of Zebedee, and began to be grieved and agitated. Then he said to them, "I am deeply grieved, even to death; remain here, and stay awake with me." And going a little farther, he threw himself on the ground and prayed, "My Father, if it is possible, let this cup pass from me; yet not what I want but what you want." Then he came to the disciples and found them sleeping; and he said to Peter, "So, could you not stay awake with me one hour?"
Focus
The example of Jesus teaches us that there are times when it's good to be alone with the Lord as we pray. His example also reminds us that sometimes we need others with us when we pray. If Jesus wanted to have his friends with him when he prayed in Gethsemane, surely you need similar support when you face great challenges and deep suffering.
Today's devotion is part of the Life for Leaders series: Can't Do It Alone.
Devotion
In Monday's Life for Leaders devotion, I reflected on the fact that Jesus often went out into the countryside in order to pray by himself. He was not alone because he was with his Heavenly Father. But he was alone in the ordinary sense, with no other people nearby as he prayed. The example of Jesus teaches us that there are times when being alone in this way is right and good.
But at other times when Jesus expected to pray intensely, he purposefully invited people to be with him. The most striking of these instances comes late in the life of Jesus, shortly before his crucifixion. After engaging in what we call the Last Supper with his disciples (Matthew 26:26-30), Jesus went to the garden of Gethsemane in order to pray. As he went into the garden, ostensibly to be alone with his Father in heaven, Jesus "took with him Peter and the two sons of Zebedee," namely James and John (26:37). He explained to them that he was "deeply grieved" and asked them to "stay awake with me" (26:38). Going on a bit farther, Jesus "threw himself on the ground" and prayed, "My Father, if it is possible, let this cup pass from me; yet not what I want but what you want" (26:39). Returning to Peter, James, and John, he discovered that they had fallen asleep. Jesus said to Peter, "So, could you not stay awake with me one hour?" (26:40). When Jesus went away to pray, once again his disciples fell asleep, to Jesus's consternation.
Matthew's version of this story highlights the desire of Jesus to have his closest followers and friends with him in his time of agonizing prayer. In verse 28 Jesus requested that they "stay awake with me." Then, in verse 40 he asked, "So, could you not stay awake with me one hour?" The little phrase "with me" is crucial here. In his time of severe trial, he wanted his people to be with him, to offer moral and prayer support. As he prayed in Gethsemane, Jesus did not want to do it alone.
There are certainly times when, like Jesus, we need to communicate with God all by ourselves. And, like Jesus, there are times when we need others to be with us. As I reflect on this truth, I'm reminded of how I related to God during the time when my dad was dying of cancer. One time, while walking alone in the hills above my parents' home, I was talking to God about how disappointed I was in the fact that my prayers for my dad's healing had been denied. As I poured out my sadness and despair, all of a sudden God met me in that secluded place. I sensed God's presence and love in a powerful way. I knew in a way that I had not known before that my dad would soon die and that God deeply loved him, my family, and me. That time with the Lord was absolutely transformational.
Yet, as I think back on that painful season of life, I also remember many times of prayer shared with brothers and sisters in Christ. I remember how it felt to pray with them for my dad. I could feel their urgency in prayer and their love for my dad and me. I don't know how I would have made it through the difficult season of life apart from having people "with me" as I prayed.
I expect you may have similar memories of times when having people with you made a huge difference as you prayed. I'd encourage you to reflect on those times to see what the Lord might be saying to you through them. My encouragement to you today is simple. Yes, be sure to set aside time in your life to be alone with the Lord. And yes, be sure to have others with you when you pray, especially in times of suffering, fear, and sadness. If Jesus needed to have his friends with him when he prayed in Gethsemane, surely you need the same in your moments of severe trial and testing.
Reflect
Can you remember a time in your life when praying with people was especially meaningful to you?
Can you remember a time when having people pray for you was especially meaningful?
When you are going through a difficult time in life, are you more inclined to want to pray alone or to want to pray with people? Why do you think this is?
Act
Spend some time considering who are the people in your life to whom you would reach out if you needed company in prayer.
Prayer
Gracious God, again we thank you for the example of Jesus. Even as he teaches us that sometimes we need to get alone with you, he also shows us that at other times we need the support of those who know us and love us.
Help me, Lord, to know when to reach out to others so that they might be with me and pray for me.
And help me, Lord, to be available to others when they need my love and support in prayer. Amen.
Find all Life for Leaders devotions here. Explore what the Bible has to say about work at the High Calling archive, hosted by the unique website of our partners, the Theology of Work Project. Reflection on today's Life for Leaders theme can be found here: The Cup of Suffering and Judgment.
---
Subscribe to Life for Leaders
Sign up to receive a Life for Leaders devotional each day in your inbox. It's free to subscribe and you can unsubscribe at any time.
---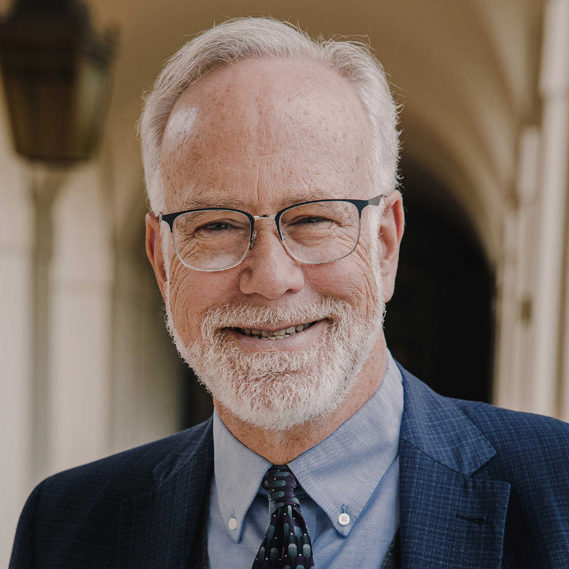 Dr. Mark D. Roberts is a Senior Strategist for Fuller's Max De Pree Center for Leadership, where he focuses on the spiritual development and thriving of leaders. He is the principal writer of the daily devotional, Life for Leaders, and the founder of the De Pree Center's Flourishing in the Third Third of Life Initiative. Previously, Mark was the Executive Director of the De Pree Center, the lead pastor of a church in Southern California, and the Senior Director of Laity Lodge in Texas. He has written eight books, dozens of articles, and over 2,500 devotions that help people discover the difference God makes in their daily life and leadership. With a Ph.D. in New Testament from Harvard, Mark teaches at Fuller Seminary, most recently in his D.Min. cohort on "Faith, Work, Economics, and Vocation." Mark is married to Linda, a marriage and family counselor, spiritual director, and executive coach. Their two grown children are educators on the high school and college level.