David Gill has been thinking and writing about faith and work for as long as anyone I know. He continues to produce written pieces that are extremely thoughtful, highly relevant, and profoundly biblical.
One of these pieces appeared recently in the newsletter for Workplace 313, an organization David founded to focus on whole life disciple during the 313 days of the year besides the 52 Sundays in which Christians gather for worship. If you're not familiar with Workplace 313, you should check it out. Plus, you can sign up for the Workplace 313 e-zine, the 313, here.
This article by David is a fitting follow-up to the Labor Day weekend article by Michaela O'Donnell Long, "Dignify Labor Day with Intervention."
Thank you, David, for permission to reprint this article.
Standing by Our Workers in Pandemic Time
by David W. Gill
The economic and workplace disruptions of the Covid-19 pandemic are far-reaching and deep. Some of us have been required to mask and suit up and keep on keeping on as essential workers in disease-exposed workplaces. Others of us have managed to keep up our work but do it remotely via the internet. But still others have been laid off by employers who may or may not even exist going forward. This is no ordinary trial. For not a few it is the challenge of a life-time.
Here are seven ways we Christians need to stand by our workers in pandemic time.
First: let's be sure to pray and ask God for help. Our faith is being tested. Pray in faith and confidence that God will, if not move the mountain, walk with us over or around it. Personal prayers. Prayers with our brothers and sisters. Prayers from our zoom pulpits. Now is the time.
Second: let's extend ourselves in care and encouragement. Walking through difficulty by ourselves is not the way our Lord intended. Get on the phone. Get together (well, with a mask and six feet between). Reach out and ask how each other is doing. Show some love and interest and care.
Third: give some material help. Food, money, maybe even some shelter to those in need. Take the initiative (I mean individuals, small groups, congregations). Some in need will hesitate to share their plight. Break through with some generous, concrete love.
Fourth: share some skill training. Time without work is time to learn some new skills and abilities—using technology for example, creating web sites, starting a small business, job searching, job ideas. What do we know that could strengthen our brother or sister's work profile?
Fifth: help build the network. Who do you know (people, companies, organizations) that our work-needy brothers and sisters should know? To whom could you help them make a connection for possible employment? Help them strengthen their resumes and networks and connect.
Sixth: lean on and inspire our organizations and employers to creatively, faithfully stand by employees whose jobs are jeopardized or fading from view. How about if we all take a 10 or 20% pay reduction so we can keep more people on board during a down time? What else could be done?
Seventh: this is more long-term but shouldn't we all push (even now) for a society, a political system, with a better safety-net (unemployment compensation, training, community job creation) to keep people from falling through the cracks? To enable families to stay together and have basic food, shelter, and health care through times of disaster? Shouldn't we followers of Jesus use whatever influence we have to create such a society where we collectively share the burden and struggle? Yes on individual responsibility. Yes on private individual charity. Yes on church and parachurch initiatives. But yes also on influencing our cities, states, and nations to care for those without jobs—and with food, shelter, health, and family in grave danger.
Article Illustration : National Archives | Depression era soup kitchen opened in Chicago by Al Capone.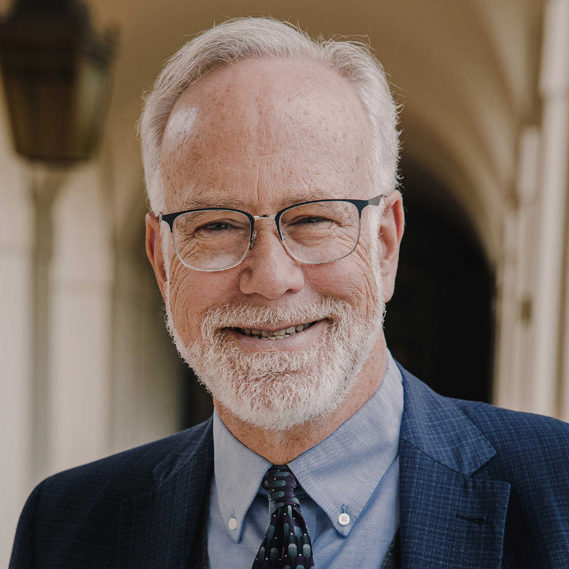 Dr. Mark D. Roberts is a Senior Strategist for Fuller's Max De Pree Center for Leadership, where he focuses on the spiritual development and thriving of leaders. He is the principal writer of the daily devotional, Life for Leaders, and the founder of the De Pree Center's Flourishing in the Third Third of Life Initiative. Previously, Mark was the Executive Director of the De Pree Center, the lead pastor of a church in Southern California, and the Senior Director of Laity Lodge in Texas. He has written eight books, dozens of articles, and over 2,500 devotions that help people discover the difference God makes in their daily life and leadership. With a Ph.D. in New Testament from Harvard, Mark teaches at Fuller Seminary, most recently in his D.Min. cohort on "Faith, Work, Economics, and Vocation." Mark is married to Linda, a marriage and family counselor, spiritual director, and executive coach. Their two grown children are educators on the high school and college level.