When it was noon, darkness came over the whole land until three in the afternoon. At three o'clock Jesus cried out with a loud voice, "Eloi, Eloi, lema sabachthani?" which means, "My God, my God, why have you forsaken me?"
Focus
In a way we will never fully understand, Jesus experienced profound aloneness on the cross. Most of his followers had left him alone. And even his Heavenly Father turned his back as Jesus bore the penalty for our sin. Because of what Jesus endured for us, we will not be forsaken by God. We will never be left alone.
Today's devotion is part of the Life for Leaders series: Can't Do It Alone.
Devotion
In yesterday's devotion, I reflected on the fact that when Jesus was crucified most of his followers either abandoned him completely or watched from a safe distance. Only a few came near, mainly some of the women who had followed him, including his mother, Mary, and Mary Magdalene. The gospels mention only one male disciple who dared to approach Jesus on the cross, the unnamed disciple whom Jesus loved (John 19:25-27).
It must have been horrible for Jesus to feel abandoned by most of his closest disciples and others who had been part of his retinue. The aloneness of his time on the cross would have added to his excruciating pain. But, far more horrendous than this was what Jesus experienced from his Heavenly Father. In his death, Jesus took on the penalty for our sin. He was in that time truly forsaken by his Father in heaven.
This is difficult to understand. In fact, it's truly beyond our understanding. You may know that Jesus's prayer from the cross, "My God, my God, why have you forsaken me?" is the first part of Psalm 22, which reads: "My God, my God, why have you forsaken me? Why are you so far from helping me, from the words of my groaning? O my God, I cry by day, but you do not answer; and by night, but find no rest" (22:1-2). In the words of the psalmist, Jesus found a way to express the cry of his heart: Why had God abandoned him? Why did his Father turn his back on Jesus in his moment of greatest agony? Why was Jesus alone in such an astounding and confounding way?
This side of Heaven, we will never be able to answer these questions fully. Nor will we fully know what Jesus experienced in his crucifixion. Was he asking, "Why have you forsaken me?" because, in the mystery of his incarnational suffering, he really didn't know why God had abandoned him? Or was his cry not so much a question as an expression of profound agony? Or was it both? Or was it so much more?
What we do know is that, in some profound way, Jesus entered into the Hell of separation from God. The Father abandoned him because Jesus took upon himself the penalty for our sins. In that excruciating moment, he experienced something far more horrible than physical pain. The beloved Son of God knew what it was like to be rejected by the Father. As we read in 2 Corinthians 5:21, "For our sake he [God] made him [Jesus] to be sin who knew no sin, so that in him we might become the righteousness of God" (5:21).
I can quote this verse. I believe it. I believe that the Father abandoned the Son for our sake, for the salvation of the world, and for my salvation. But can I grasp the mystery and the majesty of this truth? Hardly. As Martin Luther once said, "God forsaking God. Who can understand it?" Yet even my infantile grasp of this reality calls me to confession, humility, gratitude, worship, and adoration.
For almost 50 years I have found in the hymn "And Can It Be That I Should Gain" a way to express the mystery, marvel, and miracle of Jesus's death for me. I'm thankful to Charles Wesley for putting into words what fills my heart. I'll close today's devotion with this hymn:
And can it be that I should gain
An int'rest in the Savior's blood!
Died he for me? who caused his pain!
For me? who him to death pursued?
Amazing love! How can it be
That thou, my Lord, shouldst die for me?
'Tis myst'ry all: the Immortal dies!
Who can explore his strange design?
In vain the firstborn seraph tries
To sound the depths of love divine.
'Tis mercy all! Let earth adore;
Let angel minds inquire no more.
He left his Father's throne above,
So free, so infinite his grace,
Emptied himself of all but love,
And bled for Adam's helpless race.
'Tis mercy all, immense and free,
For O my God, it found out me!
Long my imprisoned spirit lay,
Fast bound in sin and nature's night;
Thine eye diffused a quick'ning ray;
I woke, the dungeon flamed with light;
My chains fell off, my heart was free,
I rose, went forth, and followed thee.
No condemnation now I dread;
Jesus, and all in him, is mine;
Alive in Him, my living Head,
And clothed in righteousness divine,
Bold I approach the eternal throne,
And claim the crown, through Christ my own.
Refrain:
Amazing love! How can it be
That thou, my Lord, shouldst die for me?
Reflect
As you reflect on the death of Jesus and its meaning, what strikes your heart?
What has helped you to grow in your understanding of the meaning of the cross?
What has helped you to grow in your experience of God's grace as expressed through the cross?
Act
Take some time to talk honestly with Jesus about his death for you and what it means.
Pray
Gracious God, in this life I will never fully understand the meaning of the cross. There is so much more here than my mortal mind can grasp.
Yet I thank you for helping me to understand what the death of Jesus meant to you and what it means to me. Thank you, gracious God, for taking upon yourself in Jesus the penalty for my sin.
Jesus, thank you for entering into an aloneness that is darker and deeper than any other . . . the aloneness that I deserve because of my sin. Thank you for doing this so that I might never be alone, cut off from you and your amazing love.
Help me, I pray, to grow into a deeper understanding and experience of that love. Lord Jesus, may I know that because you were forsaken on the cross I will never be forsaken by you. May I live each day in the reality of your grace. Amen.
Banner Wim van 't Einde by Name on Unsplash. 
Find all Life for Leaders devotions here. Explore what the Bible has to say about work at the unique website of our partners, the Theology of Work Project's online commentary. Reflection on today's Life for Leaders theme can be found here: The Cross and Resurrection (Mark 14:32-16:8).
---
Subscribe to Life for Leaders
Sign up to receive a Life for Leaders devotional each day in your inbox. It's free to subscribe and you can unsubscribe at any time.
---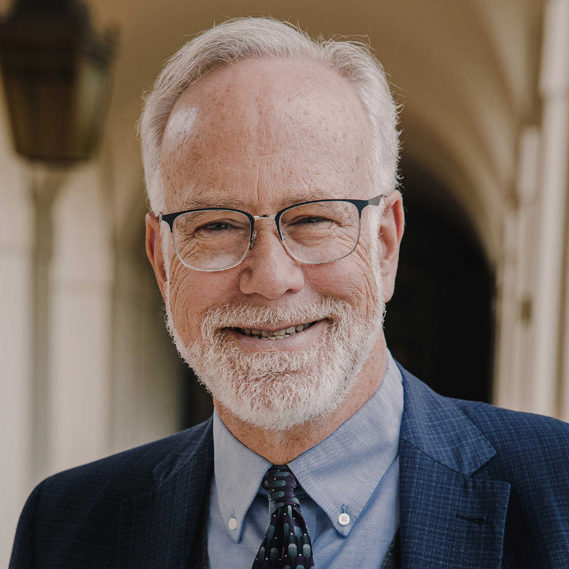 Dr. Mark D. Roberts is a Senior Strategist for Fuller's Max De Pree Center for Leadership, where he focuses on the spiritual development and thriving of leaders. He is the principal writer of the daily devotional, Life for Leaders, and the founder of the De Pree Center's Flourishing in the Third Third of Life Initiative. Previously, Mark was the Executive Director of the De Pree Center, the lead pastor of a church in Southern California, and the Senior Director of Laity Lodge in Texas. He has written eight books, dozens of articles, and over 2,500 devotions that help people discover the difference God makes in their daily life and leadership. With a Ph.D. in New Testament from Harvard, Mark teaches at Fuller Seminary, most recently in his D.Min. cohort on "Faith, Work, Economics, and Vocation." Mark is married to Linda, a marriage and family counselor, spiritual director, and executive coach. Their two grown children are educators on the high school and college level.