I appeal to you therefore, brothers and sisters, by the mercies of God, to present your bodies as a living sacrifice, holy and acceptable to God, which is your spiritual worship.
Focus
Because of God's mercy poured out in our lives, we're to offer all that we are to God in response. What we do with our bodies can be, in fact, our "spiritual worship." Worship doesn't happen only in church. Worship, rightly understood, is a moment-by-moment choice to live for God and God's glory.
Today's devotion is part of the series Following Jesus Today.
Devotion
Today's passage from Scripture comes at a dramatic place in Paul's letter to the Romans. He has just spent eleven long chapters showing how the righteous God makes us righteous in Christ. He ends his exposition by exulting: "O the depth of the riches and wisdom and knowledge of God! How unsearchable are his judgments and how inscrutable his ways! "For who has known the mind of the Lord? Or who has been his counselor?" "Or who has given a gift to him, to receive a gift in return?" For from him and through him and to him are all things. To him be the glory forever. Amen" (Romans 11:33-36). Now, a first-time reader of Romans might think this is a suitable end to the letter. But, in fact, Paul has much more to say. In chapters 12-16 he's going to answer the question: "So, in light of all these glorious truths about God's grace, how are we to live?"
The answer to that question begins in a striking way: "I appeal to you therefore, brothers and sisters, by the mercies of God, to present your bodies as a living sacrifice, holy and acceptable to God, which is your spiritual worship" (12:1). Notice that we are to live, not in order to earn anything from God, but "by the mercies of God" (12:1). This phrase summarizes all that has gone before in Romans. The grandness of God's mercy and grace has been demonstrated through God's work in Jesus Christ. So, now, in light of all this, Paul says, "Here's how to live."
We begin by presenting our "bodies as a living sacrifice, holy and acceptable to God, which is [our] spiritual worship" (12:1). Most religions in the ancient world included literal sacrifices for the gods. Our sacrifice as Christians is different, however. We are not to sacrifice our bodies by taking our lives in a literal way. Rather,  we offer our bodies as a "living sacrifice." Our worship of God involves using the bodies he has given us in ways that honor him. Just as in the Old Testament God was pleased with the right sacrifices, so in the era of the New Testament God will be pleased when we live fully for God's purposes and glory.
Notice that your body is not incidental, irrelevant, or evil. In 1 Corinthians 6:19-20, your body is a temple of the Holy Spirit through which you are to glorify God. Now, in Romans 12:1, your body in action is a sacrifice offered to God. What you do with your body makes a world of difference to God.
When Paul talks about offering our bodies as a living sacrifice, he's not thinking only or even mainly about what we do that is obviously "religious." To be sure, we present our bodies to God in corporate worship, in our personal devotions, in times of prayer, and in acts of charity. But that's not the end of it. In fact, it's just the beginning. Through our spiritual practices, we learn to offer our whole selves to God in all we do. As it says in Ephesians, we're to live for the praise of God's glory, not just occasionally, but in every moment of every day (Ephesians 1:11-14, 2:10).
Our translation refers to presenting of our bodies to God as our "spiritual worship" (12:1, NRSV). Other translations have "proper worship" (NIV), "priestly service" (CEB), or "reasonable service" (KJV). The underlying Greek phrase could be rendered by any of these options. The point is basically the same no matter which one you choose. It is through your embodied living, through the things you do and say each day, that you can worship God. Worship doesn't happen only on Sundays. It is meant to be a daily, even a moment-by-moment activity. And it happens, not only in your heart, but also through your body, and not just in church, but in every place where you are.
Reflect
When you read that you're to present your body to God as a living sacrifice, what comes to mind? What do you picture?
To what extent does the notion of presenting your body to God as a sacrifice make a difference in how you think? In how you act?
In what ways are you glorifying God through your body?
Act
Using your body today, do something intentionally to honor God. Note: This doesn't have to be something done directly for God, like praying. It could be acting in love toward someone with an awareness that you are offering yourself to God.
Pray
Gracious God, first of all, thank you for your mercies; thank you for your amazing grace that brings us into right relationship with you through Christ. Help me to live in response to your mercy and grace each day.
As I do, may I present my body to you as a living sacrifice. Help me, Lord, to understand that I am to glorify you in all that I do. Whether I'm at work or at play, at home or at church, in the grocery store or in the soup kitchen, may I give my whole self to you. By your grace, may I love you with all of my heart, all of my soul, all of my mind, and all of my strength. Amen.
Find all Life for Leaders devotions here. Explore what the Bible has to say about work at the unique website of our partners, the Theology of Work Project. Commentary on today's Life for Leaders theme can be found here: Be Transformed by the Renewing of Your Minds (Romans 12:1–3)

---
Subscribe to Life for Leaders
Sign up to receive a Life for Leaders devotional each day in your inbox. It's free to subscribe and you can unsubscribe at any time.
---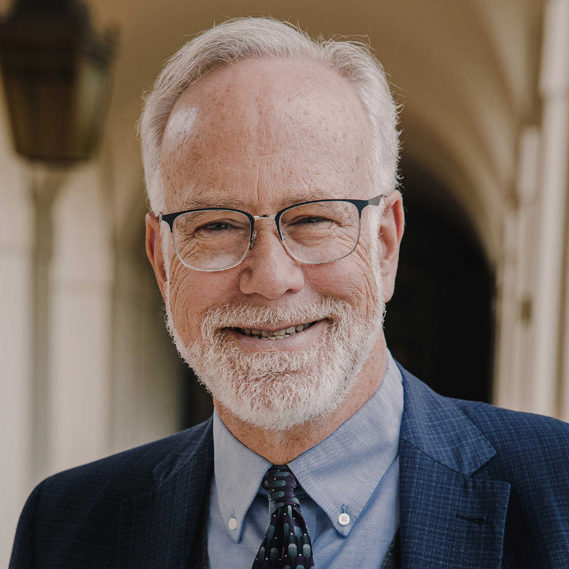 Dr. Mark D. Roberts is a Senior Strategist for Fuller's Max De Pree Center for Leadership, where he focuses on the spiritual development and thriving of leaders. He is the principal writer of the daily devotional, Life for Leaders, and the founder of the De Pree Center's Flourishing in the Third Third of Life Initiative. Previously, Mark was the Executive Director of the De Pree Center, the lead pastor of a church in Southern California, and the Senior Director of Laity Lodge in Texas. He has written eight books, dozens of articles, and over 2,500 devotions that help people discover the difference God makes in their daily life and leadership. With a Ph.D. in New Testament from Harvard, Mark teaches at Fuller Seminary, most recently in his D.Min. cohort on "Faith, Work, Economics, and Vocation." Mark is married to Linda, a marriage and family counselor, spiritual director, and executive coach. Their two grown children are educators on the high school and college level.