For you were once darkness, but now you are light in the Lord. Live as children of light.
In our Life for Leaders devotions last week, we considered what it means for us to be "light in the Lord" and "children of light." We saw how our identity as light is part of God's grand biblical story, and is central to the teaching of Jesus. Today, I want to use a surprising illustration to help us see that we are the light of the world, not alone, but along with our fellow believers. Here's the story of the Christmas Eve Disco Ball.
During my sixteen-year tenure as Senior Pastor of Irvine Presbyterian Church, I preached at over fifty Christmas Eve services. The first two services of the evening were designed for families with young children. For those services, I tried to find compelling illustrations or demonstrations that would engage everyone in the sanctuary, even the littlest ones, and help them grasp the wonder of Christmas.
Most years, my own young children joined me in my preaching. One time, Nathan read the Scripture, which happened to be Ephesians 5:8: "For you were once darkness, but now you are light in the Lord. Live as children of light." Then, he and my daughter Kara assisted me as I shone a brilliant spotlight on a large, vibrantly wrapped Christmas present in the center of the stage. I talked about how Jesus was the light of the world. Even as the spotlight made the present look especially bright and colorful, so Jesus shines into the world, revealing the true beauty and wonder of life.
"But," I added, "there is more here, a big surprise. Jesus doesn't just shine on us. He also wants us to reflect his light into the world. He shines in the world through us." At that moment, my kids lifted up the wrapped part of the large present, exposing a mirror-covered disco ball that was spinning as if my magic. The light from the spotlight reflected off the hundreds of small mirrors, filling the whole sanctuary with dazzling, swirling spots of light. I heard gasps of wonder as worshippers young and old were inspired by the spectacle before them.
This was, I must confess, one of my all-time favorite moments of Christmas Eve worship. It's not just that people were impressed by the illustration. I felt as if they were really getting the underlying point. Jesus is the true light. We are the light insofar as we reflect him into the world. But—and this is key—we are not individual mirrors, but rather partners in a heavenly disco ball. One of those little mirrors all by itself would be relatively unimpressive. The collection of mirrors was stunning.
When Ephesians 5:8 says "now you are light in the Lord," it is not speaking to us just as individuals, but also as members of Christ's body. Individually and together, we are light in the Lord. Individually and together, we are to live as children of light. Individually and together, we will shine the light of Christ throughout the darkness of the world. You are a mirror and so am I. We will fulfill our reflective calling only when we join together in common work and witness.
Something to Think About:
Can you think of times or places when the light of Christ has reflected from you into the world?
Can you think of times or places when you have been part of a "Christmas Eve Disco Ball" kind of shared reflection?
How might you join with your fellow "mirrors" to shine the light of Christ into the world: at work, in your community, in your social networks, online, at church, in your family, and so forth?
Something to Do:
With your small group or a trusted friend, consider how you might shine the light of Christ together into the world.
Prayer:
Lord Jesus, you are the true light of the world. You are "my light and my salvation" (Ps 27:1). You have shined upon me with your glory and truth, illumining and transforming me. How I praise you!
You have called me to be light as well, not just by myself, but also as a member of your body. Together, we who trust in you are to be like a brilliant disco ball, reflecting your light into the darkness of this world. Help us, Lord, to be faithful mirrors. May you shine through us today so that the world might see your glory and your truth. Amen.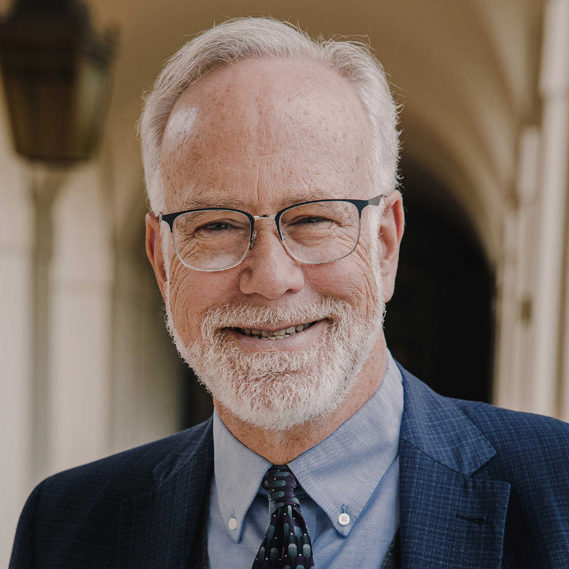 Dr. Mark D. Roberts is a Senior Strategist for Fuller's Max De Pree Center for Leadership, where he focuses on the spiritual development and thriving of leaders. He is the principal writer of the daily devotional, Life for Leaders, and the founder of the De Pree Center's Flourishing in the Third Third of Life Initiative. Previously, Mark was the Executive Director of the De Pree Center, the lead pastor of a church in Southern California, and the Senior Director of Laity Lodge in Texas. He has written eight books, dozens of articles, and over 2,500 devotions that help people discover the difference God makes in their daily life and leadership. With a Ph.D. in New Testament from Harvard, Mark teaches at Fuller Seminary, most recently in his D.Min. cohort on "Faith, Work, Economics, and Vocation." Mark is married to Linda, a marriage and family counselor, spiritual director, and executive coach. Their two grown children are educators on the high school and college level.