Or do you despise the riches of his kindness and forbearance and patience? Do you not realize that God's kindness is meant to lead you to repentance?
Focus
The Thanksgiving proclamations of George Washington and Abraham Lincoln established Thanksgiving Day as a national holiday. Yet, we may be surprised to learn that their proclamations also called us to acknowledge our national sins and ask for God's forgiveness. No matter what our country does today, we are free to let God's kindness lead us, not only to gratitude, but also to repentance.
Devotion
If you grew up in the United States, no doubt you heard stories about the Pilgrims, Native Americans, and the first Thanksgiving. But you probably did not learn about the actual origins of the Thanksgiving holiday in the United States. I know I didn't, at any rate. This national celebration was not handed down to us by folks in Massachusetts. Rather, it began in 1789, after the conclusion of the American Revolutionary War. According to the archives of the U.S. government:
On September 28, 1789, just before leaving for recess, the first Federal Congress passed a resolution asking that the President of the United States recommend to the nation a day of thanksgiving. A few days later, President George Washington issued a proclamation naming Thursday, November 26, 1789 as a "Day of Publick Thanksgiving" – the first time Thanksgiving was celebrated under the new Constitution.
That was the first official national Thanksgiving Day.
In the following years, thanksgiving celebrations happened in different ways and different times in the United States. Finally, in 1863, during the Civil War, Abraham Lincoln established Thanksgiving Day as an official, annual holiday. (Later, Franklin Roosevelt and the U.S. Congress set the official day for Thanksgiving, the fourth Thursday in November.)
So, if you really want to understand the origins of our current Thanksgiving holiday, you ought to read the proclamations of George Washington in 1789 and Abraham Lincoln in 1863. (Washington composed his proclamation, which was written in long-hand by his secretary, William Jackson. Lincoln's statement was written by Secretary of State William Seward, but officially proclaimed by Lincoln.)
The proclamations of Washington and Lincoln both call for a national day of thanksgiving. Washington wrote:
Now therefore I do recommend and assign Thursday the 26th day of November next to be devoted by the People of these States to the service of that great and glorious Being, who is the beneficent Author of all the good that was, that is, or that will be– That we may then all unite in rendering unto him our sincere and humble thanks . . . .
Lincoln's proclamation had a similar invitation:
I do therefore invite my fellow citizens in every part of the United States, and also those who are at sea and those who are sojourning in foreign lands, to set apart and observe the last Thursday of November next, as a day of Thanksgiving and Praise to our beneficent Father who dwelleth in the Heavens.
None of this is particularly surprising, though we might find the "out there" religiosity of Washington and Lincoln to be different from what modern U.S. presidents convey. Yet, there is something else that is found in both Thanksgiving proclamations, something that is surprising, and something that is almost entirely absent from contemporary celebrations of Thanksgiving.
The statement by Washington, after calling for "sincere and humble thanks" offered to God, adds:
and also that we may then unite in most humbly offering our prayers and supplications to the great Lord and Ruler of Nations and beseech him to pardon our national and other transgressions – to enable us all, whether in public or private stations, to perform our several and relative duties properly and punctually–to render our national government a blessing to all the people, by constantly being a Government of wise, just, and constitutional laws, discreetly and faithfully executed and obeyed . . . .
What? Asking for pardon for "our national and other transgressions"? On Thanksgiving Day? And praying for God to "render our national government a blessing to all the people."
Yes, says Abraham Lincoln. His proclamation states:
And I recommend to them that while offering up the ascriptions justly due to Him for such singular deliverances and blessings, they do also, with humble penitence for our national perverseness and disobedience, commend to His tender care all those who have become widows, orphans, mourners or sufferers in the lamentable civil strife in which we are unavoidably engaged, and fervently implore the interposition of the Almighty Hand to heal the wounds of the nation and to restore it as soon as may be consistent with the Divine purposes to the full enjoyment of peace, harmony, tranquility and Union.
On Thanksgiving Day, according to Lincoln, we are to offer "humble penitence for our national perverseness and disobedience." And then to pray for God's care for victims of the Civil War as well as healing for the "wounds of the nation."
As initially conceived by Presidents Washington and Lincoln, Thanksgiving Day was meant to be a time for the nation to thank God for God's many blessings. But it was also a time for our country to admit "our national and other transgressions" (Washington) and to pray "with humble penitence for our national perverseness and disobedience" (Lincoln).
We don't hear much about "humble penitence" these days, even from preachers. ("Penitence," by the way, means "feeling or showing sorrow and regret having done wrong.") But that doesn't mean we can't practice it. We'd do well, I think, to remember what St. Paul wrote to the Romans, "Do you not realize that God's kindness is meant to lead you to repentance?" (Romans 2:4). When we realize how gracious God has been to us, when we tally up all the ways God has been kind, two responses seem most appropriate. First, we are grateful. We thank God for his amazing grace. Second, we are humbly penitent. Why? Because we recognize that we are poor stewards of grace. We've received God's kindness without giving it away generously to others. Moreover, we are penitent because we realize that our sorrow over our sin and our commitment to walking in God's way are among the very best ways to receive and live in God's kindness.
Now, whether our nation will follow the lead of Presidents Washington and Lincoln, I'm not very confident. But you and I can choose to follow their lead, indeed, the lead of the Apostle Paul, by receiving God's kindness with both gratitude and penitence. May this be true for us as we celebrate Thanksgiving.
Reflect
Why do you think we don't hear much about penitence these days? From our political leaders? From our pastors and priests?
Have you ever experienced God's kindness leading you to repentance?
Can you think of anything in your life for which you need to repent? Anything you need to confess to God and ask for God's pardon?
Act
Set aside some time for thoughtful prayer. As the Lord if there are things for which you need to repent. But, before you do this, reflect on how God has been kind to you. Let God's kindness actually lead you to repentance.
Pray
Gracious God, you have been so kind to us, so kind to me. Thank you. Thank you for your mercy and grace. Thank you for your patience. Thank you for saving me through Jesus Christ. Thank you for showering blessings up me.
O Lord, as I reflect upon your kindness, may I also turn to you in repentance. If there is unconfessed sin in my life, may I lay it before you. If I need to turn away from sin, help me to do this.
I pray today for my country, that we might recognize your gifts with heartfelt gratitude, and that we might admit to you our failures with humble penitence. Help us, O God, to turn away from sin so that your "justice might roll down like waters, and righteousness like an everflowing stream" (Amos 5:24). Amen.
Find all Life for Leaders devotions here. Explore what the Bible has to say about work at the unique website of our partners, the Theology of Work Project. Commentary on today's Life for Leaders theme can be found here: All Have Sinned (Romans 2–3)

---
Subscribe to Life for Leaders
Sign up to receive a Life for Leaders devotional each day in your inbox. It's free to subscribe and you can unsubscribe at any time.
---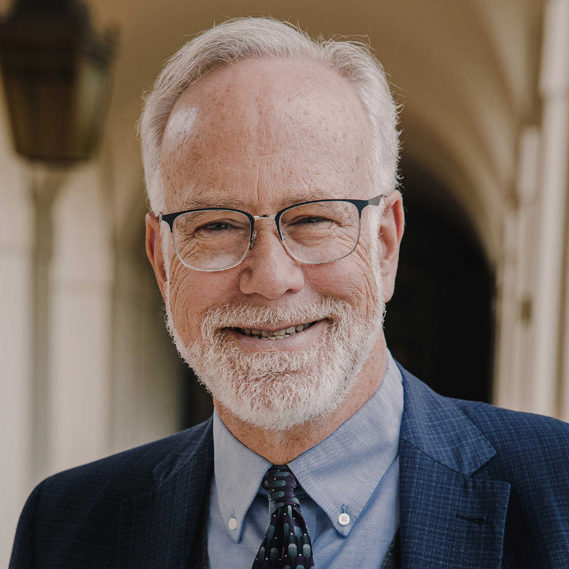 Dr. Mark D. Roberts is a Senior Strategist for Fuller's Max De Pree Center for Leadership, where he focuses on the spiritual development and thriving of leaders. He is the principal writer of the daily devotional, Life for Leaders, and the founder of the De Pree Center's Flourishing in the Third Third of Life Initiative. Previously, Mark was the Executive Director of the De Pree Center, the lead pastor of a church in Southern California, and the Senior Director of Laity Lodge in Texas. He has written eight books, dozens of articles, and over 2,500 devotions that help people discover the difference God makes in their daily life and leadership. With a Ph.D. in New Testament from Harvard, Mark teaches at Fuller Seminary, most recently in his D.Min. cohort on "Faith, Work, Economics, and Vocation." Mark is married to Linda, a marriage and family counselor, spiritual director, and executive coach. Their two grown children are educators on the high school and college level.