Now when Jesus came into the district of Caesarea Philippi, he asked his disciples, "Who do people say that the Son of Man is?" And they said, "Some say John the Baptist, but others Elijah, and still others Jeremiah or one of the prophets." He said to them, "But who do you say that I am?" Simon Peter answered, "You are the Messiah, the Son of the living God." And Jesus answered him, "Blessed are you, Simon son of Jonah! For flesh and blood has not revealed this to you, but my Father in heaven. And I tell you, you are Peter, and on this rock I will build my church, and the gates of Hades will not prevail against it."
Focus
Jesus sees us as we are, with mercy. Jesus sees us as we shall be, with confident hope. The redemptive imagination of Jesus sets us free from self-doubt and shame so that we might become all that God intends for us.
This devotion is part of the series, Imagination: Redeemed and Redemptive.
Devotion
In last Thursday's Life for Leaders devotion, I examined the imagination of Jesus in reference to his choice of disciples. The fact that he chose people who had expertise in fishing but not theology, organizational leadership, or cultural influence suggests that he saw Simon, Andrew, James, and John through the lens of his redemptive imagination.
Today I want to consider what might be the most striking example of Jesus's ability to see people in light of their potential. I'm thinking of the case of Simon, whom we know as Simon Peter or simply Peter. In Matthew 16, after Peter confessed that Jesus was the Messiah, Jesus said, "Blessed are you, Simon son of Jonah! For flesh and blood has not revealed this to you, but my Father in heaven. And I tell you, you are Peter, and on this rock I will build my church, and the gates of Hades will not prevail against it" (16:17-18). Christians have different ways of interpreting this passage, but no matter how you read it, you must surely recognize that Jesus is affirming Peter in a unique way. In his imagination, Jesus sees Peter as a major leader of the early church.
Yet what Jesus saw in his imagination was hardly what he was seeing with his eyes and hearing with his ears. Shortly after he affirmed Peter, Jesus predicted his own suffering and death, to which Peter responded, "Forbid it, Lord!" (Matthew 16:22). Then Jesus responded, "Get behind me, Satan!" which wasn't exactly a ringing endorsement of Peter and his wisdom. We might wonder if Jesus had second thoughts about Peter's future leadership of the church, though there's no evidence to suggest this was true.
Surprisingly enough, especially given Peter's leadership of the early church, the gospels repeatedly show Peter as the one who messes up more than any other of Jesus's followers:
• Though Peter has exemplary faith for a moment as he walks on the water, his faith falters and he falls into the sea (Matthew 14:22-33).
• More than the other disciples, Peter misunderstands the foot washing of Jesus (John 13:5-10).
• When the guards come to arrest Jesus, Peter uses a sword to cut off the ear of a slave, clearly misunderstanding Jesus's intentions (John 18:10).
• When Jesus is arrested, Peter repeatedly claims not to know him (Mark 14:66-72).
No doubt Peter had many other miscues that were never recorded in the gospels, though they would have been known to Jesus. Yet, despite Peter's obvious failings, Jesus did not see him as a loser or a buffoon. Jesus never withdrew his endorsement of Peter as a key leader of the early church. Indeed, he saw Peter both as he was and as he would be. To the Peter who messed up so frequently, Jesus showed mercy. And to the Peter who flourished in Jesus's imagination, he showed unwavering confidence.
I believe Jesus sees us similarly. He knows everything about us. He knows our failings, our doubts, and our limitations. But Jesus does not write us off as beyond redemption. Rather, he sees us both with mercy and with hope. He sees who we are and who we shall be. He sees us in light of what God has done in us and what God will do through us. As it says in Ephesians 2:10, "For we are what [God] has made us, created in Christ Jesus for good works, which God prepared beforehand to be our way of life." Moreover, Jesus sees us in light of the One who, "by the power at work within us is able to accomplish abundantly far more than all we can ask or imagine" (Ephesians 3:20).
Reflect
Why do you think Jesus had such plans for Peter despite his foibles and failures?
How do you think Jesus sees you today?
Do you have an idea of what Jesus might have in store for you if you lived according to his redemptive imagination and not your self-imposed limitation?
Act
Talk with a wise friend or with your small group about ways in which you might limit God's work in and through you.
Pray
Gracious God, how I thank you for the ways Peter is portrayed in the gospels. We see there such a realistic picture of this man, faults and all. This gives me hope, Lord, that I can follow you in spite of my many shortcomings and failures.
Thank you for seeing us as we are . . . with mercy. And thank you for seeing us as we shall be . . . with confident hope.
Thank you, God, for being at work within us. That you for accomplishing in and through us abundantly far more than all we can ask or imagine. Amen.
Banner image by Fr Barry Braum on Unsplash.
Find all Life for Leaders devotions here. Explore what the Bible has to say about work at the High Calling archive, hosted by the unique website of our partners, the Theology of Work Project. Reflection on today's Life for Leaders theme can be found here: Learn to Love Annoying Coworkers.
---
Subscribe to Life for Leaders
Sign up to receive a Life for Leaders devotional each day in your inbox. It's free to subscribe and you can unsubscribe at any time.
---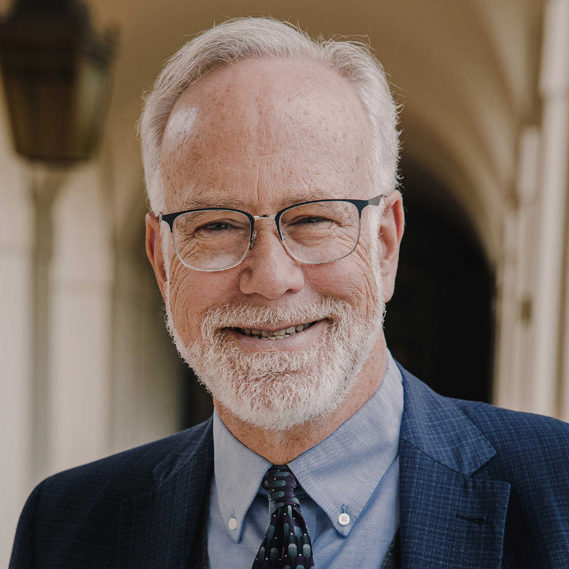 Dr. Mark D. Roberts is a Senior Strategist for Fuller's Max De Pree Center for Leadership, where he focuses on the spiritual development and thriving of leaders. He is the principal writer of the daily devotional, Life for Leaders, and the founder of the De Pree Center's Flourishing in the Third Third of Life Initiative. Previously, Mark was the Executive Director of the De Pree Center, the lead pastor of a church in Southern California, and the Senior Director of Laity Lodge in Texas. He has written eight books, dozens of articles, and over 2,500 devotions that help people discover the difference God makes in their daily life and leadership. With a Ph.D. in New Testament from Harvard, Mark teaches at Fuller Seminary, most recently in his D.Min. cohort on "Faith, Work, Economics, and Vocation." Mark is married to Linda, a marriage and family counselor, spiritual director, and executive coach. Their two grown children are educators on the high school and college level.