"But you will receive power when the Holy Spirit has come upon you; and you will be my witnesses in Jerusalem, in all Judea and Samaria, and to the ends of the earth."
Focus
How open are you to being surprised by Jesus and his plans for your life? If Jesus were to call you to something you did not expect, how would you respond? What would hold you back? What would encourage you to speak and live an unequivocal "Yes" to Jesus?
This devotion is part of the series, Imagination: Redeemed and Redemptive.
Devotion
I became the pastor of Irvine Presbyterian Church in 1991. Soon after I arrived, I had a fascinating conversation with one of my church members. Mary worked in the computer department of the University of California, Irvine. She was part of a team that was helping to develop a brand new way of using the internet which, at that time, was mainly the domain of academics and computer experts. Mary told me her team's project was called "The Worldwide Web," or "The Web," for short. "This is going to change everything," she said, "how we shop, how we communicate, how we get information, how we access entertainment. It's going to change the world!"
Mary was obviously excited about the Web and its implications. I was interested, to be sure. But I was also skeptical. Change the world? Change everything we do? That seemed unlikely to me. In my experience, people who claim their pet project is going to change the world usually fail to make even much of a dent in things. (It turns out, of course, that, if anything, Mary was underselling the impact of the Web.)
Shortly before he ascended to heaven, Jesus said something that reminds me of what Mary once said to me. After he rose from the dead, he "presented himself alive" to the inner circle of his disciples, "appearing to them during forty days and speaking about the kingdom of God" (Acts 1:3). He promised that the Holy Spirit would soon come upon them (1:4-5). When the disciples asked if this was the time for the kingdom of God to come in all of its fullness, Jesus told them this was not theirs to know. "But," he added, "you will receive power when the Holy Spirit has come upon you; and you will be my witnesses in Jerusalem, in all Judea and Samaria, and to the ends of the earth" (1:8).
Now, if you're familiar with the New Testament, this statement of Jesus will feel familiar. Moreover, if you know something about church history, you are aware that what Jesus predicted did in fact happen. The disciples of Jesus did bear witness to him in Jerusalem, Judea, Samaria, and to the ends of the earth (as they were understood at that time).
Our familiarity with this passage and the history of Christianity can keep us from being astounded by what is promised. As Jesus talked about what would happen with his apprentices, his imagination was in overdrive. After all, they were not people of power, wealth, or cultural influence. There would be no earthly reason to believe that they would make much of a difference on their home turf, let alone in distant lands and, ultimately, throughout the world. (And, of course, the first followers of Jesus would not have access to the Web.)
Yet, when Jesus gazed upon his little band of followers, he didn't see a bunch of relative nobodies. Rather, he imagined what they would become once the Spirit had been poured out on them. He saw their boldness, courage, and resilience. He anticipated their zeal and faithfulness even unto death.
The Book of Acts doesn't tell us how the disciples of Jesus responded to his vision of their future. We don't know what, at that moment, they thought or felt. It's easy for me to imagine a variety of responses. Given the disciples' track record, that seems likely (see Matthew 28:17).
Thinking about the disciples makes me wonder about my own response to Jesus and his vision for my future. Am I open to whatever Jesus has for me? Am I willing to be surprised? Unsettled? Inconvenienced? Stretched? Challenged? Inspired? Do I believe that God can do through me more than all I can ask or imagine? Or would I prefer to live my life safely, trusting more in what I can see with my eyes than what Jesus can see with his redemptive imagination?
Reflect
How open are you to whatever Jesus has for you and your future?
What are the things that hold you back from living fully into the call of God upon your life?
In what ways are you able to bear witness to Jesus in and through your daily work?
Act
Talk with the Lord about the things in your life that hold you back from following him unreservedly.
Pray
Gracious God, today I am struck by the stunning imagination of Jesus. He was able to see far beyond what his eyes observed. He could see his disciples making a difference for the kingdom, not just locally or even in the next territory over, but throughout the world.
Lord, may I be open to whatever you "see" about my life. May I be willing to trust you, to follow you, to serve you, no matter what. Don't let me put limits on you, Lord, as if I could. And don't let me put limits on my own freedom in following you. Amen.
Banner image by Drew Beamer on Unsplash.
Find all Life for Leaders devotions here. Explore what the Bible has to say about work at the unique website of our partners, the Theology of Work Project's online commentary. Reflection on today's Life for Leaders theme can be found here: An Orienting Vocation for the Kingdom of God (Acts 1:8).
---
Subscribe to Life for Leaders
Sign up to receive a Life for Leaders devotional each day in your inbox. It's free to subscribe and you can unsubscribe at any time.
---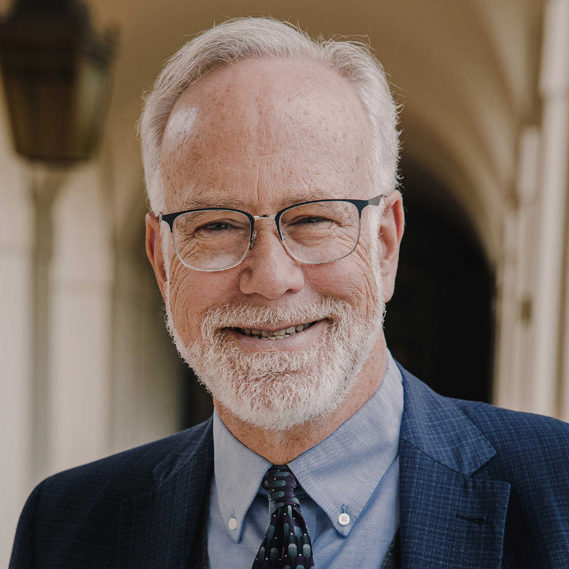 Dr. Mark D. Roberts is a Senior Strategist for Fuller's Max De Pree Center for Leadership, where he focuses on the spiritual development and thriving of leaders. He is the principal writer of the daily devotional, Life for Leaders, and the founder of the De Pree Center's Flourishing in the Third Third of Life Initiative. Previously, Mark was the Executive Director of the De Pree Center, the lead pastor of a church in Southern California, and the Senior Director of Laity Lodge in Texas. He has written eight books, dozens of articles, and over 2,500 devotions that help people discover the difference God makes in their daily life and leadership. With a Ph.D. in New Testament from Harvard, Mark teaches at Fuller Seminary, most recently in his D.Min. cohort on "Faith, Work, Economics, and Vocation." Mark is married to Linda, a marriage and family counselor, spiritual director, and executive coach. Their two grown children are educators on the high school and college level.