I saw the Holy City, the new Jerusalem, coming down out of heaven from God, prepared as a bride beautifully dressed for her husband.
One of the hymns I grew up singing was the popular classic by Eliza Hewitt, "When We All Get to Heaven." I can still sing the rousing chorus from memory: "When we all get to heaven, what a day of rejoicing that will be! When we all see Jesus, we'll sing and shout the victory." This hymn, and many others like it, is based on the vision of heaven as a place to which we go after we die. The main goal of life, I was once taught, is to "go to heaven when you die."
Now, I still believe in life beyond the grave. And I believe that those of us who are in Christ will indeed rejoice when we see Jesus. In fact, I believe we'll spend eternity in his presence. But the notion of "going to heaven" doesn't adequately represent the biblical picture of our future with the Lord.
Take Revelation 21, for example. In this passage there is a new heaven and a new earth (21:1). The newness of the earth should give us pause if we always thought the earth would be consumed in the fire of divine judgment as we escaped to heaven. Verse 2 makes us pause even longer, since in this verse we don't go up to heaven. It would be more accurate to say that heaven comes down to us. God's Holy City descends to earth. Here, on earth, is God's dwelling place among his people (21:3).
Now, I don't mean to turn the poetic, apocalyptic language of Revelation into some kind of literal guidebook for the future. But, at the same time, I want to take very seriously the assumptions behind and implications of John's vision. He does not see the earth consumed or destroyed. He does not see God's people taken away from earth into a heavenly abode. Rather, God comes to dwell on earth in the midst of his Holy City, where we are blessed to join him. As Tom Wright says in his commentary on this passage, "[T]he closing scene in the Bible is not a vision of human beings going up to heaven, as in so much popular imagination, nor even of Jesus himself coming down to earth, but of the new Jerusalem itself coming down from heaven to earth."
Now, if we remember that God created the earth, and that God regarded the earth (prior to sin) as "very good," it really shouldn't be all that surprising that, in the end, God renews the earth and establishes a home there. Nor should it shock us to realize that we will end up in the place God intended for us since the beginning. Yet, if we've been accustomed to devaluing the earth, if we've been raised to think that heaven alone really matters, then the vision of Revelation 21 can be quite disruptive to our assumptions. It suggests that this world matters much more to God than we have been led to believe. And it also suggests that how we live in this world also matters much more to God than we have been led to believe.
If God really cares about the world as much as Revelation 21 implies, then God also cares about how you live and lead each day. God cares about your work, your business deals, and your relationships with your colleagues and competitors. God cares about what your work produces and whether it contributes to the goodness of the world. God cares about what you do, how you do it, and for what purposes. Everything we have and everything we do matter to God.
Something to Think About:
When you think of life after death, what ideas or images come to mind?
How do you respond to the vision of Revelation 21, in which "heaven" comes down to earth, in the form of the Holy City?
If God cares so much about this world and what happens in it, why do you think this idea is new for so many Christians?
Prayer:
Gracious God, it is rather unsettling, not to mention wonderful, to think that one day you will come to dwell in your Holy City on earth. When we step back and think about creation, we remember that you made all things good, indeed, very good. Yet we often tend to minimize the value of life in this world as we maximize the value of life in the world to come. Forgive us, Lord, for neglecting that which matters so much to you.
Help us, we pray, to see this world as you see it, to value it as you value it, to love it as you love it. May we live each day, in every part of life, in a way that honors what you honor. May we contribute to the goodness of this world, even though we realize that one day you will make all things new. May our lives make a difference for you each and every day. Amen.
This post was originally published on April 8, 2016.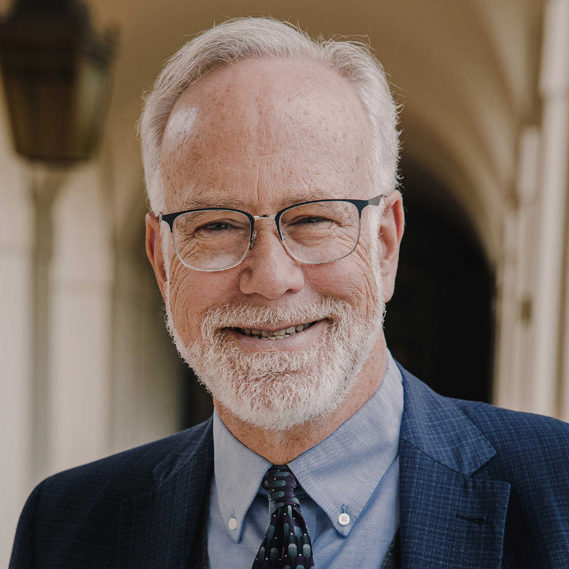 Dr. Mark D. Roberts is a Senior Strategist for Fuller's Max De Pree Center for Leadership, where he focuses on the spiritual development and thriving of leaders. He is the principal writer of the daily devotional, Life for Leaders, and the founder of the De Pree Center's Flourishing in the Third Third of Life Initiative. Previously, Mark was the Executive Director of the De Pree Center, the lead pastor of a church in Southern California, and the Senior Director of Laity Lodge in Texas. He has written eight books, dozens of articles, and over 2,500 devotions that help people discover the difference God makes in their daily life and leadership. With a Ph.D. in New Testament from Harvard, Mark teaches at Fuller Seminary, most recently in his D.Min. cohort on "Faith, Work, Economics, and Vocation." Mark is married to Linda, a marriage and family counselor, spiritual director, and executive coach. Their two grown children are educators on the high school and college level.