As God's chosen ones, holy and beloved, clothe yourselves with compassion, kindness, humility, meekness, and patience. Bear with one another and, if anyone has a complaint against another, forgive each other; just as the Lord has forgiven you, so you also must forgive. Above all, clothe yourselves with love, which binds everything together in perfect harmony. And let the peace of Christ rule in your hearts, to which indeed you were called in the one body. And be thankful. Let the word of Christ dwell in you richly; teach and admonish one another in all wisdom; and with gratitude in your hearts sing psalms, hymns, and spiritual songs to God. And whatever you do, in word or deed, do everything in the name of the Lord Jesus, giving thanks to God the Father through him.
Focus
When we sing in worship, we are singing to God. We are offering our words, our bodies, and all that we are to the God who loves us through Jesus Christ. The more we focus on God as we worship, the more we'll be free to offer to the Lord a "new song." We'll be less focused on whether we like the worship or not, and more focused on giving all that we are to God as we sing.
Today's devotion is part of the series Live Who You Are.
Devotion
Today, we continue our devotional examination of Colossians 3:12-17. Last Thursday, we began looking at verse 16, which reads, "Let the word of Christ dwell in you richly; teach and admonish one another in all wisdom; and with gratitude in your hearts sing psalms, hymns, and spiritual songs to God." I explained that in this English translation (NRSV) we have three parallel imperative clauses (let dwell, teach/admonish, sing). In the Greek original, however, we actually have one main imperative (Let the word of Christ dwell) followed by two supporting participial phrases (teaching/admonishing each other, singing to God). What this means is we can let the word of Christ dwell richly among us by teaching and admonishing each other and by singing to God. In today's devotion I will focus on the final clause: "Let the word of Christ dwell among you . . . by singing psalms, hymns, and spiritual songs to God."
Last Thursday I explained that in Colossians 3:16 the word of Christ is the word about Christ, the message about what God has done in Christ for us and our salvation. The word of Christ is what we often call the gospel, the good news of God's grace in Christ by which we are saved, redeemed, and restored. One way we let this good news dwell in and among us is by "teaching and admonishing one another." That was the point of the previous devotion.
Another way we let the word of Christ dwell among us is by singing. From the very beginning, the church has celebrated God's love in Christ in song. We continue to do this day after day, week after week, year after year. Much of the music we sing in corporate worship focuses on the good news, as indeed it should. This allows that news to dwell among us in our corporate worship and to live within each of us individually. The songs we sing together remain in our hearts when we are apart, reminding us of God's love and grace through Christ. So many times in my life, when I've been facing a difficult challenge or disappointment, a song from worship will fill my mind and heart, bringing reassurance of God's love for me.
Colossians 3:16 refers to singing "to God." Paul is clearly thinking of music used in the context of worship, where God is the primary audience of our singing. Sometimes it's easy to get confused about this because our worship spaces feel like theatres and what happens up front feels like a performance for us. While recognizing that we get something out of the worship experience, Colossians reminds us that our worship is mainly for God's pleasure and glory. As Søren Kierkegaard explained, when we worship, we are the performers and God is the audience. This is true whether we're gathered together with others or whether we're praising God in our personal devotions.
Paul writes that we're to sing "psalms, hymns, and spiritual songs" to God. As you might imagine, scholars have for centuries attempted to figure out exactly what these musical types are. Some propose that psalms are Old Testament psalms put to music. Hymns are songs that are composed and sung in the same way week after week. Spiritual songs, many believe, are spontaneous songs given by the Holy Spirit and sung only once in a worship setting. We can't be sure, however, that these interpretations are right. What we do know for sure, however, is that Paul was encouraging the believers in Colossae to use a rich variety of music in their worship: not just psalms, not just hymns, not just spiritual songs, but all of the above.
I'm sad to say that Paul's counsel has not been followed by millions of Christians throughout church history. Conflict over musical styles in worship has plagued the church for centuries. In my pastoral experience, disagreement over what kind of music to use in worship has been one of the most pervasive and divisive issues in the churches where I've served. So many people want in worship only the kind of music they prefer. I get this, of course. I'm glad when what we sing in worship resonates with my soul and musical tastes. I struggle when songs are new or different or too loud or not to my liking.
But I have tried to let the truth of Colossians 3:16 guide both my practice and my attitude. Four things from this verse seem crucial to me. First, we're to be open to a wide variety of sung music in worship. If I insist on only my particular preferences, then I'm out of sync with biblical teaching.
Second, no matter the genres of our music in worship, the lyrics should consistently celebrate the "word of Christ," that is, the gospel of God's love in Jesus Christ. This doesn't mean every song has to be only about the good news. But it should be a pervasive theme throughout all that we do in worship, including our singing.
Third, in our worship, we are to sing "to God." Once we understand that God is the primary audience of our worship, we'll be prepared to offer singing as one expression of worship. We'll stop thinking of ourselves as the main audience for worship. Rather than being preoccupied with our own experiences in worship, we'll focus on how we can give ourselves to God more fully. Arguments about musical styles in worship will diminish when our hearts yearn more for God to be worshiped than for us to be happy with the music.
Fourth, we'll be freed from our angst over worship styles when we sing to God "with gratitude in our hearts." I'll have more to say about gratitude in an upcoming devotion. But, today, I want to underscore the importance of thankfulness as we worship. For one thing, our thanks will be centered in the good news of what God has done in Christ, in fulfillment of the primary imperative in Colossians 3:16, "Let the word of Christ dwell." Moreover, if we pay attention to all the ways God has blessed us, if we allow our hearts to be filled with gratitude, then there will be little room in them for worrying about worship expressions that aren't what we prefer. Thankfulness has a way of cleansing our hearts of self-preoccupation, even as it opens our hearts to praising God with a new song (Psalm 96:1, 98:1, etc.).
Reflect
How do you feel about varieties of music in worship? Have you found that your opinions about this have changed over the years?
When you're in a worship service, how aware are you of God as the primary audience of worship? When you sing, do you intentionally sing "to God"? If so, why? If not, why not?
To what extent is your worship of God an expression of thanks? What helps you to be thankful as you worship?
Act
The next time you join a service of corporate worship, prepare yourself by reflecting on how God has blessed you so that you might be able to worship with a grateful heart.
Pray
Gracious God, how we thank you for the good news of your love for us in Christ. Thank you for the ways you remind us of this good news, through our teaching of each other, and as we sing to you in worship.
God, I confess that it's easy for me to get caught up in myself when I'm in corporate worship. I can focus on what I'm thinking and feeling, whether I like the sermon or the songs. I find it easy to forget that worship is for you, for your glory and joy. Help me, I pray, to remember this. Help me to focus on you as I worship, whether with others or when I'm alone.
Give me an open heart when it comes to worship expressions that are what I prefer. May I be open to singing psalms, hymns, and spiritual songs. But, most of all, may I sing, not for my pleasure, but for yours. Be glorified, Lord, as I sing to you. Amen.
Find all Life for Leaders devotions here. Explore what the Bible has to say about work at the unique website of our partners, the High Calling archive, hosted by the Theology of Work Project. Reflection on today's Life for Leaders theme can be found here: How Can We Speak to Each Other With Songs for Worship?

---
Subscribe to Life for Leaders
Sign up to receive a Life for Leaders devotional each day in your inbox. It's free to subscribe and you can unsubscribe at any time.
---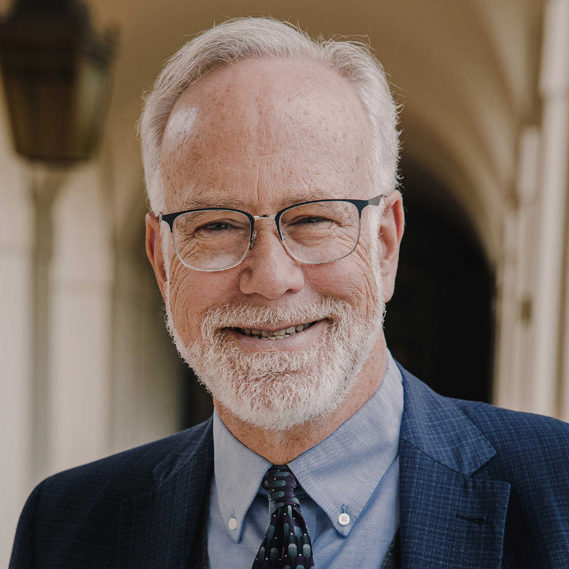 Dr. Mark D. Roberts is a Senior Strategist for Fuller's Max De Pree Center for Leadership, where he focuses on the spiritual development and thriving of leaders. He is the principal writer of the daily devotional, Life for Leaders, and the founder of the De Pree Center's Flourishing in the Third Third of Life Initiative. Previously, Mark was the Executive Director of the De Pree Center, the lead pastor of a church in Southern California, and the Senior Director of Laity Lodge in Texas. He has written eight books, dozens of articles, and over 2,500 devotions that help people discover the difference God makes in their daily life and leadership. With a Ph.D. in New Testament from Harvard, Mark teaches at Fuller Seminary, most recently in his D.Min. cohort on "Faith, Work, Economics, and Vocation." Mark is married to Linda, a marriage and family counselor, spiritual director, and executive coach. Their two grown children are educators on the high school and college level.