Ageism in Hollywood, Michelle Yeoh Strikes Again
In the February edition of "Third Third in the News," I noted that Michelle Yeoh, having just won a Golden Globe award for Everything Everywhere All at Once, spoke out against ageism in Hollywood. Last month Yeoh won the Academy Award for Best Actress in a Leading Role, a major milestone for an Asian actress. In her Oscar acceptance speech she said, "For all the little boys and girls who look like me watching tonight, this is a beacon of hope and possibilities. This is proof that dream big, and dreams do come true. And ladies, don't let anybody tell you you are ever past your prime. Never give up."
The "past your prime" language was new, no doubt inspired by a comment made a few weeks earlier by CNN anchor Don Lemon. In response to presidential candidate Nikki Haley's suggestion that politicians 75 and older take mandatory mental competency tests, Lemon said, "She says people, politicians are not in their prime. Nikki Haley is not in her prime, sorry. A woman is considered to be in her prime in her 20s, 30s, and maybe her 40s." As you can imagine, this comment got Lemon in a lot of hot water. He later apologized. Haley, by the way, is 51.
Pundits and professors have been weighing in on what is called "gendered ageism." Ageism is common in many areas of life. According to research from the World Health Organization, "Globally, one in two people are ageist against older people." Almost all older people experience it, but women often experience more persistent and debilitating forms of ageism than men.
Social media can make things even worse.
"TikTok is Changing What It Means to Be 'Old'" – WIRED Magazine
For obvious reasons, the title of this article from WIRED caught my eye. What I read, however, was not what I expected or was hoping for.
The article began with the story of Kelsey Laurier, a woman with a mammoth TikTok following. Though she attempts to create a "peaceful" space in TikTok, she regularly gets comments from men who call her "washed up, miserable, and old." Laurier is 29. According to Laurier,
"I started noticing this trend of people who are essentially your peers, they're a few years younger than you, addressing people who are older than them like they're elderly, talking to them like they're a senior citizen. . . . The way that it is normal these days for someone in their late teens or early twenties to call someone in their late twenties or thirties 'old' or 'washed up'. . . . I just find that really disturbing."
Evidence shows that in some sectors of American life, ageism begins when people hit their 30s. Silicon Valley tech and Hollywood writers are two examples. But generally, ageism begins when people hit middle age, intensifying as they enter the third third of life. Social media reveals how pervasive and toxic ageism can be, even and especially when it's directed at those who are younger. Julia Twigg, an age studies researcher and sociology professor at the University of Kent, observes, "Social media has much the same issues with aging as print media, except the online world is capable of being much harsher and much more openly hostile. . . . [The internet] enables [harsher opinions] to emerge into the public sphere in a way that doesn't happen when they're filtered through magazines and through an editorial lens."
Demonstrations of Third Third Courage in Social Media
Those of us who are older, by which I mean a good bit older than 29, might decide to avoid social media altogether so as to avoid ageist insults. But research shows that one of the best ways to combat ageism is through wider exposure to the actual lives of actual older adults. If older adults risk the negatives of social media, their stories may very well help younger adults to think differently about aging. One of my favorite examples of an older person putting herself out there is Dr. Bertice Berry, a Black woman, sociologist, author, Episcopal deacon, and social media influencer. Dr. Bertice, who is in her early 60s, is full of wisdom and humor. She posts a video on Instagram almost every day. If more folk in the rising generations would follow Dr. Bertice, they'd get a whole different picture of aging. They'd also be educated, entertained, and inspired. She often makes me laugh. Sometimes she makes me choke up. And more times than I can remember she gives me hope.

For a very different kind of "out there" social media presence by an older adult, check out Jim Houston's blog, Letters from a Hospital Bed: Reflections from a 99 Year Old. Actually, that title doesn't work anymore because Dr. Houston is now 100. He has changed the name of his blog to Truffles and Prayers. In a recent blog post he wrote, "Humility is not just an emotion; it is a truth, indeed the truth above all truths. . . ." How grateful I am for people like Dr. Bertice Berry and Dr. Jim Houston, for their faithful and wise engagement with social media, and for sharing their lives with people like me.
Banner image by Anders Nord on Unsplash.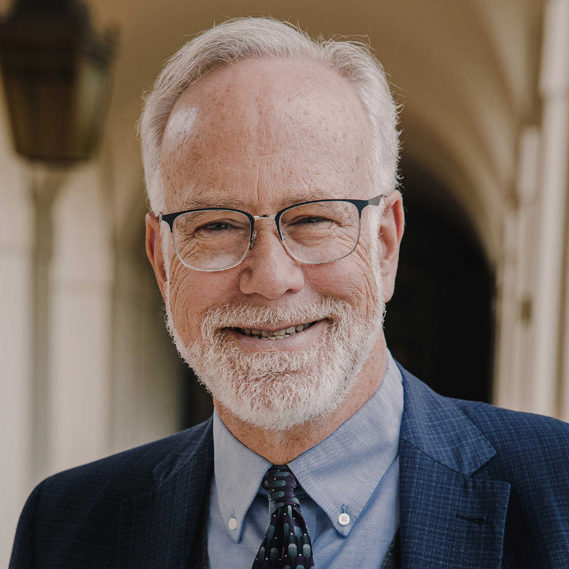 Dr. Mark D. Roberts is a Senior Strategist for Fuller's Max De Pree Center for Leadership, where he focuses on the spiritual development and thriving of leaders. He is the principal writer of the daily devotional, Life for Leaders, and the founder of the De Pree Center's Flourishing in the Third Third of Life Initiative. Previously, Mark was the Executive Director of the De Pree Center, the lead pastor of a church in Southern California, and the Senior Director of Laity Lodge in Texas. He has written eight books, dozens of articles, and over 2,500 devotions that help people discover the difference God makes in their daily life and leadership. With a Ph.D. in New Testament from Harvard, Mark teaches at Fuller Seminary, most recently in his D.Min. cohort on "Faith, Work, Economics, and Vocation." Mark is married to Linda, a marriage and family counselor, spiritual director, and executive coach. Their two grown children are educators on the high school and college level.