The righteous flourish like the palm tree,
+++and grow like a cedar in Lebanon.
They are planted in the house of the LORD;
+++they flourish in the courts of our God.
In old age they still produce fruit;
+++they are always green and full of sap,
Focus
Our culture generally assumes that older adults are past their prime, that the season for significant flourishing has passed. The Bible offers a contrary and compelling vision. According to Psalm 92, the righteous will flourish and be fruitful even "in old age." This vision is encouraging for folks in the third third of life, to be sure. But it also gives younger people a fresh, hopeful, and transformational vision of their lives and their potential to flourish in every season of life.
Today's devotion is part of the series Invitation to a Flourishing Life
Devotion
If you were to ask the average person on the street, "When in life do people flourish the most?" it's likely that you'd hear about what happens in the second third of life. Beginning in the late 20s and extending into the early 50s, many people enjoy significant fruitfulness. They're building and thriving in their careers. They're making babies and raising children. They're using their talents with growing wisdom and productivity. Their lives are often full to overflowing with good things. Flourishing seems to fit perfectly in the second third of life.
Plus, we rightly understand that the first third of life is mainly a time of preparation for what lies ahead. Though younger people can certainly thrive in the right circumstances, they are only beginning to flourish, especially if you understand flourishing with the biblical emphasis upon fruitfulness.
Then there's the third third of life, when people are older. We might assume that their times of maximum flourishing have passed. Their children have been harvested, so to speak, and flown the coop (at least for a while). Their careers are being wrapped up, with retirement either looming or present reality. Older adults lose physical strength and certain types of brain functionality. Flourishing, especially the biblical variety with its emphasis on fruitfulness, might seem to be a thing of the past.
But then we come upon Psalm 92. We learn that "the righteous flourish like the palm tree . . . . they flourish in the courts of our God. In old age they still produce fruit; they are always green and full of sap" (Psalm 92:14). Isn't that something! Quite unexpected, I think. Flourishing, with its crucial aspect of fruitfulness, isn't reserved for the young or the middle-aged. It's something to be experienced by folks "in old age." (For personal reasons, I'm particularly fond of the literal Hebrew original of this phrase: "in gray hair." What hair I have left is mostly all gray, a suitable complement to my all-white beard.)
Now, if you're in the third third of life, you may easily share my appreciation for this passage from Psalm 92. It offers so much promise of a life filled with meaning and fruitfulness. If you're younger than I am, in the first or second thirds of life, you may wonder if this passage has much to say to you. Let me be clear. It does, for at least three reasons. First, the Hebrew could be translated, "They bear fruit even in old age [with gray hair]." It's assumed that flourishing will happen for younger people who are righteous. So, you're included implicitly in the flourishing and fruitfulness of Psalm 92.
Second, the biblical vision of third third flourishing can make a huge difference in the lives of younger people. If you're 25, for example, it can transform how you think about your life. And it can help you to live now in ways that will maximize your flourishing in the third third.
Third, the biblical vision of third third flourishing can help those who are younger to be invaluable encouragers and supporters of flourishing older adults. Rather than buying into the cultural vision of third third irrelevance and uselessness, first and second thirders can uphold the promise of Psalm 92. They can build their lives, families, businesses, churches, and communities in a way that draws upon the invaluable assets of older adults, which benefits those adults even if it contributes to the flourishing of others.
It should come as no surprise that the biblical vision of third third flourishing is increasingly demonstrated in academic studies of older adulthood. For example, drawing upon a wide range of research, in his book The Happiness Curve, Jonathan Rauch shows that, on average, people become happier as they get older. Researchers looking into entrepreneurship found, contrary to popular wisdom, that older entrepreneurs have a much greater chance of success than younger ones. An article in the MIT Technology Review has this intriguing title, "Meet the next generation of entrepreneurs. They're all over 65."
Now, I don't mean to glorify aging or to minimize the losses and challenges that come as we get older. The third third of life has its distinctive challenges, to be sure. But the culture in which I grew up and in which I currently live tends to see the third third of life as a time of diminishing fruitfulness and decreasing joy. We who are in this season of life – as well as those who are younger – need to reclaim the biblical vision of flourishing, not just in midlife, but throughout life.
I'll have more to say about this in Monday's devotion. For now, you may wish to consider the following questions.
Reflect
What are your expectations when it comes to flourishing in life?
Do you know people in the third third of life who, you would say, are truly flourishing? If so, why do you think so?
When you imagine your own future, do you see yourself as flourishing when you are older? If so, what do you envision? And why? If not, why not?
Act
You may well be aware of the De Pree Center's Flourishing in the Third Third of Life Initiative. That's great. But if you're not, you might want to check it out, even if you're not yet in the third third. Lord willing, you will get there someday! You can see some of our resources in the Third Third section of the De Pree Center website. Also, from that page, you can sign up to receive our monthly Third Third Life newsletter, which will keep you up to date on our work.
Pray
Gracious God, thank you for expanding our vision of what life can be. Thank you for the promise of flourishing, not just when we're young, not just in the prime years of midlife, but all the way to "old age."
For those of us in the third third of life, may we live in such a way that we truly flourish, bearing fruit that matters. May our roots grow deep into the soil of your truth, love, and grace.
For those of us who aren't yet in the third third, may we live now so that, when the time comes, we'll be ready to flourish. And can we encourage those in the third third to live fully and fruitfully. To you be all the glory. Amen.
Find all Life for Leaders devotions here. Explore what the Bible has to say about work at the unique website of our partners, the Theology of Work Project. An article on today's Life for Leaders theme can be found here: Transitioning Into the Third Age

---
Subscribe to Life for Leaders
Sign up to receive a Life for Leaders devotional each day in your inbox. It's free to subscribe and you can unsubscribe at any time.
---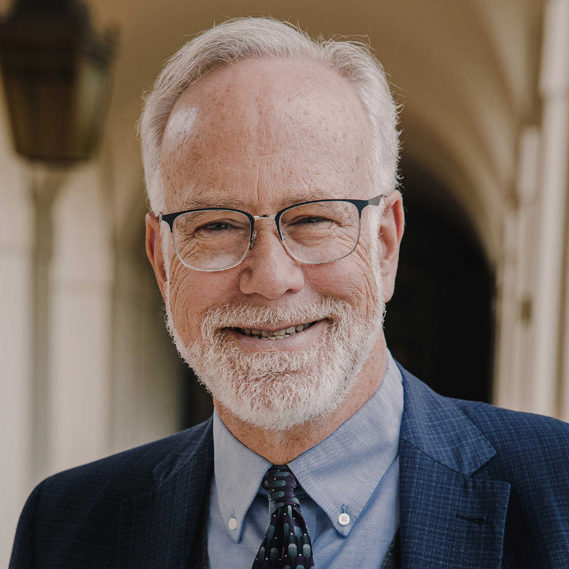 Dr. Mark D. Roberts is a Senior Strategist for Fuller's Max De Pree Center for Leadership, where he focuses on the spiritual development and thriving of leaders. He is the principal writer of the daily devotional, Life for Leaders, and the founder of the De Pree Center's Flourishing in the Third Third of Life Initiative. Previously, Mark was the Executive Director of the De Pree Center, the lead pastor of a church in Southern California, and the Senior Director of Laity Lodge in Texas. He has written eight books, dozens of articles, and over 2,500 devotions that help people discover the difference God makes in their daily life and leadership. With a Ph.D. in New Testament from Harvard, Mark teaches at Fuller Seminary, most recently in his D.Min. cohort on "Faith, Work, Economics, and Vocation." Mark is married to Linda, a marriage and family counselor, spiritual director, and executive coach. Their two grown children are educators on the high school and college level.