A Note from Mark
Dear Life for Leaders Friends,
In yesterday's Life for Leaders devotion, I added a note explaining the De Pree Center's third third research study and asking folks 55 and older to participate. If you missed that note, we could still use your assistance with this study. It will take about 12-15 minutes to complete this online survey. It is completely anonymous. Click on this link to start the survey.
Thanks very much!
Mark
Observe the sabbath day and keep it holy, as the LORD your God commanded you. Six days you shall labor and do all your work. But the seventh day is a sabbath to the LORD your God; you shall not do any work—you, or your son or your daughter, or your male or female slave, or your ox or your donkey, or any of your livestock, or the resident alien in your towns, so that your male and female slave may rest as well as you. Remember that you were a slave in the land of Egypt, and the LORD your God brought you out from there with a mighty hand and an outstretched arm; therefore the LORD your God commanded you to keep the sabbath day.
Focus
Scripture makes it clear that regular rest isn't only for the privileged and powerful. God wants all people to experience sabbath. Those of us with authority and influence have the chance – indeed, the obligation – to make sure others in our lives have the opportunity to rest well. In this way we embody God's grace and justice.
Series: Unwrapping God's Gift of Rest
Devotion
In yesterday's Life for Leaders devotion, we examined Deuteronomy 5:12-15, a passage that makes a strong connection between sabbath and slavery. One implication of this passage is that those of us who have authority over others in the workplace should be concerned that our employees have opportunities for regular rest. We can't force people to rest when they're not working, of course, but we can make it possible for them to rest and we can encourage them in various ways.
In today's devotion, I'd like to offer a few examples of bosses and/or organizations that do, in fact, encourage their people to rest well.
I have been blessed with bosses who have helped me to take time away from work. My first boss, Dr. Lloyd Ogilvie, urged me to be sure and spend both quality and quantity time with my family. The board of elders at Irvine Presbyterian Church made sure I made use of my vacation and study leave time each year. My current boss, Michaela, regularly encourages her team, including me, to set aside time for rest, and she models this for us.
My first management job was as the Associate Pastor of Education for a church. Several people reported to me, including the Junior High Director. When she gave me her yearly vacation request, I noticed that she planned never to miss a Sunday, which was her busiest day. She took all of her vacation time during the week. When I asked her about this, she said this had been her practice for years. She never missed a Sunday. Now, that seemed wrong to me. I believed she needed more extended times of rest. Though she was not convinced, I insisted that she change her plans so that she would miss at least two Sundays each year. In time, she thanked me for what I had done by requiring her to be away on some Sundays.
A while ago I wrote an email to my pastor after a worship service, thanking him for his sermon. I was surprised to get a quick response, though I discovered it was one of those auto-response emails. His note explained that he took Sunday afternoons and Mondays as his time of sabbath. He would respond to my email when he got back to work. If there was a pastoral emergency, however, he provided instructions on how to get immediate help. I was struck by the fact that my pastor wasn't only setting aside time for his own rest. He was also setting an example for his staff and for his flock.
My final example comes from the business world. Every now and then I have seen stories about companies that find creative ways to help their people take time away from work for rest. One company, though I can't recall which one, prohibits email communication between 5:30 pm and 8:00 pm so that workers can focus on dinner with their families and friends, or simply have a regular time of rest for themselves.
An article in Harvard Business Review called "How to Defeat Busy Culture" pointed to a tech company with a creative way of encouraging their workers to stop working on their vacations. FullContact offers their employees what they call a "Paid, Paid Vacation." Not only do their employees get a minimum of 15 days paid vacation plus standard holidays, but also FullContact pays them $7500 extra to go on vacation.
Sounds good, doesn't it? But there are rules for those who want the $7500:
1. You have to go on vacation, or you don't get the money.
2. You must disconnect.
3. You can't work while on vacation.
What a great idea!
Now, I realize that many employers can't afford to do this. But I wonder what folks in authority could come up with if they were convinced that they needed to help their employees rest regularly and restoratively.
If you have official authority over people in your workplace, or if you have influence without authority, let the "Reflect" questions below help you to think about what you might do to encourage others to rest.
PS: If you've experienced something in your work life that has encouraged folks to rest well, I'd be interested in hearing about it. You can always email me at markroberts@fuller.edu. But if you'd like to share your story with others, you can scroll down in this email to the link that reads: Leave a Comment on Our Website. At the bottom of the page for today's devotion, there's a place for you to add a comment.
Reflect
In your work life, have you ever experienced a person or organization with authority encouraging employees to rest well? If so, what happened? What was the result?
You may not be in a position to offer your employees a "Paid, Paid Vacation," but you may be able to do something else to help them get time away from work. What might you do?
Act
Talk with a wise friend or your small group about ways to encourage others to get the rest they need and that God wants to give them.
Pray
Gracious God, I thank you for my bosses who have helped me to take time away from work for rest. I thank you for those in my life who have modeled healthy rhythms of work and rest. I thank you for the opportunities I have had to help others rest well.
Dear Lord, may I use my authority or influence to help others experience sabbath in various forms. Give me wisdom and creativity as I seek to do this wisely.
I pray also for systems and structures that place unhealthy and unjust demands on their workers. May your grace and justice transform these institutions so that all workers may be treated well and given the opportunity for regular rest. Amen.
Banner image by Rex Roberts on Unsplash.
Find all Life for Leaders devotions here. Explore what the Bible has to say about work at the unique website of our partners, the Theology of Work Project's online commentary. Reflection on today's Life for Leaders theme can be found here: The Sabbath and the Work People Do for Us.
---
Subscribe to Life for Leaders
Sign up to receive a Life for Leaders devotional each day in your inbox. It's free to subscribe and you can unsubscribe at any time.
---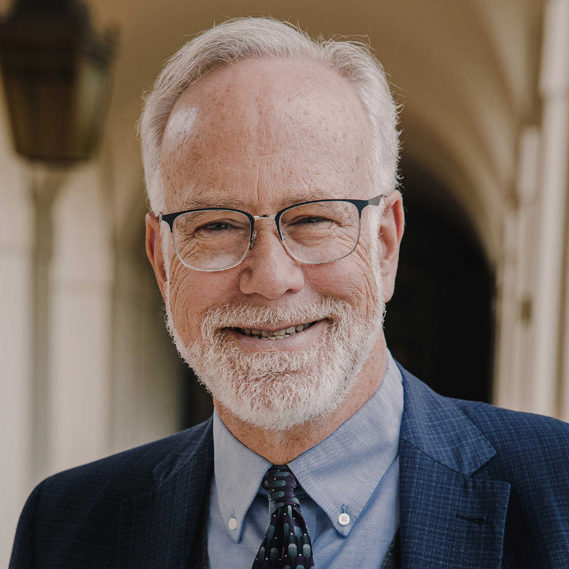 Dr. Mark D. Roberts is a Senior Strategist for Fuller's Max De Pree Center for Leadership, where he focuses on the spiritual development and thriving of leaders. He is the principal writer of the daily devotional, Life for Leaders, and the founder of the De Pree Center's Flourishing in the Third Third of Life Initiative. Previously, Mark was the Executive Director of the De Pree Center, the lead pastor of a church in Southern California, and the Senior Director of Laity Lodge in Texas. He has written eight books, dozens of articles, and over 2,500 devotions that help people discover the difference God makes in their daily life and leadership. With a Ph.D. in New Testament from Harvard, Mark teaches at Fuller Seminary, most recently in his D.Min. cohort on "Faith, Work, Economics, and Vocation." Mark is married to Linda, a marriage and family counselor, spiritual director, and executive coach. Their two grown children are educators on the high school and college level.