Save me, O God,
     for the waters have come up to my neck.
I sink in deep mire,
     where there is no foothold;
I have come into deep waters,
     and the flood sweeps over me.
I am weary with my crying;
     my throat is parched.
My eyes grow dim
     with waiting for my God.
Focus
Sometimes we wait for God in quiet, peaceful patience. But at other times our waiting comes with agony as we cry out to God for help that seems never to come. When our waiting is hard, we are encouraged by the fact that we are not alone. God's people have for centuries struggled with waiting. More importantly, we know that Jesus is with us in our struggle and that makes all the difference in the world.
Today's devotion is part of the series: Advent in the Psalms.
Devotion
The opening verses of Psalm 69 remind me of a terrifying experience I had once in Hawaii. My family and I were vacationing on the island of Kaua'i. We drove out to Ke'e Beach, a marvelous paradise for swimming and snorkeling because it is protected by a reef. My young son, Nathan, and I were having a fantastic time observing a group of turtles as we snorkeled along. But somehow we managed to drift outside of the reef. Before we knew it, the waves were battering us, driving us into the reef. I felt utterly helpless and afraid, both for myself and for Nathan. To use the language of Psalm 69, the waters had come up to my neck. I was sinking in deep water with no foothold. The flood was sweeping over me. I was indeed crying out to God, begging for help. That was truly one of the scariest moments of my life. (Not to leave you hanging, let me finish the story. As Nathan and I clung to the reef, being pounded by the waves, somehow a large wave lifted us over the reef, depositing us into the still water on the other side. We were exhausted and traumatized, but safe, thanks be to God.)
My experience in the waters off of Ke'e Beach differed from that of the writer of Psalm 69 in several ways. Whereas I needed saving from actual water, the psalmist's "deep waters" were figurative. And whereas I had only a minute or two to cry out to God for help before help came, the psalm writer had hours and hours if not days and days in which to seek God's help. As we read in verse 69:3, "I am weary with my crying; my throat is parched. My eyes grow dim with waiting for my God." This verse paints for us a picture of someone stuck in a desperate situation, crying out to God until he has almost lost his voice. He has been crying so hard that he can hardly see through his eyes. As it says in the NLT, "I am exhausted from crying for help; my throat is parched. My eyes are swollen with weeping, waiting for my God to help me" (Psalm 69:3, NLT). This isn't a picture of quiet, calm waiting. Rather, it depicts waiting in agony.
If we were to read further in Psalm 69, we'd discover the cause of the psalmist's agony. As in many other psalms, the problem has to do with his enemies. He laments in verse 4, "More in number than the hairs on my head are those who hate me without cause; many are those who would destroy me." In the face of such bitter opposition, the psalm writer has cried out to God for help. But, so far, no help has come. Thus, the psalmist has been waiting, waiting with many cries and tears, waiting in agony.
We don't tend to think of agony in the season of Advent. That's something we associate with Lent, especially Holy Week and Good Friday. At that time of year, we rightly focus on the agony of Jesus in his passion. But it seems to me that it's good to remember in Advent that sometimes waiting on God has an agony of its own.
In contemporary English, the word "agony" means "intense pain of mind or body" (Merriam-Webster Dictionary). This word comes from the ancient Greek word agōnia, which meant "intense struggle," especially in an athletic contest. Waiting can indeed include agony in the common English sense of suffering and pain. But it also can involve an intense struggle to trust God in hard times, to maintain hope in God when God feels distant or unconcerned. I think, for example, of people I know who are waiting for reconciliation in a family, or for healing from a serious disease, or for justice to prevail over injustice. I remember friends who wish they were married but have spent years in singleness. Or I think of couples who yearn to have a baby yet have been unable to do so. In these situations and so many more, waiting involves agony, perhaps the agony of suffering, yet certainly the agony of struggle.
When we experience the agony of waiting, we are encouraged by the example of Psalm 69. We recognize that we are not alone in our struggle. We are experiencing what God's people have experienced for centuries.
Moreover, when we struggle and suffer in our waiting, we are consoled by the truth that Jesus struggles and suffers with us. The one who knew the ultimate agony of the cross is present with us in our waiting. When we wait in agony, we claim his promise to us, "I am with you always, to the end of the age" (Matthew 28:20).
Reflect
Can you remember a time in your life when your waiting involved an intense struggle? If so, what was that like for you?
Are you waiting now for God to do something for which you are longing? If so, what are you thinking? What are you feeling?
How do you respond to the idea that Jesus struggles and suffers with you?
Act
Talk with a friend or with your small group about your experiences of waiting on God.
Pray
Gracious God, sometimes I wait upon you in quiet and peace, confident that you will act in just the right time and just the right way. Sometimes, however, my waiting is more desperate. Like the psalm writer, I can be weary from crying out to you. My vision is clouded by many tears.
Thank you, Lord, for the example of Psalm 69. Thank you for showing me that my struggle with waiting isn't unique. It's something common to your people, especially as we go through hard times.
It can be hard to wait for you, Lord. There are times when I just don't understand what you're doing . . . or not doing. You can seem so far away, so unconcerned about me. In these times, I ask you to make yourself known to me. Open my heart to receive your peace.
Jesus, thank you for understanding what it's like to struggle and suffer. Thank you for being with me when my waiting is in agony. Amen.
Banner image by Christoffer Engstrom on Unsplash.
Find all Life for Leaders devotions here. Explore what the Bible has to say about work at the High Calling archive, hosted by the unique website of our partners, the Theology of Work Project. Reflection on today's Life for Leaders theme can be found here: When You Can't Stop Crying Out to God.
---
Subscribe to Life for Leaders
Sign up to receive a Life for Leaders devotional each day in your inbox. It's free to subscribe and you can unsubscribe at any time.
---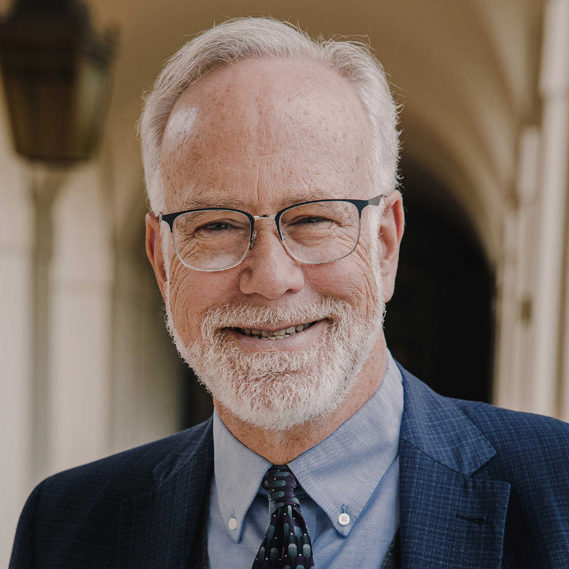 Dr. Mark D. Roberts is a Senior Strategist for Fuller's Max De Pree Center for Leadership, where he focuses on the spiritual development and thriving of leaders. He is the principal writer of the daily devotional, Life for Leaders, and the founder of the De Pree Center's Flourishing in the Third Third of Life Initiative. Previously, Mark was the Executive Director of the De Pree Center, the lead pastor of a church in Southern California, and the Senior Director of Laity Lodge in Texas. He has written eight books, dozens of articles, and over 2,500 devotions that help people discover the difference God makes in their daily life and leadership. With a Ph.D. in New Testament from Harvard, Mark teaches at Fuller Seminary, most recently in his D.Min. cohort on "Faith, Work, Economics, and Vocation." Mark is married to Linda, a marriage and family counselor, spiritual director, and executive coach. Their two grown children are educators on the high school and college level.