For God alone my soul waits in silence,
     for my hope is from him.
He alone is my rock and my salvation,
     my fortress; I shall not be shaken.
On God rests my deliverance and my honor;
     my mighty rock, my refuge is in God.
Trust in him at all times, O people;
     pour out your heart before him;
     God is a refuge for us. Selah
Focus
Most of us have plenty of noise in our lives. In the weeks before Christmas, often starting in early November, we hear endless Christmas songs in our malls and markets, not to mention our personal streaming devices. Advent invites us into a different kind of pre-Christmas experience. In the words of Psalm 62, "For God alone my soul waits in silence, for my hope is from him." Why not accept the Advent invitation to be quiet before the Lord, opening your heart more fully to the God who seeks relationship with you?
This devotion is part of the series: Advent in the Psalms.
Devotion
Several well-known Christmas carols emphasize silence. You might think of "Let all mortal flesh keep silence and with fear and trembling stand." Then there's verse 3 of "O Little Town of Bethlehem," which begins, "How silently, how silently, the wondrous gift is given." Of course, we have the all-time favorite, "Silent night, holy night! All is calm, all is bright round yon virgin mother and child."
We can debate whether this assumption of silence in the birthplace of Jesus makes logical sense or not. After all, babies generally cry and animals can be noisy too. Additionally, the angels who appeared to nearby shepherds made plenty of noise. So it's not as if silence pervades the Christmas story. But, nevertheless, we like to sing of the silence we associate with Jesus's birth.
Ironically, singing is part of what makes the weeks prior to Christmas so un-silent. During this time of year, the time Christians call Advent, we are inundated with noise in the form of Christmas carols blaring in malls, restaurants, grocery stores, and even our personal music devices. I listen to much more music in the month of December than in any other month of the year. It is surely the most un-silent month for me.
I'm not complaining about this, mind you. I love Christmas music, from the classic choruses of Händel's Messiah to the joyful frivolity of Sara Groves's song, "Toy Packaging." I do get a little tired of the soundtracks playing in big box stores, however. How often do I need to hear "Rockin' Around the Christmas Tree"? But giant stores aren't exactly bastions of holy silence, no matter the music they're streaming.
Besides, let's face it, apart from Christmas carols and their themes of silence, Christmas is mainly a time for joyful noisemaking. Frankly, that's just fine with me. Advent, however, offers a different kind of experience, a different ethos altogether. Advent invites us into silence, especially as we wait for the Lord.
Perhaps no verse in the Bible models an Advent-like stillness more than Psalm 62:5. That verse reads, "For God alone my soul waits in silence, for my hope is from him." There we have two of the most important Advent themes, waiting and hoping, combined with silence. From the verses that follow verse 5, we understand that the psalm writer is able to wait in silence because of the utter reliability, strength, protection, and salvation of God: "He alone is my rock and my salvation, my fortress; I shall not be shaken. On God rests my deliverance and my honor; my mighty rock, my refuge is in God" (Psalm 62:6-7). When we lean back into God's faithful presence, when we receive God's gracious help, when we hide in God's protective care, then we can enter into deep, trusting silence.
That is profoundly and wonderfully true. But, ironically, it's not the whole story. Consider what comes next in Psalm 62: "Trust in him at all times, O people; pour out your heart before him; God is a refuge for us" (62:8). Now, given what we read about waiting in silence only three verses earlier, we might well expect verse 8 to say, "Trust in him at all times, O people; quiet your heart before him." But that's not what it says! Rather, along with waiting in silence for God there are also times when we can pour out to God everything inside of us: every sorrow and every joy, every boldness and every fear, every gratitude and every yearning.
Advent is surely a time when silence is welcome and warranted. For those of us who usually live noisy lives, no matter the month, Advent invites us into a time of quiet reflection, wonder, and hope. It's a time to remember just how amazing God is and to lean hard into God's faithfulness. Advent is a season to renew our trust in God. And in that trust we can quiet our hearts.
But Advent can also be a time to tell God everything we need to say, to open our hearts, to pour out our longings, our disappointments, our hopes, our fears, our dreams, and our thanks. No matter what we are doing, no matter whether we are loud or silent, the truth remains: God is a refuge for us.
Reflect
What are your favorite Christmas songs? Why?
Why might waiting before the Lord in silence be a good thing for you?
What helps you to quiet your heart before the Lord?
What helps you to pour out your heart to the Lord?
Act
Make a time during Advent when you can be silent before the Lord. It's fine to play some quiet Christmas music, if you wish, preferably instrumental music without words. But find a time to reflect on the truths of this season and to consider your life with God. You may discover that you need to pour out your heart to God, which is just fine.
Pray
Gracious God, thank you for being so available to us. Thank you for inviting us into your presence, for welcoming us before your throne of grace. Thank you for the opportunity to be silent as we wait upon you. Thank you for the freedom to pour out to you anything and everything.
Dear Lord, in this season of Advent, may I make time to be quiet with you. In that time, I ask you to help me sense your presence and peace. If I need to say anything to you, may I do so. But may I also be free and ready to listen, or simply to rest in your strong, loving arms. Amen.
Banner image by Mario Mendez on Unsplash.
Find all Life for Leaders devotions here. Explore what the Bible has to say about work at the High Calling archive, hosted by the unique website of our partners, the Theology of Work Project. Reflection on today's Life for Leaders theme can be found here: Waiting for God.
---
Subscribe to Life for Leaders
Sign up to receive a Life for Leaders devotional each day in your inbox. It's free to subscribe and you can unsubscribe at any time.
---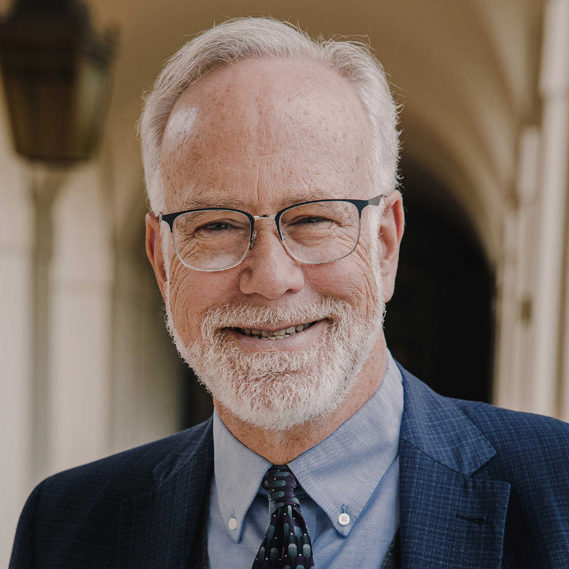 Dr. Mark D. Roberts is a Senior Strategist for Fuller's Max De Pree Center for Leadership, where he focuses on the spiritual development and thriving of leaders. He is the principal writer of the daily devotional, Life for Leaders, and the founder of the De Pree Center's Flourishing in the Third Third of Life Initiative. Previously, Mark was the Executive Director of the De Pree Center, the lead pastor of a church in Southern California, and the Senior Director of Laity Lodge in Texas. He has written eight books, dozens of articles, and over 2,500 devotions that help people discover the difference God makes in their daily life and leadership. With a Ph.D. in New Testament from Harvard, Mark teaches at Fuller Seminary, most recently in his D.Min. cohort on "Faith, Work, Economics, and Vocation." Mark is married to Linda, a marriage and family counselor, spiritual director, and executive coach. Their two grown children are educators on the high school and college level.