Out of the depths I cry to you, O LORD.
     Lord, hear my voice!
Let your ears be attentive
     to the voice of my supplications! . . .
I wait for the LORD, my soul waits,
     and in his word I hope;
my soul waits for the Lord
     more than those who watch for the morning,
     more than those who watch for the morning.
O Israel, hope in the LORD!
     For with the LORD there is steadfast love,
     and with him is great power to redeem.
It is he who will redeem Israel
     from all its iniquities.
Focus
Sometimes our waiting isn't particularly urgent or heartfelt. At other times, however, we wait intensely. It's as if every fiber of our being is focused on what is coming. In Advent, as we wait for the coming of Christ our waiting becomes intense when we realize what Christ brings: the fullness of God's kingdom, healing of all diseases, justice for the oppressed, mending of broken relationships, and the wiping away of every tear. Reflecting on the future coming of Christ increases the intensity of our Advent waiting.
This devotion is part of the series: Advent in the Psalms.
Devotion
Sometimes we wait without intensity. For example, later today I should receive a package from Amazon. In that package will be . . . (drumroll, please) . . . a new hairbrush. I'll be glad to have it when it arrives, but I'm not especially eager. If the package is delayed a few days, it won't make much of a difference to me. My waiting, in this case, is rather relaxed and incidental.
There are other times, however, when my waiting has been intense. I remember how I felt a few days before Linda's and my son was born. Even though I tried to focus on other things, like my work, I was intensely preoccupied by Nathan's pending birth. Waiting dominated my consciousness. For days, all I could think about was the approaching birth of my son.
We find intense waiting in Psalm 130. It begins, "Out of the depths I cry to you, O LORD. Lord, hear my voice! Let your ears be attentive to the voice of my supplications!" (Psalm 130:1-2). We don't know exactly why the psalm writer was in the depths, though it had something to do with sinful choices he had made, for which he needed God's forgiveness (130:3-4).
We sense the intensity of the writer's waiting especially in verses 5-6: "I wait for the LORD, my soul waits, and in his word I hope; my soul waits for the Lord more than those who watch for the morning, more than those who watch for the morning." It's not hard to imagine a guard on night duty waiting for the sunrise. Everything in this guard is eager for the sun to come up. He or she notes with glad anticipation the tiniest bit of light in the eastern sky, yearning for the first appearance of the sun on the horizon. The psalm writer waits in this way, but with even more intensity, even greater longing.
Advent can be a season of intense waiting. It was for me in 1992, because that's the time I described in the second paragraph, the time of waiting for Nathan's birth (on December 21, as it turned out). When I think back to my childhood, there were also times when my waiting during Advent felt intense. These times usually had to do with my hope for receiving a Christmas present for which I yearned, perhaps a bike, a walkie-talkie set, or a typewriter (yes, a typewriter; I was a nerdy kid). My intense waiting became a little less self-centered in 1975, when I looked forward to my first trip home after going east to college. Yes, I looked forward to the joy I would feel being with family and friends. But I also knew how much my visit – my advent, if you will – would mean to them, especially my mother.
Intense waiting is also possible when we consider the deeper meaning of Advent. In this season, we remember the longing of the first-century Jews for the messiah, the one they expected to save them from Roman oppression. But Advent is not just about the first advent (coming) of Christ. It is also a season to wait expectantly, even intensely, for the second coming of Christ. Intense waiting comes when we consider what Christ will bring with him: the fullness of God's kingdom, healing of all diseases, the end of injustice as God's justice covers the earth, peace in which all people, things, relationships, and institutions are made right by the power of God. When we experience suffering and sadness, we wait intensely for Christ to come and wipe away every tear. When we experience oppression, we wait intensely for God's freedom and justice. When we struggle with illness and brokenness, we wait intensely for the day when "the sun of righteousness shall rise, with healing in its wings" (Malachi 4:2).
Advent is a time for us to get in touch with the promise of Christ's future coming and all that it will bring. As we reflect on who and what is to come, we can feel the intensity of our waiting grow within us. Like the first Christians, we pray with urgency, "Our Lord, come!" (1 Corinthians 16:22).
Reflect
Can you think of a time in your life when your waiting was especially intense? Why? What happened?
When you envision the second coming of Christ, what do you picture? What thoughts do you have? What feelings are stirred up in you?
What helps to increase the intensity of your waiting for Christ and his kingdom?
Act
Take some time to reflect on what Christ will do when he comes again. Let that reflection increase the intensity of your waiting.
Pray
Gracious God, I confess that sometimes my waiting for you is rather nonchalant. I can think to myself, "Someday Jesus is coming back," but then go on about my day as if it's not a big deal. Forgive me for taking all of this so lightly.
Help me, Lord, to have a fresh vision of your future. Help me to wait for you, not incidentally or passively, but intensely.
May the intensity of my waiting fuel my passion for the work of your kingdom today. May I invest my life now in your work of salvation, justice, healing, and love, even as I look to the future with eagerness and intensity. Amen.
Banner image by Camylla Battani on Unsplash.
Find all Life for Leaders devotions here. Explore what the Bible has to say about work at the High Calling archive, hosted by the unique website of our partners, the Theology of Work Project. Reflection on today's Life for Leaders theme can be found here: Advent Reflection: Waiting for Forgiveness in Psalm 130.
---
Subscribe to Life for Leaders
Sign up to receive a Life for Leaders devotional each day in your inbox. It's free to subscribe and you can unsubscribe at any time.
---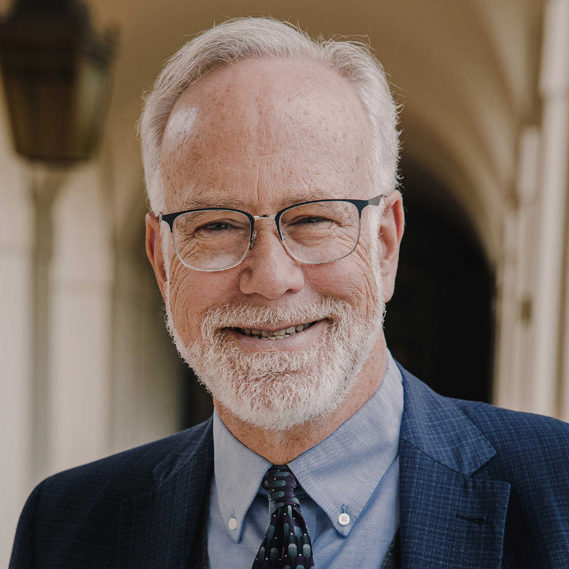 Dr. Mark D. Roberts is a Senior Strategist for Fuller's Max De Pree Center for Leadership, where he focuses on the spiritual development and thriving of leaders. He is the principal writer of the daily devotional, Life for Leaders, and the founder of the De Pree Center's Flourishing in the Third Third of Life Initiative. Previously, Mark was the Executive Director of the De Pree Center, the lead pastor of a church in Southern California, and the Senior Director of Laity Lodge in Texas. He has written eight books, dozens of articles, and over 2,500 devotions that help people discover the difference God makes in their daily life and leadership. With a Ph.D. in New Testament from Harvard, Mark teaches at Fuller Seminary, most recently in his D.Min. cohort on "Faith, Work, Economics, and Vocation." Mark is married to Linda, a marriage and family counselor, spiritual director, and executive coach. Their two grown children are educators on the high school and college level.