Consider the lilies, how they grow: they neither toil nor spin; yet I tell you, even Solomon in all his glory was not clothed like one of these. But if God so clothes the grass of the field, which is alive today and tomorrow is thrown into the oven, how much more will he clothe you—you of little faith!
Focus
If you've ever gazed on a field of glorious flowers, then you have an idea of God's generous care for the natural world. This is good news, not only because we get to enjoy the splendor of God's creation, but also because we are reassured of just how much God cares for us. The God who "clothes" the flowers with striking color will also "clothe" us will what we need to flourish.
Today's devotion is part of the series Following Jesus Today.
Devotion
My family and I lived in the Texas Hill Country for seven years. During our time there, we loved much about Texas: the warm-hearted people, the spectacular thunderstorms, and the tasty breakfast tacos. One of the things I loved most of all about Texas was the spring wildflower display. Along the highways and covering endless miles of ranch land were stunning displays of color, growing without human assistance. I'm including one photo I took while in Texas just to give you an idea of what I'm talking about. You can see a few of the famed Texas bluebonnets in this picture.
If Jesus had lived in Texas instead of Galilee, I expect he might have begun Luke 12:27 by saying, "Consider the wildflowers . . . ." Like most English translations, the NRSV has "Consider the lilies." But it turns out that scholars really don't know exactly which flowers Jesus had in mind. There are many options for the Greek word krinon, which could refer to a kind of lily, but also to a variety of other flowers. No doubt Jesus's listeners knew what he meant. They would have been quite familiar with the radiant wildflowers that covered the hills of Galilee.
Why does Jesus bring up flowers? Because they are gloriously clothed by God, so to speak. Their beauty does not depend on their hard work, nor on human effort. Rather, it comes from God, who created the beautiful world (see Genesis 2:9). Even King Solomon, famed for his glory, couldn't compare to the magnificence of the flowers of the field.
Jesus adds another comment based on nature: "But if God so clothes the grass of the field, which is alive today and tomorrow is thrown into the oven, how much more will he clothe you – you of little faith!" (Luke 12:28). Fields of grass, though not nearly as stunning as fields of flowers, are also "clothed" by God, a sign of God's generous provision. Yet grass is short-lived and has relatively little value. In contrast, human beings are worth so much more. So, Jesus reasons, we should expect God to clothe us both gloriously and dependably.
As I reflect on this passage from Luke, I'm struck once again by how much God cares about and delights in all that he has made, including you and me. You'll recall how, in Genesis, God would make things and then note that they were good. Finally, we're told that "God saw everything that he had made, and indeed, it was very good" (Genesis 12:31). The point here is not only the "very-goodness" of everything, but also the fact that God saw it. God looked at everything he made and delighted in it.
Of course, we know that sin corrupted God's perfectly beautiful world and we're caught in that corruption. But sin hasn't completely obscured earthly and human beauty. Moreover, because of what God has done in Christ, we are now clothed in Christ and his righteousness (Galatians 3:27). When God looks upon us, he sees us as beautiful in Christ and takes delight in us.
Jesus brings up the beauty of flowers and the "clothing" of grass as part of his explanation for why we mustn't worry. God's bountiful care for earthly vegetation suggests that he will care for us in ways we can only begin to comprehend. The God who created all things, who made them beautiful, and who causes the natural world to flourish will, indeed, provide for us. "The lilies" and "the grass" invite us to put worry aside and trust in the gracious provision of God.
Reflect
When you think of God's gifts of natural beauty, what comes to mind?
Do you ever think of God as delighting in you? If so, why? If not, why not?
What helps you to have confidence in God's provision of what you need to flourish in life?
Act
If you are able, go to a place of natural beauty and take time to reflect on what this means for you and your relationship with God. If you can't go to such a place in person, you may want to look at photographs you have taken or simply to remember an experience you have had of nature's splendor. Talk with God about what you're thinking and feeling.
Pray
Lord Jesus, thank you for reminding us of how God clothes flowers and grass. Thank you for all the ways nature is beautiful, and for our ability to see and appreciate it.
As we consider God's "clothing" of the flowers, may we be encouraged to believe that God will faithfully and gloriously "clothe" us. May we be set free from worry and empowered to trust God more deeply and consistently. Amen.
Find all Life for Leaders devotions here. Explore what the Bible has to say about work at the unique website of our partners, the Theology of Work Project. Commentary on today's Life for Leaders theme can be found here: God's Provision (Luke 9:10-17; 12:4-7; 12:22-31)
---
Subscribe to Life for Leaders
Sign up to receive a Life for Leaders devotional each day in your inbox. It's free to subscribe and you can unsubscribe at any time.
---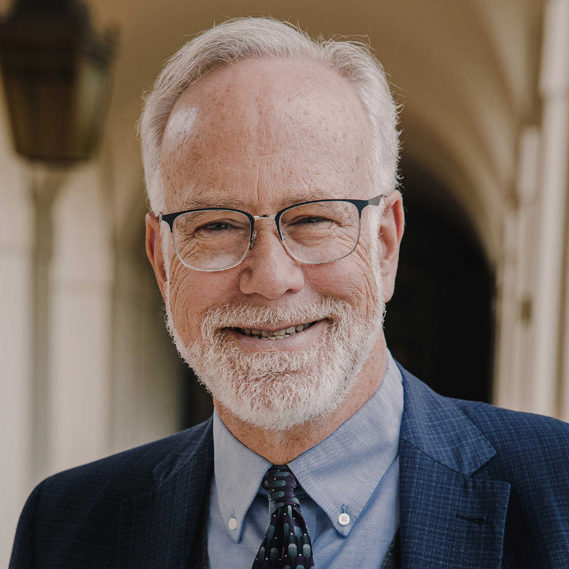 Dr. Mark D. Roberts is a Senior Strategist for Fuller's Max De Pree Center for Leadership, where he focuses on the spiritual development and thriving of leaders. He is the principal writer of the daily devotional, Life for Leaders, and the founder of the De Pree Center's Flourishing in the Third Third of Life Initiative. Previously, Mark was the Executive Director of the De Pree Center, the lead pastor of a church in Southern California, and the Senior Director of Laity Lodge in Texas. He has written eight books, dozens of articles, and over 2,500 devotions that help people discover the difference God makes in their daily life and leadership. With a Ph.D. in New Testament from Harvard, Mark teaches at Fuller Seminary, most recently in his D.Min. cohort on "Faith, Work, Economics, and Vocation." Mark is married to Linda, a marriage and family counselor, spiritual director, and executive coach. Their two grown children are educators on the high school and college level.