Hosted on May 8th, 2023 at 9:00AM (PST)
This is a recording of the free webinar with Dr. Amy Hanson and Mark D. Roberts that was held on May 8th, 2023 at 9:00 am PT.
Webinar Details
Webinar Description

The Bible promises that those who are righteous will flourish. "They will bear fruit even when old and gray; they will remain lush and fresh" (Psalm 92:14, CEB). People in the third third of life have the potential to live fully, fruitfully, and faithfully.
Churches have the unique opportunity to help their third third congregants flourish. At times, churches have faithfully taken advantage of this opportunity. But often churches have come up short in the matter of making fruitful disciples of their older adult members.
As the De Pree Center has advanced our Flourishing in the Third Third of Life Initiative, we have heard from dozens of pastors and congregational leaders who are eager for their churches to serve their third third adults well. They are looking for new vision and practical tools. We are glad to supply what they desire with diverse resources based on Scripture and enhanced by scientific knowledge and down-to-earth experience of church ministry.
This webinar will offer biblical wisdom and practical expertise for people who want their church to excel in third third work. Our conversation will be relevant to pastors, congregational leaders, and older adult members who are eager to help their churches think and act in new ways. We believe that third thirders constitute one of the greatest untapped resources in churches today. We want to help unleash this potential so as to make a difference for God's kingdom in the world.
Date & Time:
Monday, May 8, 2023, 9:00 a.m. PST (11:00 a.m. CST)
Venue:
Zoom (online). Register by clicking the button below.
Registration is free.
About Our Speakers
Dr. Amy Hanson – We are delighted to host a webinar featuring Dr. Amy Hanson, author of Baby Boomers and Beyond: Tapping the Ministry Talents and Passions of Adults over 50. Amy has vast experience helping churches serve their third third congregants with biblical vision and practical proficiency.
Dr. Hanson began her third third work at the age of 23, when she became the full-time active adult minister at Central Christian Church in Las Vegas. Even then she sensed a powerful calling from God to serve older adults and help them flourish as disciples of Jesus. During this time on the church staff, Amy realized that she needed more training, so she earned a master's degree in Gerontology from Abilene Christian University, followed by Ph.D. in Human Sciences from the University of Nebraska, where she teaches courses on aging and older adulthood.
Dr. Hanson has consulted with dozens of churches on ministry with Boomers and is one of the leading experts in this field. During his research on third third topics, Mark Roberts discovered Amy's book Baby Boomers and Beyond. He says, "This is the finest book for churches and church leaders that want, not only to serve their third third folk well, but also to enleash the potential of their older adults for ministry in the church and the world. Amy's material is theologically and scientifically solid, but also very practical. She supplies valuable tools for churches and church leaders."
Amy and her husband, Jon, live in Council Bluffs, Iowa. They have three children, Ella, Eli, and Elise.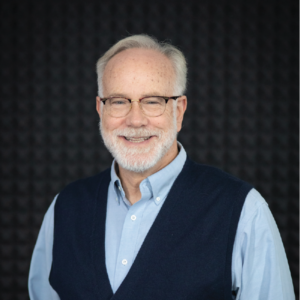 Dr. Mark D. Roberts is a Senior Strategist for Fuller's Max De Pree Center for Leadership, where he focuses on the spiritual development and thriving of leaders. He is the principal writer of the daily devotional, Life for Leaders, and the founder of the De Pree Center's Flourishing in the Third Third of Life Initiative. He has written eight books, dozens of articles, and over 2,500 devotions that help people discover the difference God makes in their daily life and leadership. With a Ph.D. in New Testament from Harvard, Mark teaches at Fuller Seminary.
Mark is married to Linda, a marriage and family counselor, spiritual director, and executive coach. Their two grown children are educators on the high school and college level.
Banner image by Ran Berkovich on Unsplash.