The LORD reigns, he is robed in majesty;

the

LORD is robed in majesty and armed with strength;


indeed,

the world is established, firm and secure.

In the 1980s, Christians in Southern California began to sing the worship song "Majesty," written by Jack Hayford, pastor of the Church on the Way in Van Nuys. Before long, this song was being sung throughout the world by millions of people. For years, it was one of the most popular of all contemporary worship songs. I wouldn't be surprised if this song has been sung more often by more people throughout the world than any other recent hymn or praise song.
But, when we sing "Majesty," do we really know what we're singing? We're supposed to worship God's majesty. That sounds right. But what does it mean?
I expect most of us have a gut feeling about what God's majesty is. It has to do with God's strength and glory. Kings and queens are called "Your Majesty" in recognition of their sovereignty. So God's majesty may also be about royal authority. We might also be inclined to equate God's majesty with greatness. All of these notions of majesty are wonderful. Surely they represent attributes of God that compel us to worship. But can we get clear on the actual definition of "majesty?"
The English word "majesty" comes to us from the Latin word maiestas, which means "greatness or dignity." In the Hebrew original of Psalm 93, the word translated into English as "majesty" is ge'ut (pronounced guh-OOth). The standard Hebrew-English dictionary defines this word as, you guessed it, "majesty." It is closely related to the word translated as "pride" in a negative sense (ge'ah). Both of these words derive from a root that means "to rise." So, if you think too highly of yourself, then you have ge'ah, which is not good. But when it comes to God, who is utterly great, who is the God above all other gods, then ge'ut is appropriate. This word doesn't convey God's pride. Rather, it stands for God's reputation among people and everything about God that deserves this glory. We might get the sense of the word by saying that God is rightly thought of more highly than any other being, in heaven and earth.
So, when it comes to Psalm 93:1, God's being robed in majesty represents being enveloped in the esteem of God's creatures. God's great strength calls forth honor. God's glory demands praise. Thus, this psalm reminds us why we worship God even as it calls us to worship. In a sense, we join ourselves to the robe of majesty that surrounds God when we worship.
Something to Think About:
When you think of God's majesty, what comes to mind?
Do you ever think of your worship as joining you to a universal chorus of praise? How might this thought affect your worship of God?
Something to Do:
The next time you're in a setting of corporate worship, picture God's majesty, and let this image inspire your worship.
Prayer:
All praise be to you, O God, because you are robed in majesty. Your greatness calls forth worship. Your creation glorifies you because you alone are worthy of glory.
May I live for the praise of your glory, adding a few strands to your robe of majesty through my words and my deeds. Amen.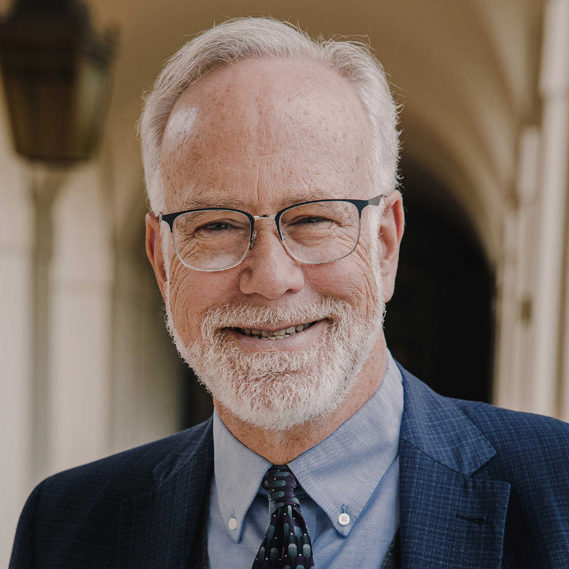 Dr. Mark D. Roberts is a Senior Strategist for Fuller's Max De Pree Center for Leadership, where he focuses on the spiritual development and thriving of leaders. He is the principal writer of the daily devotional, Life for Leaders, and the founder of the De Pree Center's Flourishing in the Third Third of Life Initiative. Previously, Mark was the Executive Director of the De Pree Center, the lead pastor of a church in Southern California, and the Senior Director of Laity Lodge in Texas. He has written eight books, dozens of articles, and over 2,500 devotions that help people discover the difference God makes in their daily life and leadership. With a Ph.D. in New Testament from Harvard, Mark teaches at Fuller Seminary, most recently in his D.Min. cohort on "Faith, Work, Economics, and Vocation." Mark is married to Linda, a marriage and family counselor, spiritual director, and executive coach. Their two grown children are educators on the high school and college level.