He will judge between the nations and will settle disputes for many peoples. They will beat their swords into plowshares and their spears into pruning hooks. Nation will not take up sword against nation, nor will they train for war anymore.
Focus
When God's peace and justice cover the earth, human beings will not go to war anymore. They will take their weapons and turn them into tools for growing food. In a world so filled with violence, we long for the day when "swords" will be turned into "plowshares."
Devotion
"Plowshare." Do you know this word? Have you heard it before? If you have, chances are you know your Bible well or are part of a Christian community that actually uses this word. Or, perhaps you're a fan of John Deere products. The company magazine for collectors and enthusiasts is called . . . you guessed it, The Plowshare. (I confess to being a John Deere fan, though I've not read the magazine. When I had acres to mow in Texas, I often thought about trading in my no-name riding mower for a top-of-the line, zero-turn John Deere. Never did it, though.)
The Hebrew word translated as "plowshare" in Isaiah 2:4 is 'et. It referred to a "cutting instrument of iron," which could include the wedge-like blade of a plow. Some linguists think 'et was used instead for some kind of axe. Be that as it may, the point of Isaiah 2:4 is that as people are taught and judged by God, they will take their swords and beat them into tools for farming. They will do the same with their spears, making them instruments for pruning trees.
Why will people turn their weapons of war into tools for farming? Because they won't need weapons anymore. When God's teachings are heeded and when God's judgment is executed, "Nation will not take up sword against nation, nor will they train for war anymore" (Isaiah 2:4). They won't need swords and spears because there won't be battles in which to use them. In the classic words of the African-American spiritual, "Gonna lay down my sword and shield, down by the riverside… I ain't gonna study war no more, study war no more, Ain't gonna study war no more."
But there are implications in Isaiah 2:4 that are often overlooked. First, it's worth noting that God does not instantly destroy all weapons of war or miraculously turn them into farming tools. Human beings do this in response to the peace that comes from God's teaching and judgment. God brings an end to war and then we have work to do.
Second, there is nothing in Isaiah to suggest that when human beings turn their weapons into farming tools they are going to hang them up on the walls as decorations. Rather, the implication of this passage is that, when God's peace and justice reign, people will be able to devote their time and energy to productive, fruitful work, rather than to making war.
So, this passage on plowshares is not only a celebration of God's peace, but also an encouragement of human work. When the evil of sin is abolished, when God's ways are established on earth, then we will be able to do the work for which we were created in the first place. We will use metal implements not as weapons to hurt and kill but as tools for fruitful productivity.
Reflect
If Isaiah were prophesying today, what words might he use in place of "sword," "plowshare," "spear," and "pruning hook"? How does this passage from Isaiah affect you when you use contemporary language?
How might the vision of a future without war impact our thinking and actions today?
Do you think about your daily work as something valuable that contributes to God's work in the world? Why or why not?
Act
What are the tools that make your work easier and more productive? Take time to thank God for these tools. Ask for the wisdom to use them well.
Pray
Gracious God, thank you for this prophecy from Isaiah, for the vision of a day when there will be no more war, when we will take our weapons and turn them into tools for farming. Thank you also, Lord, for how this passage affirms our work's value. It reminds us that our work can be part of your work in this world.
As we look at a world filled with violence, as the weapons of our day are so much more powerful than swords and spears, we cry out to you for your justice and peace. O Lord, bring an end to war. Bring your justice. Fill this world with your peace. We pray through Christ, our Lord and Peacemaker, Amen.
Find all Life for Leaders devotions here. Explore what the Bible has to say about work at the unique website of our partners, the High Calling archive, hosted by the Theology of Work Project. Reflection on today's Life for Leaders theme can be found here: Technology at Work: Dad of the Day

---
Subscribe to Life for Leaders
Sign up to receive a Life for Leaders devotional each day in your inbox. It's free to subscribe and you can unsubscribe at any time.
---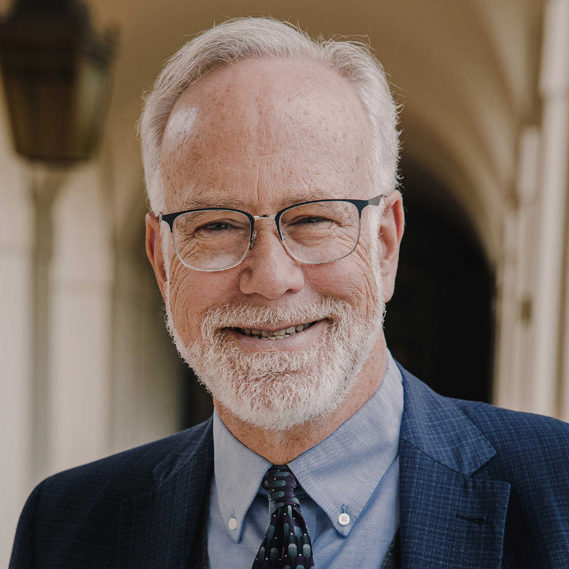 Dr. Mark D. Roberts is a Senior Strategist for Fuller's Max De Pree Center for Leadership, where he focuses on the spiritual development and thriving of leaders. He is the principal writer of the daily devotional, Life for Leaders, and the founder of the De Pree Center's Flourishing in the Third Third of Life Initiative. Previously, Mark was the Executive Director of the De Pree Center, the lead pastor of a church in Southern California, and the Senior Director of Laity Lodge in Texas. He has written eight books, dozens of articles, and over 2,500 devotions that help people discover the difference God makes in their daily life and leadership. With a Ph.D. in New Testament from Harvard, Mark teaches at Fuller Seminary, most recently in his D.Min. cohort on "Faith, Work, Economics, and Vocation." Mark is married to Linda, a marriage and family counselor, spiritual director, and executive coach. Their two grown children are educators on the high school and college level.