Clap your hands, all you nations; shout to God with cries of joy. For the LORD Most High is awesome, the great King over all the earth.
Every now and then, I need to be reminded of why I worship. Perhaps you do too.
On most Sundays, I gather with God's people to offer songs, hymns, prayers, gifts, and other expressions of worship. If I'm in town, I join my congregation at the First Presbyterian Church of Hollywood. If I'm on the road, I usually participate in worship services in churches were I am preaching or that are part of a retreat or conference. I worship regularly because it's the right thing to do and, quite frankly, because it's a habit of my life. On the rare occasions when I miss Sunday worship, it feels strange, rather like if I forgot to brush my teeth before bed.
I don't believe there's anything wrong with showing up for a worship service because of a conviction that it's the right thing to do. Nor do I apologize for worshiping as a matter of habit. Duty and habit rightly help to guide our actions in life. But, sometimes, as I'm singing hymns or worship songs in church, I realize that I'm just going through the motions. I'm singing words, perhaps even thinking about their meaning, but forgetting the fundamental reason why I'm doing what I'm doing.
What is this reason? First, let me say what it is not. We do not worship primarily to feel moved, though warm emotions frequently arise when we worship God. We do not worship primarily to "get something out of the service," though we often benefit from what happens when we gather with God's people for worship. We do not worship primarily for anything having to do with ourselves, though worship is one of the most meaningful and transformational things we do in life.
Why do we worship? Psalm 47:1-2 makes this clear: " Clap your hands, all you nations; shout to God with cries of joy. For the LORD Most High is awesome, the great King over all the earth." Did you catch that? It's easily missed. The primary reason for our worship is centered in one simple word: "For." (The Hebrew word is even shorter: ki, meaning "for.") We worship God for God is who God is. We worship because of who God is and what God has done. Our worship is a response to God, to God's nature and activity.
As Christians, our worship is centered in the Gospel, in the good news of what God has done in Jesus Christ. That's why we continually remember the Gospel in our worship, whether in word or sacrament, in praying or singing, in silence or celebration. We worship and praise God. For the unique, all-powerful, sovereign, holy, righteous God has reached out to us in love through Jesus Christ, saving us from sin and death, drawing us into fellowship with him and with his people, enlisting us as partners in his work to redeem and restore the world. Now there's a reason to worship!
QUESTIONS TO CONSIDER:
Do you ever find that you need to remember why you worship God?
What helps you to worship with heart, soul, mind, and strength?
PRAYER:
O worship the King, all glorious above,
O gratefully sing His power and His love;
Our Shield and Defender, the Ancient of Days,
Pavilioned in splendor, and girded with praise.
O tell of His might, O sing of His grace,
Whose robe is the light, whose canopy space,
His chariots of wrath the deep thunderclouds form,
And dark is His path on the wings of the storm.
Thy bountiful care, what tongue can recite?
It breathes in the air, it shines in the light;
It streams from the hills, it descends to the plain,
And sweetly distills in the dew and the rain.
Frail children of dust, and feeble as frail,
In Thee do we trust, nor find Thee to fail;
Thy mercies how tender, how firm to the end,
Our Maker, Defender, Redeemer, and Friend.
O measureless might! Ineffable love!
While angels delight to worship Thee above,
The humbler creation, though feeble their lays,
With true adoration shall all sing Thy praise. Amen.
"O Worship the King," by Robert Grant (1833), based on a hymn by William Kethe in the Geneva Psalter of 1561.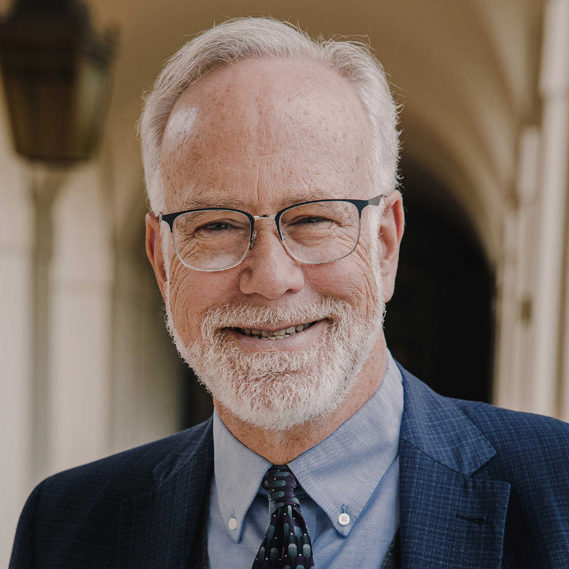 Dr. Mark D. Roberts is a Senior Strategist for Fuller's Max De Pree Center for Leadership, where he focuses on the spiritual development and thriving of leaders. He is the principal writer of the daily devotional, Life for Leaders, and the founder of the De Pree Center's Flourishing in the Third Third of Life Initiative. Previously, Mark was the Executive Director of the De Pree Center, the lead pastor of a church in Southern California, and the Senior Director of Laity Lodge in Texas. He has written eight books, dozens of articles, and over 2,500 devotions that help people discover the difference God makes in their daily life and leadership. With a Ph.D. in New Testament from Harvard, Mark teaches at Fuller Seminary, most recently in his D.Min. cohort on "Faith, Work, Economics, and Vocation." Mark is married to Linda, a marriage and family counselor, spiritual director, and executive coach. Their two grown children are educators on the high school and college level.