A Letter of Thanks and Invitation from Mark
Dear Life for Leaders Reader,
As you may recall, at the beginning of the year I have a tradition of taking a few moments to talk with you about Life for Leaders. That's what I'm doing now. Today's devotion follows this note.
First of all, I want to thank you. Thank you for using Life for Leaders as your devotional. Thank you for your many emails of encouragement and support. And thank you for telling others about Life for Leaders, helping us to serve more people each day. Because of your support and recommendations, we are now serving over 8,500 every day, which is quite amazing!
Second, I'd like to ask for your help. One of the main ways our subscriber list grows is through personal recommendations. Subscribers tell their friends about us, or their Sunday School classes, or their small groups, or their pastors, or their congregations, and so on. If you find Life for Leaders helpful to you, please consider letting others know about us.
I expect you're aware that Life for Leaders exists because of the generosity of our donors. I want to thank dozens of you who chose to support Life for Leaders and the De Pree Center financially in 2021. That was such an encouragement as well as a financial boost. We are committing to keeping Life for Leaders free for subscribers, and your kindness makes this possible.
Finally, I ask for your prayers. Those of us who write the daily devotions feel the weight of the responsibility given to us. We really want to be faithful to God through our writing and to serve you in ways that make a difference. This happens as the Spirit of God works within and through us. So please keep praying!
Blessings to you in this new year!
Mark
Simon Peter answered him, "Lord, to whom can we go? You have the words of eternal life."
Focus
Jesus gives us words of eternal life, words that help us experience the abundant life of God's future kingdom. When we read and meditate upon the words of Jesus – indeed, upon the words of Scripture – we receive in a fresh way the very life of God.
Devotion
In the sixth chapter of the Gospel of John, Jesus's popularity among the people spiked: "A large crowd kept following him, because they saw the signs that he was doing for the sick" (John 6:2). Many of them wanted to pronounce Jesus as their king (6:15). But Jesus's teaching was not easy for them to digest (6:41). How could the human being they knew say that he had "come down from heaven"? (6:42). Before long, "many of his disciples turned back and no longer went about with him" (6:66).
At this point Jesus said to the inner circle of his disciples, "Do you also wish to go away?" (6:67). Simon Peter spoke up for the group, saying, "Lord, to whom can we go? You have the words of eternal life" (6:68). Even if Jesus's teachings were hard, they were, nevertheless, unique in offering access to eternal life, the life of God's future, the abundant life found through faith in Christ, life as it was meant to be. From Peter's point of view, it would have been foolish to leave Jesus. (Of course, later on, Peter himself abandoned Jesus for a while. But we're getting ahead of the story.)
When we hear about Jesus's "words of eternal life," we tend to think that these are words that get us into Heaven after we die. There is some truth in this interpretation, though it misses much of what is meant by "eternal life." Eternal life is not only endless life without death. Rather, eternal life is the life of the age to come, the life of God's future. Yes, it will be fully experienced in the future. But eternal life is something we can begin to know right now, in this mortal life. Through faith, through the Word of God, through the Holy Spirit, through the community of God's people, through the life of God in us, we receive a foretaste of eternal life that is to come.
Thus, Jesus's words offer life, not just after death, but right now. They help us live more abundantly, more meaningfully, more joyfully now . . . even at work, even in the demands of our leadership responsibilities, even when this world is broken, even when we mourn, even when we feel as if death has defeated life.
Life for Leaders, both the daily devotional and the thematic group and personal guides, is designed to help you experience the life that comes from the Word of God. You can know this life as you let biblical truth permeate your mind and heart, living it each day, at work and at home, in your community and in your church, among your friends and your family.
Sometimes when people hear the name "Life for Leaders" they expect that every devotion will address explicitly some feature of leadership. They are sometimes confused when this doesn't happen. Now, as you probably know, we do address issues faced by leaders many times. One of our weekend writers, Uli Chi, is especially committed to doing this with his wonderful reflections on leadership.
But what I want to make clear is that Life for Leaders is for all kinds of leaders even when it's not talking about leadership specifically. We want to serve you in every aspect of your life. We're as much concerned, you might say, about the inner life of leaders as we are about their leadership activity.
Our hope and prayer is that, through Life for Leaders, you might get in touch with the "words of eternal life," those spoken by Jesus as well as those found throughout the Bible. We want you to experience the life of God's future now, however incompletely, as you read, reflect upon, and pray in response to God's "words of life."
Reflect
When have you experienced biblical truth as "words of eternal life" for you?
Can you think of something you learned from Scripture in the last year that has made a real difference in your life? And in your leadership?
In what part of your life do you need the "words of eternal life" today?
Act
As you read, study, and pray through the Bible, let it be "words of life" for you.
Pray
Gracious God, thank you for giving us your words of life. Thank you for the Bible, which teaches us, guides us, comforts us, and, most importantly of all, helps us to know you.
In this next year, Lord, may I receive your words of life. May your truth live within me, guiding me in all I do. May my work and my leadership be informed by your revelation. May all I do give you glory and honor. Amen.
Find all Life for Leaders devotions here. Explore what the Bible has to say about work at the unique website of our partners, the Theology of Work Project. Commentary on today's Life for Leaders theme can be found here: Jesus the Bread of Life (John 6)

---
Subscribe to Life for Leaders
Sign up to receive a Life for Leaders devotional each day in your inbox. It's free to subscribe and you can unsubscribe at any time.
---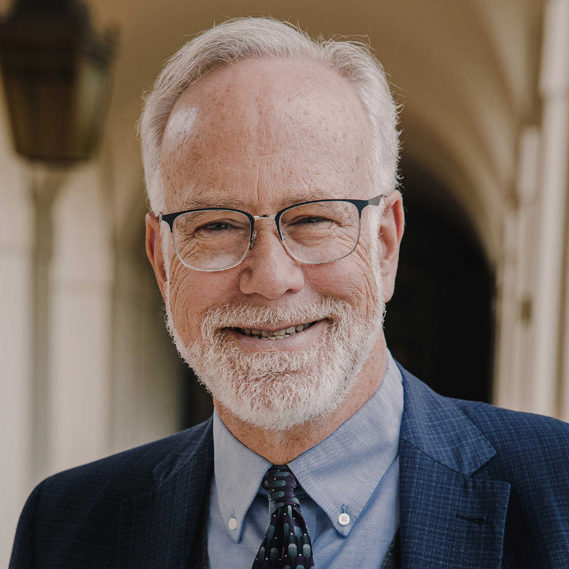 Dr. Mark D. Roberts is a Senior Strategist for Fuller's Max De Pree Center for Leadership, where he focuses on the spiritual development and thriving of leaders. He is the principal writer of the daily devotional, Life for Leaders, and the founder of the De Pree Center's Flourishing in the Third Third of Life Initiative. Previously, Mark was the Executive Director of the De Pree Center, the lead pastor of a church in Southern California, and the Senior Director of Laity Lodge in Texas. He has written eight books, dozens of articles, and over 2,500 devotions that help people discover the difference God makes in their daily life and leadership. With a Ph.D. in New Testament from Harvard, Mark teaches at Fuller Seminary, most recently in his D.Min. cohort on "Faith, Work, Economics, and Vocation." Mark is married to Linda, a marriage and family counselor, spiritual director, and executive coach. Their two grown children are educators on the high school and college level.