And she gave birth to her firstborn son and wrapped him in bands of cloth, and laid him in a manger, because there was no place for them in the inn.
Focus
Women work hard in Luke's Christmas narrative. Both Elizabeth and Mary carry their babies and give birth to them. But birth is just the beginning of the work of raising children, work that belongs to both women and men. The Christmas story reminds us of how central this work is to our lives, not only with our own children, but also with the children in our neighborhoods, schools, and churches.
This devotion is part of the series: Work in Light of Christmas.
Devotion
Though Christmas Day has passed, we are still in the Christian season of Christmas. Christmastide, as it is sometimes called, lasts for twelve days (yes, like the song). So, during this week I will continue to offer some reflections on work in light of Christmas.
Women work hard in Luke's Christmas narrative. In Luke 1, both Elizabeth and Mary are pregnant. Carrying a baby requires plenty of work, especially in the last months of pregnancy. In Luke 1, Elizabeth gives birth to her son, John. Talk about work. There's a good reason we call it "labor." Then, in Luke 2, Mary also "gave birth to her firstborn son and wrapped him in bands of cloth, and laid him in the manager, because there was no place for them in the inn" (2:7). Once again, this is a story of hard work done by women.
As I reflect on the births of John and Jesus in relationship to work, I'm struck by several things. First, I'm reminded that bearing children was an essential aspect of the very first work assigned to human beings. After creating humankind in God's own image, God said to the man and woman, "Be fruitful and multiply, and fill the earth and subdue it; and have dominion . . ." (Genesis 1:28). Taken most literally, "be fruitful and multiply" means "make babies." In this way, the first humans would begin to "fill the earth," which God had created but had not filled with people. The childbearing of Elizabeth and Mary in Luke reminds us of the centrality of this sort of work for humanity in general and for women in particular.
Second, the description of Jesus's birth reminds me that giving birth, though an absolutely crucial aspect of human work, is just the beginning of a much longer process of raising children. Mary didn't just deliver Jesus into this world and then go back to her otherwise unchanged life. Rather, she also began to care for Jesus, wrapping him in bands of cloth and laying him in a manger. My point is simple and obvious, but worth noting, nonetheless. Giving birth is the first step in a long journey of parenting.
Third, as I consider Luke 2:7, I wonder why Joseph didn't do the wrapping and "mangering" of Jesus. Why did Mary do this? Hadn't she done plenty of work already? Now, in fairness to Joseph, he may have been helping Mary but his effort was left on Luke's cutting room floor. Or, he may well have been preoccupied with other essential tasks (cleaning up, placing new hay in the manger, keeping the animals away, etc.). Or it may have been common in first-century Jewish culture for the mother to wrap up her baby, so Joseph wouldn't have thought to do it. Now, of course, we live in a different culture with different assumptions and practices. In our day, husbands and fathers are more deeply engaged in the work of parenting young children. Birth may still be women's work, but raising children is the duty, privilege, and calling of both mothers and fathers. (I can still remember the class Linda and I took before our first child was born, which included specific instruction on how to "swaddle" a baby and plenty of practice for the fathers in addition to the mothers.)
The Christmas story reminds us of the importance and value of the work of bearing and raising children. No matter what you do for a living, if you have children, especially children who are not yet adults, then being a mother or father to them is an indispensable element of the work to which God has called you. Giving birth is something women do with support from men. Helping children to grow in stature, wisdom, skill, kindness, and faith is the work of fathers and mothers, and, indeed, of the body of Christ together.
Reflect
If you are a parent, do you think about your parenting as part of your work, your life's calling? Why or why not?
If you are not a parent, how are you in some way contributing to the raising of children (through your work, your church, your friendships, your family, your neighborhood, etc.)?
Is your workplace supportive of those who are parents? In what ways? Are there things you can do in your work environment to help employees in the vital work of parenting?
Act
Do something to encourage parents, especially those who are struggling to raise their children.
Pray
Gracious God, thank you for the work of Elizabeth and Mary in giving birth to their sons. Thank you for their faithfulness and strength.
Lord, please help those of us who are parents, both mothers and fathers, to be faithful in this crucial aspect of our life's work. Help those of us who are aunts and uncles, grandmothers and grandfathers, friends and teachers, to embrace our calling to raise children to know and serve you and to make a difference in this world as your kingdom people.
All praise be to you, Gracious God, our Heavenly Father. Amen.
Find all Life for Leaders devotions here. Explore what the Bible has to say about work at the unique website of our partners, the Theology of Work Project's online commentary. Reflection on today's Life for Leaders theme can be found here: Fruitfulness/Growth (Genesis 1:28; 2:15, 19-20).
---
Subscribe to Life for Leaders
Sign up to receive a Life for Leaders devotional each day in your inbox. It's free to subscribe and you can unsubscribe at any time.
---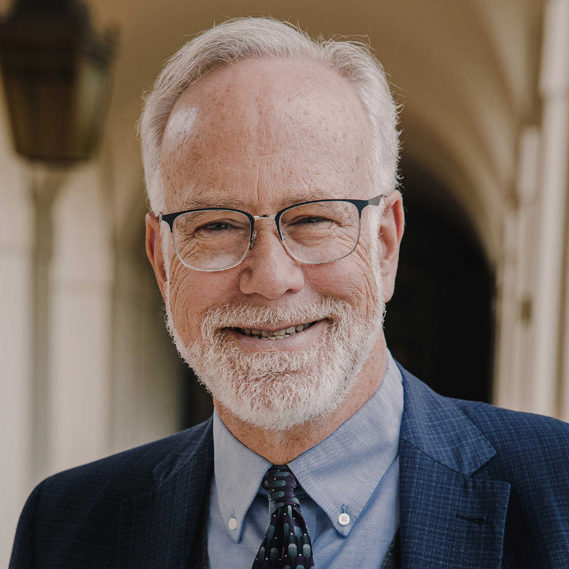 Dr. Mark D. Roberts is a Senior Strategist for Fuller's Max De Pree Center for Leadership, where he focuses on the spiritual development and thriving of leaders. He is the principal writer of the daily devotional, Life for Leaders, and the founder of the De Pree Center's Flourishing in the Third Third of Life Initiative. Previously, Mark was the Executive Director of the De Pree Center, the lead pastor of a church in Southern California, and the Senior Director of Laity Lodge in Texas. He has written eight books, dozens of articles, and over 2,500 devotions that help people discover the difference God makes in their daily life and leadership. With a Ph.D. in New Testament from Harvard, Mark teaches at Fuller Seminary, most recently in his D.Min. cohort on "Faith, Work, Economics, and Vocation." Mark is married to Linda, a marriage and family counselor, spiritual director, and executive coach. Their two grown children are educators on the high school and college level.