Finally, brothers and sisters, we ask and urge you in the Lord Jesus that, as you learned from us how you ought to live and to please God (as, in fact, you are doing), you should do so more and more.
Focus
When we consider the vastness of the universe, we may wonder whether the God who created it cares about us. We are, after all, so tiny and relatively insignificant. But Scripture reveals, not only that God cares about us, but also that we have the ability to please God. When we live by God's guidance and for God's glory, when we use well the gifts God has given us, then God is pleased. Yes, you can please the God who created the universe.
This devotion is part of the series: Encouragement from 1 Thessalonians.
Devotion
On July 12, 2022, NASA released the first full color images captured by the James Webb Space Telescope. Since that momentous occasion, we have seen extraordinary photos that stretch our minds with the vastness and beauty of the universe. As I gaze upon those pictures, I remember the words of the psalmist: "When I look at your heavens, the work of your fingers, the moon and the stars that you have established; what are human beings that you are mindful of them, mortals that you care for them?" (Psalm 8:3-4) How could it be, I wonder, that the God who created the awe-inspiring universe actually cares about me?
Scripture teaches us that God does indeed care about us. More than this, we're told that we actually make a difference to God. According to 1 Thessalonians 4:1, we have the ability "to live and please God." If we choose to live according to God's ways and for God's glory, then God will be pleased. Isn't that amazing! God is not only paying attention to you and how you live. You can actually live in such a way that God is pleased.
Given this amazing news, we are apt to wonder how we can please God. Paul and his colleagues will provide some answers in the fourth and fifth chapters of 1 Thessalonians. They'll mention things we might expect, like sexual holiness and love for others (1 Thessalonians 4:3-10). They'll also mention things we might not expect, like living quietly and working with our hands (4:11). Yes, one way we can please God is by working with the gifts and abilities God has given us.
Sometimes Christians assume that pleasing God is mainly a matter of doing obviously "religious" things. If I feed a hungry person, seek justice for the oppressed, share the gospel with friends, or support my church financially, God is pleased. We can easily forget that doing ordinary things – like working with our hands – also pleases God.
A moving reminder of how we can please God is found in the 1981 classic film, Chariots of Fire. One of the main characters, Eric Liddell, knows that God has called him to do missionary work in China. Yet he is also a fantastic runner and has the opportunity to represent England in the 1924 Paris Olympics. As he wrestles with what to do, his sister, Jennie, is eager for her brother to go to China. In a moving scene, Eric explains to Jennie his decision to run in the Olympics before going to China: "Jennie, Jennie, you've got to understand, I believe that God made me for a purpose – for China. But He also made me fast, and when I run, I feel His pleasure." As he is portrayed in the film, Eric Liddell understood that God takes pleasure, not only in his missionary work, but also in using the exceptional physical gifts God had given him.
So, if you find yourself marveling at the vast splendor of the universe and wondering how God could be mindful of you, Scripture has good news. Yes, God does pay attention to you. Ever more than this, God cares about you so much that you have the ability to give God pleasure. When you live according to God's guidance, when you seek God's glory, when you use well the gifts God has given you, God is pleased.
Reflect
Do you ever find yourself wondering, like the psalmist, how God could care for you?
What difference does it make to you that you are able to please God?
What will you do today that gives God pleasure?
Act
As you do your work today, whether paid or unpaid, do it for God's glory, aware that you are pleasing God.
Pray
Gracious God, when I consider the vastness of the universe, it is amazing to me that you know me and care about me. What a wonder! What a gift! How I praise you for being such a God!
It also astounds me that I can please you. When I consider who you are, when I remember what you have done for me, my desire to please you grows and grows. I want you to be honored, glorified, and, yes, delighted. I want to live in such a way that you are pleased. Oh, may this be true, Lord! Even today, may how I live give you pleasure. Amen.
Find all Life for Leaders devotions here. Explore what the Bible has to say about work at the unique website of our partners, the Theology of Work Project. Commentary on today's Life for Leaders theme can be found here: Yes, You Can Give Joy to God. No Joke! (Ephesians 4:30)
---
Subscribe to Life for Leaders
Sign up to receive a Life for Leaders devotional each day in your inbox. It's free to subscribe and you can unsubscribe at any time.
---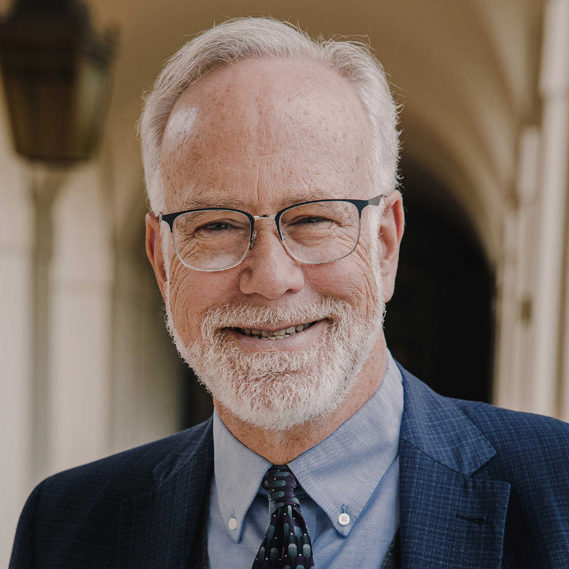 Dr. Mark D. Roberts is a Senior Strategist for Fuller's Max De Pree Center for Leadership, where he focuses on the spiritual development and thriving of leaders. He is the principal writer of the daily devotional, Life for Leaders, and the founder of the De Pree Center's Flourishing in the Third Third of Life Initiative. Previously, Mark was the Executive Director of the De Pree Center, the lead pastor of a church in Southern California, and the Senior Director of Laity Lodge in Texas. He has written eight books, dozens of articles, and over 2,500 devotions that help people discover the difference God makes in their daily life and leadership. With a Ph.D. in New Testament from Harvard, Mark teaches at Fuller Seminary, most recently in his D.Min. cohort on "Faith, Work, Economics, and Vocation." Mark is married to Linda, a marriage and family counselor, spiritual director, and executive coach. Their two grown children are educators on the high school and college level.